NBA Rumors: Memphis Grizzlies Would Be Crazy to Consider Bringing Back Pau Gasol
June 19, 2012

Ezra Shaw/Getty Images
Mitch Lawrence of the New York Daily News reports that the Memphis Grizzlies have interest in obtaining Pau Gasol, but the team should stay away.
According to Lawrence, owner Michael Heisley "has always wanted to bring Gasol back, pairing him with his brother, Marc."
While this would make a great pairing in theory, it is not the type of move that would help the Grizzlies become realistic contenders.
The Los Angeles Lakers forward is obviously a great player. In his 11-year career, he has averaged 18.7 points and 9.2 rebounds per game and has not slowed much since he started. This year, Pau is one of only 11 players in the league to average a double-double.
However, there is a reason that the Lakers are willing to part ways with the All-Star. In the last two seasons, he averaged almost five points less per game in the playoffs compared to the regular season. He has been considered a "finesse player" and "soft" for his entire career. 
This is not something that Memphis needs to add to their hard-nosed team.
The Grizzlies are set at center with Marc Gasol. He is four years younger and still improving, along with this young team. At power forward they have veteran Zach Randolph, a player who is almost the opposite of Pau.
Randolph missed a big portion of the regular season, but in the playoffs he reminded fans why he is so important to the team. He is strong enough to defend the biggest forwards in the NBA, and he will fight for every loose ball. Offensively, he is a great scorer in the post but can also hit a jumper. Prior to this season he had three straight seasons averaging over 20 points per game.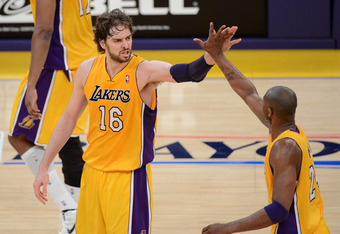 Kevork Djansezian/Getty Images
Most importantly, Randolph has been trusted to make the big shots late in the game, something Pau Gasol has never needed to do.
The Memphis Grizzlies do have needs going into next season. They can improve the front line by adding solid reserves. A scoring guard would also help bring the squad to the upper echelon of the Western Conference.
What the team does not need is an aging forward that will cost a lot to make a trade happen and will not improve the team.
Hopefully, the front office does not make a rash decision that could set the team back for years.