15 Young NBA Players Set for a Breakout 2012-13 Season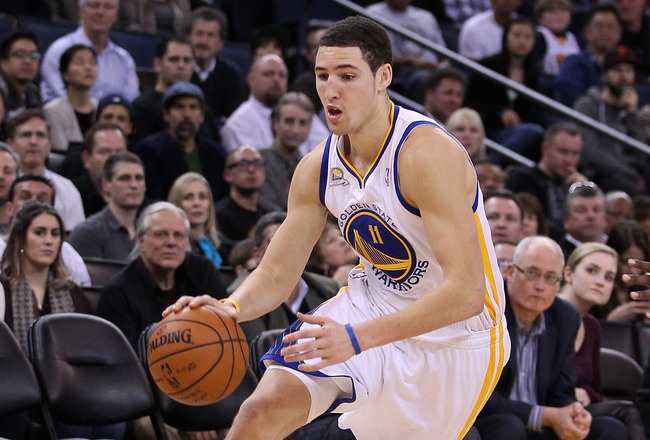 Ezra Shaw/Getty Images
The NBA is full of young talent. Some of that young talent like Kevin Durant, Derrick Rose and Russell Westbrook has been in multiple All-Star games, deep into the postseason and won MVPs or scoring championships.
Obviously, they've already broken out.
Then there are players who are ready to break out. They have been improving since being drafted and now are at the point of becoming real contributors. These are players that might not be All-Stars next year, but if they aren't there they'll be just a notch below.
In each of these cases they'll still be 25 or younger next year, and they played less than 28 minutes a game last year. They will be ready to step up their game and their role next year.
Players Who Have Made It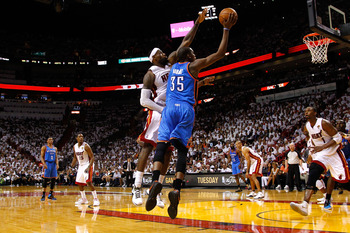 Mike Ehrmann/Getty Images
Obviously, you can't "break out" if you've already "broken out."
Since I always get "Player X?" comments I'm listing players who I deem are already playing at an All-Star level or are close to it, have done so for at least a full season and are therefore not on the list.
It's not an "insult" to these players. It's an assessment that they are already on the level the others are aspiring to get to.
Kevin Durant
Derrick Rose
Kevin Love
Russell Westbrook
Blake Griffin
Andre Bynum
Greg Monroe
DeMarcus Cousins
Kyrie Irving
Steph Curry
James Harden
Ty Lawson
Eric Gordon
Ryan Anderson
Brandon Jennings
Spencer Hawes
Serge Ibaka
Brandon Jennings
Ricky Rubio
15. Danny Green
Ronald Martinez/Getty Images
Danny Green was drafted in the second round by the Cleveland Cavaliers in 2009. He never managed to stick on an NBA roster until he made some rounds in the D-League and in Europe.
This year he came back and showed tremendous improvement, though, averaging 9.1 points per game and showing a career-high PER of 15.5. He averaged 14.3 points and 5.4 boards per 36 minutes.
Given a chance to play for a full season, he'll be able to establish himself as one of the best bench players in the league.
14. Kevin Seraphin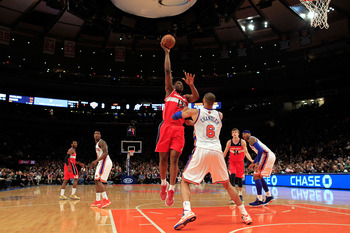 Chris Trotman/Getty Images
Kevin Seraphin saw a huge bump in production last season. His scoring went from 8.7 points per 36 minutes to 13.9. His field-goal percentage went from .449 to .531.
And if that's not enough to impress, look at what he did after he was inserted into the starting lineup at the end of the season. Over the last 15 games of the season his per-36-minute averages were 17.2 points and 7.7 rebounds.
Seraphin is a part of a revamping project in Washington that is getting things done right. He was a big part of the reason the Wizards finished the season on a six-game win streak, and he'll be a big part of the Wizards in 2013.
13. Isaiah Thomas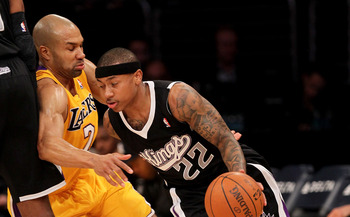 Stephen Dunn/Getty Images
Isaiah Thomas was one of the real surprises of last year's draft. The vertically challenged point guard averaged 16.3 points, 5.8 assists and 3.7 boards per 36 minutes.
He might be small but he proved you don't need to be big to be effective as well, as he shot an effective field-goal percentage of .521 and a true shooting percentage of .574.
Thomas might not grow any more but his game sure will. Expect him to improve even more and become a real standout in Sacramento's backcourt.
12. Thaddeus Young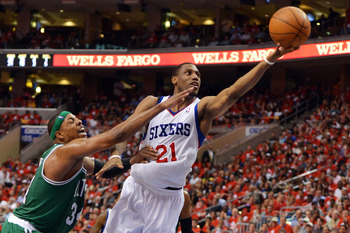 Drew Hallowell/Getty Images
Over the last two seasons Thaddeus Young has averaged 17.1 points and 7.0 boards per 36 minutes with a player efficiency rating of 18.6. He has shown he's ready to be a top-flight NBA player.
However, with the number of quality wings on the Sixers he's struggled for playing time. With Elton Brand possibly on his way out, though, he could find a starting spot as a power froward.
He's a bit like Josh Smith in the sense that you can never figure out if he's a better small forward or power froward either, but he seems to fill both positions well.
Look for Young to gain more minutes while he's still young and emerge as a player who can average 17 to 18 points a game while pulling in eight boards.
11. Anthony Randolph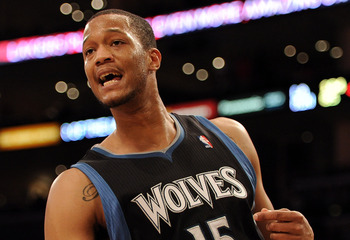 Harry How/Getty Images
Anthony Randolph has always been a solid offensive player. The question has been whether he has shown acceptable defensive effort.
Scratch that.
There really is no question. He's never sustained sufficient defensive effort. There's no question about it.
Next year Michael Beasley will be gone, Derrick Williams will be starting and Randolph will get a chance to run wild. Defense won't matter. His athleticism will allow him to flourish as a sixth man.
10. Kosta Koufos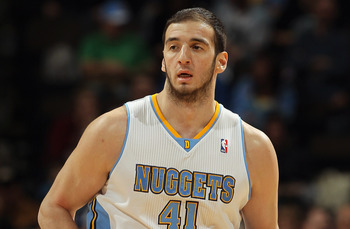 Doug Pensinger/Getty Images
Does anyone else think Kosta Koufos sounds like a character in the Lion King?
One of the more overlooked coaching talents in the NBA is George Karl with the Denver Nuggets, who has shown over time he is one of the better head coaches at developing players. Koufos is just another of the latest examples of players who have come to Denver and shown remarkable improvement.
Koufos saw his PER jump from 12.6 last year to 17.3 this year. Is it possible that's not because of Karl? Sure, but when you see players consistently improve once they get to Denver (Koufos, Danilo Gallinari, Al Harrington and Cory Brewer to name a few) it makes you think he might have something to do with it.
Koufos will still be coached by Karl next year and Koufos will improve even more.
A penny to whomever can say "Coach Karl cleverly crafted King Kosta Koufos quickly" 10 times fast.
9. Kawhi Leonard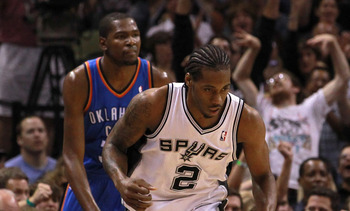 Ronald Martinez/Getty Images
The only thing to like about Kawhi Leonard is everything. He might not do anything great, but he does everything right, and that's what makes him such an amazing young player.
It's guys like Leonard that make you really appreciate the "glue guys" of the NBA. They do those little things that make a team better.
Leonard reminds me of a young Luol Deng-type of player who can hit from deep, play defense and always does everything that's asked of him. That he can do so much of that at such a young age is truly something special.
8. Tristan Thompson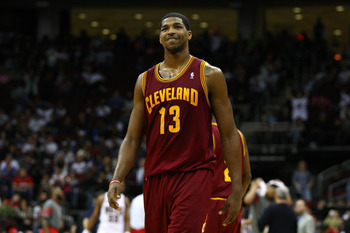 Chris Chambers/Getty Images
Tristan Thompson might seem to be a disappointment unless you look at his monthly splits. In December and January he averaged 7.1 points per game. In February he averaged 7.8. In March he averaged 8.4. In April he averaged 9.6.
Notice anything?
Thompson consistently improved through the season. He is clearly a player that would have benefited with a summer league training camp, and he will have one this year. He has the ability, he just needed some coaching and experience.
This year he should break out and prove his draft position was worthwhile.
7. Klay Thompson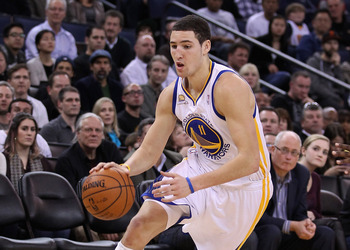 Ezra Shaw/Getty Images
Klay Thompson showed enough promise in Golden State that the Warriors traded away their best player (or at least their best player with two good ankles) to the Milwaukee Bucks last year.
After the trade, the rookie scored 18.6 points per game and added 3.3 rebounds and 3.0 assists per game.
There are three things that are promising about the Thompson era in Golden State.
First, he'll have a better frontcourt to play with than Monta Ellis ever had with Andrew Bogut in the middle. Second, he's an impressively efficient player with a true shooting percentage of .545. Third, he's a better compliment to Steph Curry because he's a better catch-and-shoot player.
Because of that, I see the Warriors being a vastly improved team next year and Thompson being a major part of that.
6. Jerryd Bayless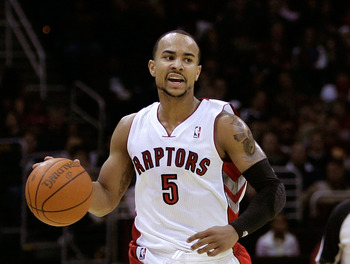 Mike Lawrie/Getty Images
Jerryd Bayless' place on this list depends largely on what happens with Jose Calderon. Bayless has shown the potential to be a quality NBA starter but he's never gotten the opportunity to be one.
Last season he averaged 18.0 points per 36 minutes and 6.0 assists. In his career as a starter he's averaged 16.3 points and 5.2 assists.
Playing time is the biggest thing but not the only thing holding him up. His defense is an issue as well.
However, the thing with defense is that when you have a whole team that plays bad defense it's hard to know who is actually bad and who is actually just suffering from being surrounded by bad defensive players.
Toronto will be a much-improved team on both ends of the court next year, and if Bayless is the starter, then you should see some big numbers from him. If Calderon doesn't go anywhere, you can just skip Bayless. (Insert rim-shot here.)
5. Brandan Wright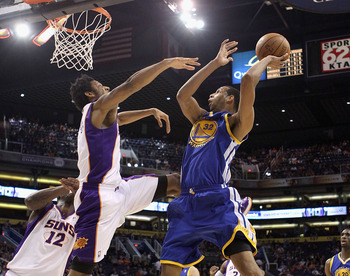 Christian Petersen/Getty Images
Brandan Wright was one of the most overlooked young developing players in the NBA last year. Among players under 25 in the NBA, Wright had the 10th-best PER, just below DeMarcus Cousins and just ahead of Kryie Irving.
That's largely because he played limited minutes, but he played enough of them to give a good idea of what he would do with more time. Per 36 minutes, he averaged 15.5 points and 7.9 boards on a whopping .618 field-goal percentage.
Sooner or later this dude is going to get some real playing time, and next year is a great opportunity for him. He'll be in his second year in Dallas and he was actually more or less healthy last year. That gives him a real chance to build on something for once.
Look for Brandan Wright to be the biggest surprise player of next year. He won't be the "best" breakout player, but he'll be the most surprising.
4. Jeremy Lin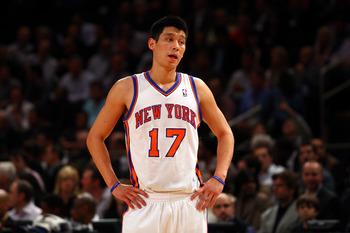 Chris Chambers/Getty Images
Follow me here. Jeremy Lin and "Linsanity" is like the tide, a powerful force that just sweeps everything to shore with it.
With the tide there's the undertow that also comes with it. A "counterforce" that's a direct result of the tide that sweeps everything back out to sea.
With "Linsanity" there was both the force and the counterforce working against one another. There was a "hype" that was beyond anything realistic. Then there was a kind of "underhype" that was equally unrealistic.
As a result, an actual realistic, pragmatic view of Lin was almost impossible to maintain. He is neither Derrick Rose nor is he a "scrub."
What he is is a point guard who has genuine NBA talent who is still learning the position.
Next year will be more of a real "breakout" than this year because next year will be more about "Jeremy Lin" and less about "Linsanity." He will prove he is a starting NBA point guard. He'll have good games and bad games, and ups and downs.
By the end of the season he'll have around 17 points per game to go with eight assists. They're not ridiculous numbers, but they're certainly valid of a starter in the NBA.
3. Derrick Williams
Christian Petersen/Getty Images
Derrick Williams started to emerge at the end of the season last year. His post-All-Star numbers were at another level as he started to get more playing time.
Minnesota will commit to playing him more next year, and I expect that he'll earn his way into the starting lineup as the 'Wolves small forward. He and Kevin Love proved they could co-exist last year.
On the whole they were outscored by nine points on the season when both players were out there together. That's a little better than the team overall.
Williams, Love and Nikola Pekovic will make for an intimidating frontcourt, which will only be more intimidating with Ricky Rubio leading the charge.
2. Kenneth Faried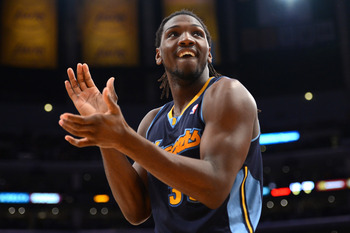 Harry How/Getty Images
Kenneth Faried is fun to watch. If you haven't watched him play, it's worth buying League Pass retroactively and just watching the Nuggets games for the sole purpose of watching him play.
His per 36 numbers are utterly insane, as he scored 16.4 points and .586 shooting and added 12.2 rebounds. After the All-Star game he got more minutes and his scoring actually got better, averaging 16.7 points on .601 shooting.
Not too shabby for a guy taken with the 22nd pick in the draft, don't you think?
Faried will get even better next year when he's had a chance to experience a training camp.
1. Ersan Ilyasova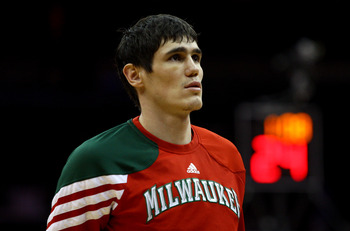 Chris Chambers/Getty Images
Ersan Ilyasova was a player who actually improved last year and had my vote for most improved player. Normally we give the player who has the most improved minutes the award.
Ilyasova actually played better than he ever played, and he played better than anyone ever realized he could play. Not only that, he kept playing better and better throughout the season.
After the All-Star Game, he averaged 16.1 points and 9.1 boards per game with just 30.1 minutes of playing time.
Ilyasova has shot up the free-agent rankings, and because of his remarkable end-of-the-year performance he could be commanding around $8 million next year. That's an outright steal.
He'll be in the running for Most Improved Player next year, a year too late, when the media catches up on who he is.
Keep Reading