Liverpool Transfer News: Adding Adam Johnson Would Be Step in Right Direction
June 19, 2012

Alex Livesey/Getty Images
Liverpool has been just an average team for the past few years in the English Premier League, but adding Adam Johnson would put them one step closer to a league title.
According to Mirror Football, "Liverpool are plotting a £16 million bid" for Johnson, and the move could be perfect for both sides.
With Johnson, Liverpool could add a skilled midfielder who is only 24 years old. He is solid defensively and has the speed to stay with quicker opponents, but he also has solid vision and an ability to set up an attack on the offensive end.
Last year with Manchester City, he was able to score six goals in 26 league matches, mostly as a substitute. Throughout the year he only started 10 times.
For this reason, Johnson would likely be very willing to leave his current situation in favor of Liverpool. He was able to be a part of a magical season in which Man City won the Barclay's Premier League title, but he was hardly a key contributor throughout the season.
His lack of playing time also most likely contributed to him being cut from the English squad for Euro 2012.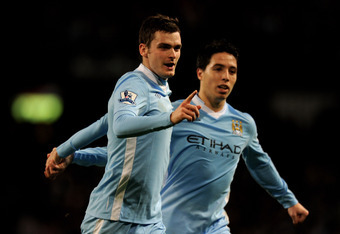 Gareth Copley/Getty Images
With Liverpool, Johnson can regain his position as a first team player and with some help he could thrive there.
However, the midfielder alone will not turn this club into immediate contenders. A talented striker to bring the offense on par with Manchester United, Manchester City and Arsenal would go a long way in improving their standing.
Fortunately, Liverpool is attempting to make that move. Team chairman Tom Werner has discussed the possibility of getting American Clint Dempsey, according to The Guardian. Dempsey scored 17 goals for Fulham last season, good enough for fourth in the EPL.
With these additions, Liverpool could be on its way back towards the top of the Premier League as they try to earn their first title since 1990.