Julio Teheran and Other Top Prospects Who Could End Up on the Trade Block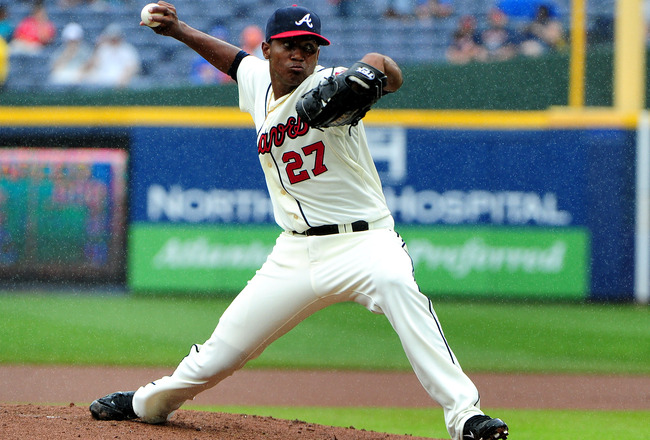 Scott Cunningham/Getty Images
As we're now less than a month away from the All-Star break, teams are seriously evaluating their on-the-field product, as well as their position to move forward over the second half of the 2012 season.
For some teams, injuries to both key position players and pitchers have made them likely candidates to make a trade, as there's a need to replenish their weakened squad. For other teams, they are already looking toward the 2013 and 2014 seasons, seemingly already out of contention for a 2012 postseason berth.
Regardless, most teams are in the midst of determining their most expendable minor-league trade chips and the type of return those players may offer.
So, here is a look at five prospects that may be on the move prior to the July 31 trade deadline.
Anthony Gose, OF, Toronto Blue Jays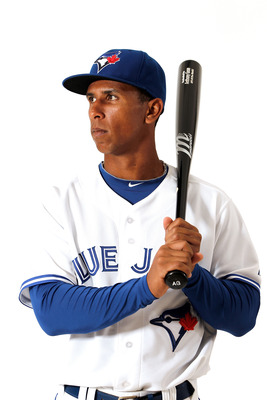 Jonathan Ferrey/Getty Images
With Brandon Morrow and Drew Hutchison on the disabled list and Kyle Drabek slated to undergo his second round of Tommy John surgery on Tuesday, the Toronto Blue Jays are in desperate need of starting pitching.
With most of their top pitching prospects still years away from being big-league ready, there are few plausible internal options to fill in. Therefore, the Blue Jays are rumored to be exploring the potential acquisition of a highly coveted starting pitcher.
The Blue Jays have few trade chips on their roster outside of Edwin Encarnacion, Kelly Johnson and J.P. Arencibia. I'd expect them to deal some of their position prospects in exchange for a viable arm (perhaps even multiple arms).
If a team is looking for a big-league-ready prospect, I expect that they'll be inquiring about one of the team's top prospects, Anthony Gose, who is currently batting .291/.366/.421 with 24 extra-base hits and 24 stolen bases for Triple-A Las Vegas.
He's especially expendable with Jake Marisnick and now D.J. Davis in their system.
Jared Mitchell, OF, Chicago White Sox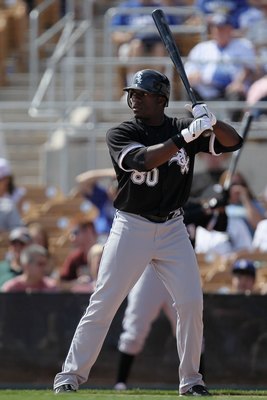 Chris McGrath/Getty Images
Are the White Sox buyers or sellers? That's the question that every writer and fan wondered headed into the 2012 season, given their offseason trades and long-term signing of left-hander John Danks.
Well, the South Siders are currently sitting atop the American League Central with a .5-game lead over the Cleveland Indians, so I'm going to assume they are buyers. However, it's not as though they're about to trade a player on their current roster, so naturally, they'll look internally to the prospects with the most value on their farm.
At the top of the list is the resurgent Jared Mitchell, who, after missing all of 2010 with a severe ankle injury followed by a disappointing 2011 campaign, is having his best minor-league season to date. Headed into Tuesday's action, the former LSU two-sport standout was batting .265/.394/.440 with 24 extra-base hits, 14 stolen bases and 83 K/45 BB in 67 games.
Dellin Betances, RHP, New York Yankees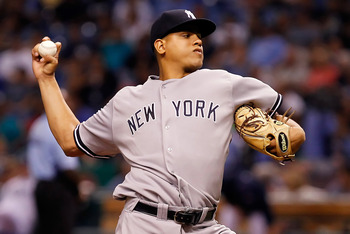 J. Meric/Getty Images
Drafted out of a local New York high school in 2006, Dellin Betances has been a perennial feel-good story and even made his big-league debut at Yankee Stadium late last season. However, the 6'8" right-hander has struggled with his control throughout his career and is currently in the midst of his worst season.
In 14 starts this season at Triple-A, Betances has posted a 3-5 record and 5.91 ERA while fanning 61 and walking 58 over 67 innings. The fact that his control is starting to deteriorate now, his seventh season in the Yankees' system, will either prompt a move to the bullpen or perhaps a change of scenery.
The Yankees appear to be targeting starting pitching, as they now sit atop the American League East, and rather than parting with some of their high-upside, toolsy position prospects, I would expect them to first cut ties with Betances.
Chris Archer, RHP, Tampa Bay Rays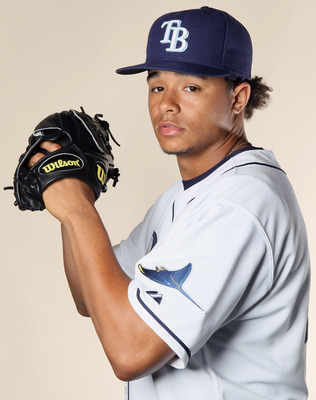 Elsa/Getty Images
Chris Archer has earned the reputation of possessing some of the nastiest, pure stuff in the minor leagues, as he owns a 9.0 K/9 ratio over seven seasons. After struggling in the Indians' system from 2006-08, he was traded to the Cubs, where his career took off.
In 2010, pitching for both High-A Daytona and Double-A Tennessee, Archer went a combined 15-3 in 27 starts. Furthermore, the right-hander posted a 9.4 K/9 rate, not to mention a 4.1 BB/9 rate—one of the lowest of his minor-league career.
This year, however, Archer has struggled to find consistency, as he's 4-8 with a 4.81 ERA and 90 K/45 BB over 76.2 innings. So, while the strikeout rates indicate the stuff is clearly still there (and possibly as good as ever), he's the type of pitcher who may need another change of scenery.
And if Evan Longoria is out for any longer than expected after experiencing a setback in his rehab assignment, the Rays may have to make a move to acquire a much-needed middle-of-the-order bat. They do have a slew of toolsy position prospects, but I believe that Archer may be their most intriguing trade chip, especially if there's a team who views him as a viable late-inning reliever.
Joe Benson, OF, Minnesota Twins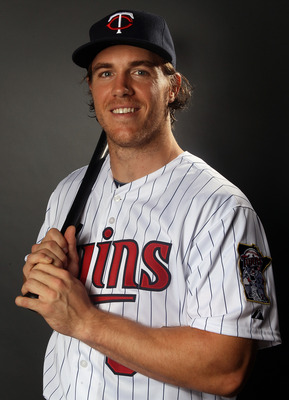 Elsa/Getty Images
There's never been any question regarding Joe Benson's natural ability and overall upside. He's a plus runner and defender with enough pop to turn in a 20/20 season in the major leagues. However, he's yet to improve his contact rates and continues to strike out at a less-than-desirable level.
The toolsy outfielder was called up late last season to get his feet wet and batted .239/.270/.352 with six doubles and two stolen bases over 74 plate appearances. However, the right-handed hitter also tallied 21 strikeouts compared to three walks, a trend that has plagued him throughout his minor-league career.
After failing to make the team out of spring training, Benson was assigned to Triple-A, where he struggled mightily with his plate discipline. In 108 plate appearances, he posted a .179/.269/.316 slash line with 27 strikeouts before a demotion to Double-A. Granted, he's only had 36 plate appearances since then, but things haven't gotten any better for the once promising prospect, as he's batting .156/.250/.250 with one home run and eight strikeouts.
While I do think he'll ultimately bounce back, his ongoing struggles this season are definitely concerning and could make him a trade candidate if the Twins attempt to land a pitcher—something they're rumored to be targeting.
Like many of the other names on this list, Benson may be a player who could benefit from a change of scenery.
Jon Schoop, SS/2B, Baltimore Orioles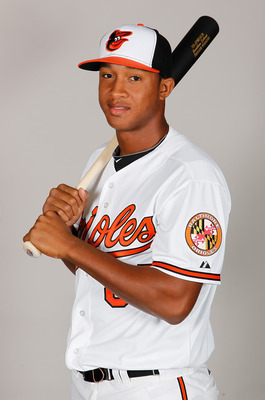 J. Meric/Getty Images
Signed out of Curaco in 2009, Jon Schoop has emerged as the Orioles' top position prospect after Manny Machado. Since entering the team's system, the versatile Schoop has seen time at second base, shortstop and third base, though he profiles best at either up-the-middle position.
At the plate, the right-handed hitter is coming off his best minor-league season, as he batted .290/.349/.432 with 42 extra-base hits, 71 RBI, 12 stolen bases and 76 K/42 BB over 567 plate appearances between Low- and High-A.
This season, however, he's off to a slow start in his first season at Double-A. Through 248 plate appearances, Schoop is batting .246/.305/.335 with 13 extra-base hits, two stolen bases and 45 K/15 BB.
Although there has been nothing that suggests the Orioles are willing to move Schoop, out of all their position prospects, he may be the best trade chip.
Chris Reed, LHP, Los Angeles Dodgers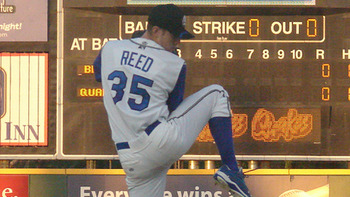 Courtesy of MiLB.com
For five straight years, the Dodgers drafted a pitcher with their first pick in MLB's first-year player draft. In 2011, they selected left-hander Chris Reed out of Stanford, a closer whom they planned to convert to a starting pitcher.
Since entering the Dodgers' system last season, Reed has posted a 1-5 record with a 3.53 ERA, 1.196 WHIP and 54 K/23 BB over 51 innings spanning 12 starts. While there is little doubt that Reed's stuff is good enough to become a big-league pitcher, his inefficiency and high pitch counts have prevented him from achieving eye-popping results.
The Dodgers have remained steadfast in their development of him as a starter, but if his control problems persist, then he may be forced back into a bullpen role.
Furthermore, there's a chance that the Dodgers may try to flip him by the trade deadline, as they clearly value 2010 first-rounder Zach Lee more than Reed, and he could offer significant value to a host of other teams as both a starter or reliever.
Julio Teheran, RHP, Atlanta Braves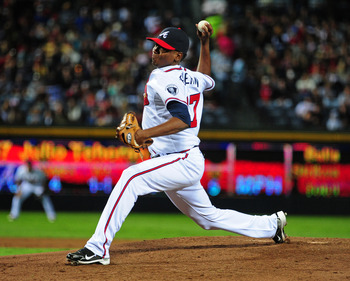 Scott Cunningham/Getty Images
One of the top pitching prospects in baseball for two consecutive fears, Julio Teheran has seemingly plateaued at Triple-A, as his electric arm and arsenal are yet to translate at the big-league level.
After a terrific 2011 season at Triple-A in which he posted a 15-3 record with 2.55 ERA and 122 K/48 BB in 144.2 innings, Teheran struggled upon a promotion to Atlanta. Appearing in five games, the right-hander registered a 5.03 ERA over 19.2 innings while allowing four home runs, eight walks and fanning 10.
With Brandon Beachy on the precipice of season-ending elbow surgery and Mike Minor still trying to find consistency, Teheran is a blue-chip prospect who could yield a significant return of major-league-caliber arms.
Pat Corbin, LHP, Arizona Diamondbacks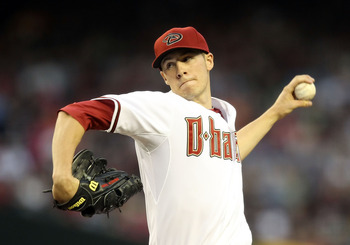 Christian Petersen/Getty Images
It's no secret that the Arizona Diamondbacks have some of the best arms in their farm system among all teams (Trevor Bauer, Archie Bradley, Andrew Chafin, Tyler Skaggs, Anthony Meo and David Holmberg). Therefore, if any team could afford to trade a high-upside pitching prospect, it's the Diamondbacks.
Of all touchable prospects, however, it's probably Pat Corbin who could yield the best return, as he's a 22-year-old left-hander with a hint of big-league experience. As we've all seen, Corbin has excellent stuff with three above-average pitches—none of which are straight.
He's demonstrated the makeup to pitch in the major leagues and could immediately aid a team in need of a mid-rotation, southpaw starter.
Keep Reading