Why the Eagles Defense Will Drastically Improve Under Juan Castillo in 2012
June 20, 2012

How will Juan Castillo drastically improve the Philadelphia Eagles defense in 2012? Through hard work man, hard work.
Though I'm somewhat kidding, it's partly true. Juan Castillo is, if anything, a hard-working man. You could see he's a hard worker when he picked up DeMeco Ryans at the airport, carted his bags and threw rose petals on the ground as he walked.
Well, he did personally greet Ryans at the airport—the rest may have been an embellishment on my part.
However, you can see Castillo is dedicated. He would take a bullet for Andy Reid, for cryin' out loud!  His mantra is "hard work," and that's not a bad thing.
Nobody is going to outwork Castillo, not in this town.
However, the truth of the matter is that there are several reasons as to how Castillo will have this defense improved in 2012. Besides the aforementioned aspect of hard work, here is a look at some of those reasons...
Reason No. 1
This is Year 2 of the Juan era. Last year was an almost impossible situation for a guy who hadn't been on the defensive side of the ball since teams wore leather helmets.
Simple hard work was not enough to overcome a lack of time and experience and coordinating numerous new faces on defense.
With a full season of game experience, a full offseason of practice and, yes, a lot of hard work, it stands to reason that Castillo will be a much-improved coordinator.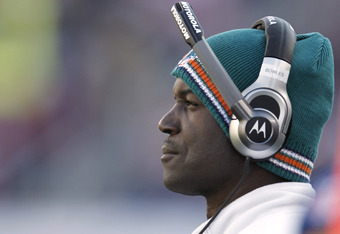 Winslow Townson/Getty Images
Reason No. 2
Todd Bowles is now on the defensive staff. He's the only newcomer on the defensive coaching staff and brings with him a ton of experience.
The secondary was arguably a bigger liability last season than the linebacker corps. Even with all of the talent the Eagles had, they just couldn't get them to mesh well.
Consider this: They gave up the ninth-most TD passes in the NFL with 27; they were tied for second in the NFL in giving up the most passes over 40 yards with 13; and opposing quarterbacks had a cumulative passer rating of 85.7.
Those stats put the pass defense in some pretty bad company last year. This is where Todd Bowles' experience will be invaluable to Castillo, as Juan can just let Bowles completely take over the secondary while he focuses on the overall picture.
Plus, Bowles' acumen includes experience as an interim head coach as well, so he knows how to lead. His presence alone will be a huge improvement to the defense and therefore benefit Castillo.
Reason No. 3
Castillo now has an on-field leader for his defense. Make no mistake, the addition of middle linebacker DeMeco Ryans will be the single biggest reason for the defensive turnaround.
Castillo can immerse Ryans in his system and then filter his message through him to the rest of the players during games. In essence, having a true quarterback of the defense will help his case tremendously.
Reason No. 4
He will employ a more concrete defensive scheme. This is kind of an offshoot of No. 1 because it will come from his experience last season.
It was no secret last year that Castillo experimented quite a bit with his defensive scheme and how he deployed his personnel. He mixed, matched and subbed his players frequently to try and find the right groupings.
He started the year off playing mostly zone coverage without much blitzing. That evolved into more man coverage and more blitzing by the end of the season.
This year, he'll be going in knowing he'll be playing man coverage and be able to design more blitz packages with the freedom of knowing what he's going to do ahead of time.
Basically, he'll be able to utilize his players' talents more effectively this season.
Reason No. 5
Castillo has earned his players' trust. Towards the end of last season, players openly acknowledged that things were rough in the beginning because they weren't buying into the scheme.
For a defense to thrive, they have to believe in what they're doing. That was lacking last year, and the confusion was evident. Castillo wasn't confident in what he was doing, because, well, he didn't know what he was doing.
The biggest thing that will happen now is that the players will believe in Castillo—in his scheme, his play-calling and his game plan. They finally started to do just that during their four-game end-of-season "fools' gold run" last year.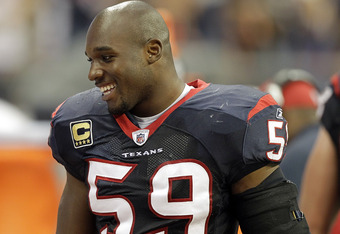 Bob Levey/Getty Images
This year, we will see a much more confident defensive coordinator, and that will carry over to the players.
All in all, the key word to remember about Juan Castillo improving is this: continuity.
It's because of that word I was able to rationalize the Eagles not going harder after Steve Spagnuolo. Otherwise, I might have had a serious brain hemorrhage after hearing that Reid merely offered him a "spot on the staff."
However, continuity will be a key component this year. If the Eagles had changed defensive coordinators, the players would have again had to learn a new system and adapt to a different coaching style.
One last thing to remember, too, is that Castillo will have a dearth of talent to work with this season. With key veterans returning and an excellent draft class, he will have every chance to succeed in 2012.
If an idiot like Barry Switzer could "coach" the talent-laden Cowboys to a victory in Super Bowl XXX, there's no reason to think Juan Castillo can't produce a championship-level defense.