Boston Celtics: Why the Celtics Will Be Reloading and Not Rebuilding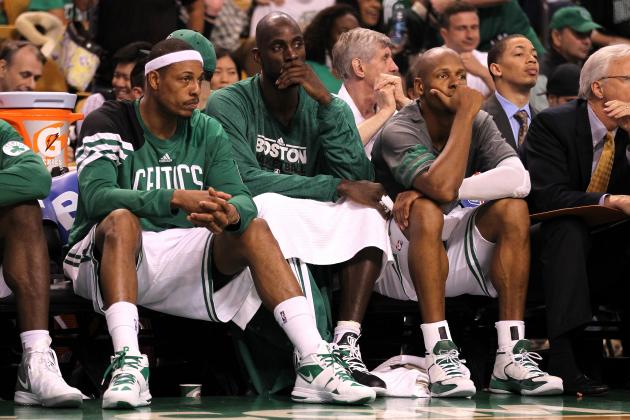 Jim Rogash/Getty Images

The Boston Celtics are the most storied franchise in NBA history. They've won more championships than any other team (17). They've also had a recent run of success that's seen them add a championship banner to the rafters and qualify for the postseason in five consecutive seasons.
But with two of their Big Three currently unrestricted free agents and all three members of the Big Three past their primes, some are questioning whether it's time for Boston to rebuild. That would be a hasty decision because Boston still has plenty of positives to keep them contending into the future.
They've got a successful coach returning. They've got a top point guard who's just now entering his prime. They've got some cap space and draft picks to work with.
In short, the Celtics have enough in place to make rebuilding counterproductive. Instead, the Celtics will just reload and be back in the championship hunt again next season, and here are seven reasons why.
Begin Slideshow

»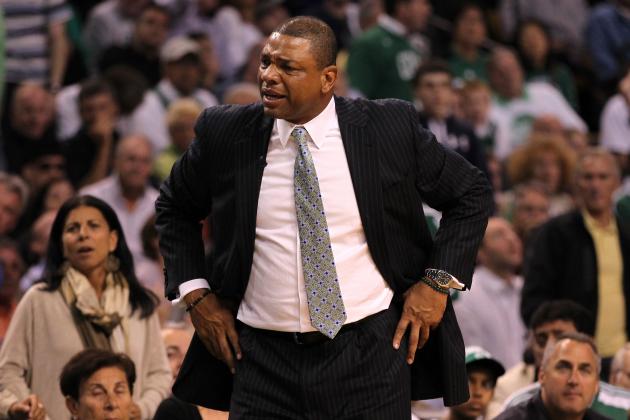 Jim Rogash/Getty Images

The Boston Celtics have had a lot of success with Doc Rivers as head coach. Overall, Rivers has posted a 375-265 record (.585 winning percentage) as Boston's coach.
His results have been even more impressive since the Big Three came together for the 2007-08 season. Since then, Rivers and the Celtics have gone 273-121 (.692 winning percentage).
Rivers has also helped lead Boston to an NBA championship in 2007-08, the NBA Finals in 2009-10 and to the Eastern Conference Finals this season.
Having Rivers return to coach the Celtics will help in a couple of different ways. First, it helps bring stability to a franchise that might have a lot of turnover with Ray Allen and Kevin Garnett becoming free agents.
Second, Rivers had a lot of success playing point guard in the NBA. With Rajon Rondo just entering the prime of his career, having Rivers to help Rondo reach his potential is huge.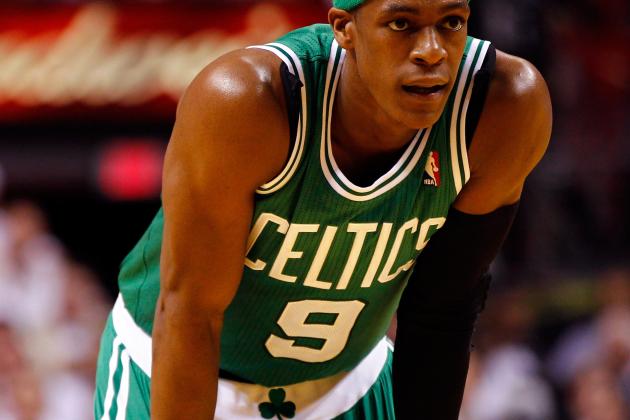 Mike Ehrmann/Getty Images

It's hard to believe considering we've watched him in Boston for six seasons now, but Rondo is still only 26 years old. Unlike the Big Three, Rondo has plenty of pep left in his step, which he displayed throughout the playoffs.
Rondo's also been known as a pass-first point guard. While that's not expected to change, Rondo showed the ability to light up the scoreboard when needed throughout the playoffs.
That's something that might be asked of him more frequently, assuming the Big Three are disbanded.
Lastly, as mentioned in the previous slide, Rondo has Doc Rivers returning as his coach. Rivers has the experience to help Rondo improve his game. He's also got enough clout to keep Rondo in line.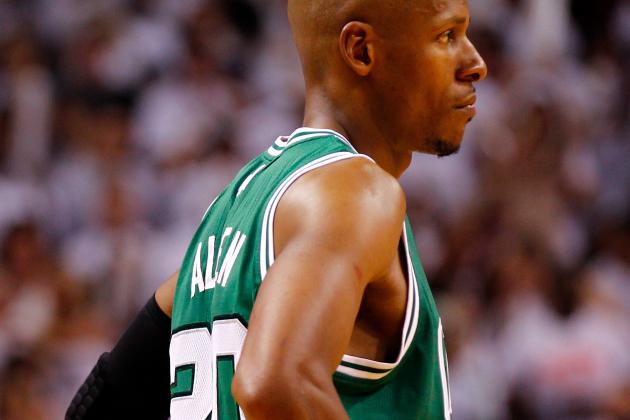 Mike Ehrmann/Getty Images

With Kevin Garnett and Ray Allen unrestricted free agents, the Celtics will have some wiggle room with the salary cap. Ray Allen is not expected to return. That alone saves Boston $10 million. Kevin Garnett made $21.2 million last season.
Even if Garnett returns, he won't be making as much money as he did this season. That should provide Boston with some extra cap space to get a free agent.
With Rondo and Pierce still signed, some good role players under contract and a promising young player in Avery Bradley, it won't take much to keep Boston in the NBA's upper echelon.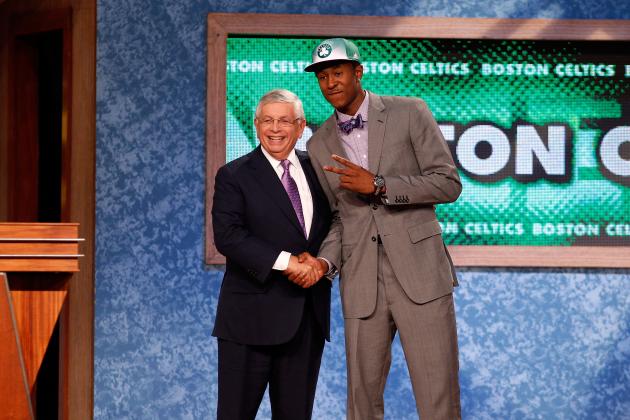 Mike Stobe/Getty Images

Boston owns two selections in the first round. Boston's picks are back-to-back (21st and 22nd). That should provide the Celtics with a few different options.
Boston can use the picks to add a couple of nice prospects to its roster.
With multiple picks, another option for Boston would be to package both of their picks and move up in the draft. If they see a player that they think could help their team, then this might be the way to go.
Lastly, Boston can use its draft picks to trade for a veteran player.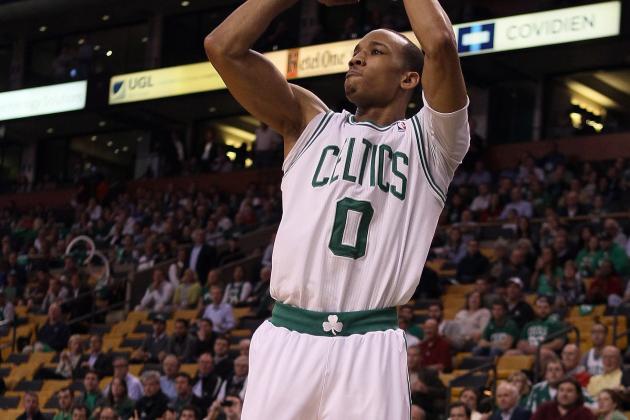 Elsa/Getty Images

Besides Rajon Rondo, the Celtics have another promising guard in Avery Bradley. Of course, Bradley isn't as established as Rondo, but he certainly has tons of potential.
Here's what ESPN's Jackie MacMullan recently wrote about Bradley.
"Bradley's defensive pressure and the offensive energy he generates with his backdoor cuts and his spot-up shooting qualify him as the most intriguing player on the Celtics roster. Although he does not handle the ball well enough to play the point, he takes pressure off Rondo because he can guard the opposing point guard."
The praise for Bradley doesn't stop there. MacMullan quoted Paul Pierce's praise for the young guard, especially concerning what he showed in practices.
"He was knocking down shots, dunking on people, and we were like, 'We've got a player here,'" said Pierce. "He was the only guy who could stay in front of Rondo. But then he got into the games and you didn't see any of those things."
Bradley showed flashes of that this past season. Now he just needs to do it more consistently. At only 21-years-old, Bradley's not even close to his prime. If he can figure out how to put it all together, then it should help to keep Boston in contention.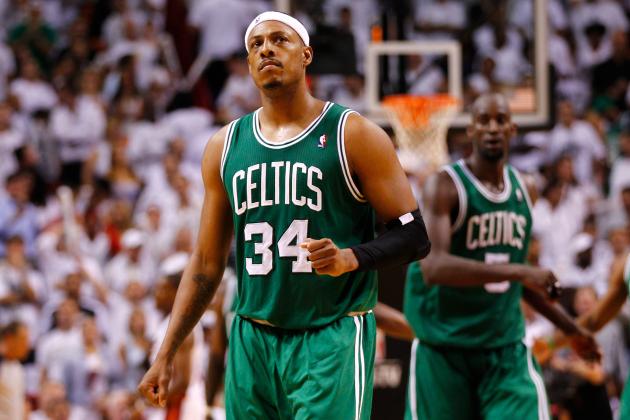 Mike Ehrmann/Getty Images

As was previously mentioned, since the Big Three were brought together, the Celtics have gone 273-121 and won an NBA championship. Boston also made the Eastern Conference finals as recently as this season. There's just no point in blowing the whole thing up when you've had success so recently.
It'd be one thing if all Boston had was the Big Three and all three members were guaranteed to not return.
In this scenario, Boston still has Paul Pierce and Rajon Rondo coming back, so it's not like Boston's cupboard is completely bare.
Plus, you add in the draft picks and the cap space, there are even more opportunities to add to this roster.
With such recent success, a playoff-caliber roster and an excellent head coach, there's no reason the Celtic's couldn't make another run at an NBA title.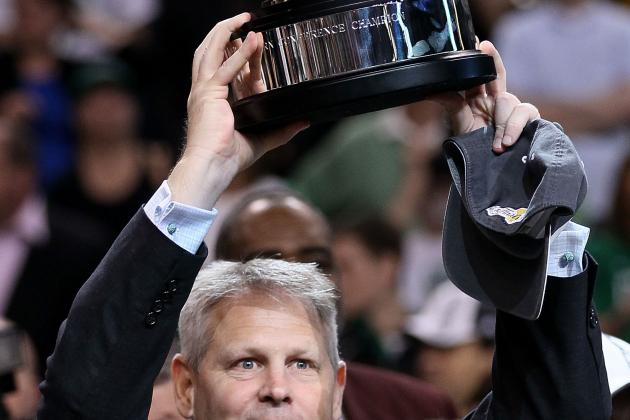 Elsa/Getty Images

Danny Ainge was the man with the plan. He was the architect that drew up the blueprints for the Big Three. Doc Rivers was the contractor who executed that blueprint.
This is another opportunity for Ainge to transform the Celtics.
He's still got some of the same key cogs in Rondo and Pierce. Now he just needs to go out and make a few minor tweaks. From there, Boston should have what it takes to make another run.