Euro 2012: Croatia Ousted, but Modric Does His Transfer Prospects No Harm
June 20, 2012

Jasper Juinen/Getty Images
They say fortune favors the brave. 
Monday came, and by the end of it, Group C dark horses Croatia had learned that this needn't always be the case. The lesson was a harsh one.
For large spells of the game, the men from Eastern Europe frustrated world champions Spain without compromising their natural attacking game.
It is all too often that we hear experts and pundits talk of the Spaniards spinning webs around their opposition, but this was hardly the story in Gdansk.
Spain, famed for it's tika-taka style of play, didn't come even close to unlocking the Croatian defense for 87 minutes. Then came the moment which settled the game. Cesc Fabregas' sumptuous lob allowed Andres Iniesta to set up Jesus Navas, who was pretty much able to walk the ball into the net.
And the resistance was broken. Croatia needed either a 2-2 draw or a win, considering the fact that Italy had just won their game against Republic of Ireland. But it was just too late.
On a rare occasion when the well-oiled Spanish machine lacked the creative prowess, simple observation was enough to determine what the best chance of the game was. 
Ivan Rakitic headed right at Iker Casillas from close range in the 59th minute. Had he executed his header close to the far post, he would probably have scored. And we could well have been hailing a master opportunist who sealed the quarterfinal qualification for his nation.
The mastermind behind that chance was a certain Luka Modric. Dribbling past multiple defenders and midfielders, he got into a good crossing position, before delivering the ball onto Rakitic's forehead with his outer boot.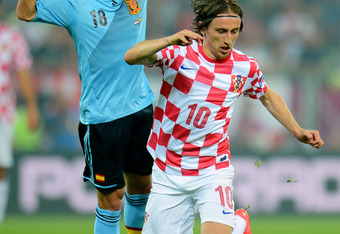 Shaun Botterill/Getty Images
Things could well have panned out differently. While his side did get eliminated, I just can't praise Modric enough. The man led the Croat defence from the very start, and grew in stature as the game went on.
He more than held his own while up against the quartet of Xavi, Iniesta, David Silva and Xabi Alonso.
A delight to watch on the counter attacks, Modric has shone through the group stages and flourished in a more attacking role.
When we speak of midfielders, few come as versatile as Modric.
Coming off a good season personally, his performances at the European Championships surely can't have done his transfer prospects any harm. 
Chelsea and Manchester United both sought his services last year, and the duo went head-to-head to sign the fleet-footed genius. Neither succeeded last time round, but with Tottenham Hotspurs condemned to play in the Europa League next season and Harry Redknapp getting the sack, this is perhaps the perfect time to pounce.
Modric's next destination could just as easily turn out to be Spain.
Real Madrid are reportedly lining up a bid for him. With Chelsea having acquired the services of the "next big thing" in Eden Hazard and Man United pulling off a major coup of their own, Shinji Kagawa, Jose Mourinho would see this as a fine opportunity to snap up the talented playmaker.  
Besides, Mourinho isn't the kind to bypass opportunities to reinforce. Just imagine what Modric and Xabi Alonso would look like as a pairing in midfield.
Manchester City and PSG are also clubs credited with an interest in him. 
Following Monday's splendid showing, there will likely be more. His team may have bowed out of the competition, but Modric's stock just continues to rise.