Why Webb Simpson's U.S. Open Win Was the USGA's Worst Nightmare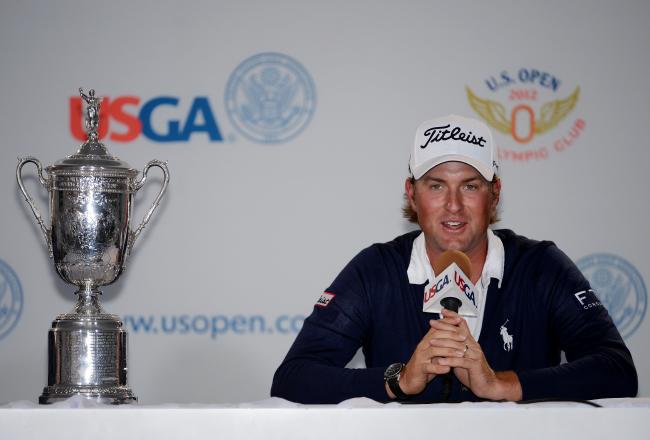 Harry How/Getty Images
As Webb Simpson's hands began shaking over his tournament-winning four-foot par putt on the 72nd hole of the 108th U.S. Open, he was able to simply anchor his putter against his body, turn his shoulders and watch his ball roll right into the hole.
Simpson's par putt on the 72nd hole proved to be the decisive blow, as he edged out Michael Thompson and Graeme McDowell by a single stroke to capture his first major championship title.
As Simpson walked up to receive the Jack Nicklaus medal and U.S. Open trophy—having become the first player in history to win the U.S. Open while yielding a belly putter—you couldn't help but think that the USGA's blue coats must be growling underneath those grins forced on them by social convention.
Ben Hogan, looking down from a fairway far, far away must have been snarling while saying, "If I had one of those contraptions I would have won eight more majors."
Although Arnold Palmer would later praise Simpson for his U.S. Open triumph, Palmer was probably sitting at home in Orlando over the weekend thinking, "Boy, if I had one of those belly putters, Billy Casper would have never been able to erase that seven-stroke deficit on the back nine in 1966."
The belly putter has recently replaced driving distance and slow play as golf's most hotly debated topic.
And the fact that the USGA—the self-proclaimed "guardians of the game"—was forced to sit by and watch a player roll in the U.S. Open-winning putt with a belly putter...well, this had to be its worst nightmare.
Those who are for the use of belly putters will argue that—no matter what putter you are using—you still have to line up the putt and hit the ball on the right line with the right speed (which is what putting is really all about). And, if you have never stood over a pressure-packed four-footer to win a tournament, you'd think theirs would be a logical view of the matter.
Golf purists, on the other hand, will argue that the anchoring of a club against a player's body is an unnatural golf motion.
Golf purists will also argue that anchoring the club against one's body helps to at least alleviate the effect of nerves.
Players using a standard-length putter need to calm the nerves that make their hands and fingers tremble in order to hit a solid putt under pressure; players using a belly putter can simply anchor the club to their body and turn their shoulders, thus eliminating any real effect that nerves may have on putters' hands, fingers or feel.
And for the record, this is a debate that is not going away anytime soon.
The winners of the last three majors have included a player using a belly putter (Keegan Bradley), a player hitting 365 yard drives with a massive pink driver (Bubba Watson) and, now, Webb Simpson.
Talk about an ideal environment for debating the effects of advanced equipment on the modern game.
The USGA, although outspoken on issues such as driving distance and slow play, has remained somewhat tight-lipped about its views on belly putters in the game.
That may now change with Simpson having just won the USGA's most prestigious event with a putter some believe should be banned from the game.
Simpson is a likeable guy and a worthy champion (he posted scores of 68-68 on the weekend). Still, you can't help but think that the USGA, if given the choice, would have rather seen a player such as Furyk or McDowell capture its national title. This would have at least delayed further talk about belly putters.
With each additional major championship win determined, even in part, by modern, game-changing equipment, the USGA will feel even more pressure over whether such equipment (rather than skill) is taking over the game.
And if so, the even bigger question becomes: What will the "guardians of the game" do about it?
For more golf news, insight and analysis, check out The Tour Report.
This article is
What is the duplicate article?
Why is this article offensive?
Where is this article plagiarized from?
Why is this article poorly edited?