A Post-Minicamp Look at the Green Bay Packers' 2012 Roster
June 19, 2012

Scott Boehm/Getty Images
The Packers have wrapped their minicamp and are now scattered across the country for a short break before the full training camp kicks off late in July.
As it's a bit quiet right now, it's worth a look at how the roster stands post-minicamp.
OFFENSE
QUARTERBACK: No surprises in that Aaron Rodgers looks good in camp—but the real action will take place behind the starter anyway.
BJ Coleman is a raw prospect the Packers took in the seventh round, and I love his upside, but he has a ways to go.
Of course, the same could be said in many ways when it comes to Graham Harrell, the current No. 2 quarterback. While he has a little more experience, he's not so much further ahead in terms of time that Coleman has no shot.
Still, it's a longshot in my eyes.
The lockout hurt young quarterbacks more than just about anyone, and Harrell is going to take a pretty big leap forward with a real offseason under his belt. The Packers are adept at cultivating young quarterbacks, and Harrell will benefit from the attention.
Harrell has so far looked good, and it's definitely been a strong minicamp for him.
The other factor is that while I like Coleman, he's got some odd mechanical and footwork issues that have to be corrected, and that isn't an overnight project.
Overall, I do have some concern about the pair backing up Aaron Rodgers. Rodgers is one of the toughest and most durable quarterbacks in the league. I don't expect him to go down—however, if he does, I am not sure I trust the youth behind him to make things smooth sailing.
RUNNING BACKS: James Starks is the "main man" here—as much as you can have a main man on this team. Truthfully, it's not that the Packers won't run the ball—it's just not their first choice.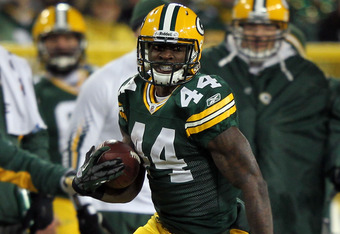 Jamie Squire/Getty Images
Or their second. I don't even know if it's their third.
So while Starks is still a bit inconsistent and prone to injury, he's not as big a risk as the primary back (a better way of putting it perhaps) as it would be if he was the guy in Baltimore or with the Jets.
He should be fine carrying the minor load for Packers running-back carries.
Alex Green is still healing from his leg injury, which meant Brandon Saine got more reps last week.
Green will still end up with the main job, but Saine will be right behind him if the back from the University of Hawaii either struggles or can't stay healthy.
This isn't a great backfield—I wouldn't even say it has the potential to be great.
When you have the league MVP at quarterback, though, good or solid is plenty good enough.
WIDE RECEIVER: The biggest question I have coming out of minicamp and into training camp is whether Jordy Nelson will continue the tear he was on during 2011.
Nelson saw a stratospheric jump between 2010 and 2011, more than doubling his overall yards and going from just a pair of touchdowns to 15.
That's a huge jump. Is it a permanent thing, or will he revert?
The positive sign for Nelson is his often high yards-per-catch total. In his first three years, he caught an average of between 12 and 15 yards per reception.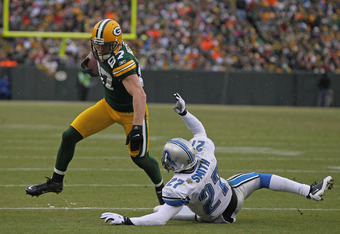 Jonathan Daniel/Getty Images
Last year was an 18.6 average—if he can keep that up, it bodes well for a good season, if not a repeat.
However, it's early, and he may not see the same high volume of passes he did in 2011—especially if Jermichael Finley gets consistent again and Randall Cobb get more looks.
James Jones might already be on the trading block, though it might take until someone gets hurt for interest to pick up. It makes sense to me, as really, Jones is somewhat redundant. Even if Jordy Nelson regresses,  he'll still be a better receiver than Jones, who is prone to dropping balls.
With Randall Cobb expected to get more time, what do you need Jones for?
In an offense like this, perhaps you can never have too many receivers, but the team has some other young players they want to take a look at, and Jones, with two years left on his contract, is a known quantity. What we know isn't all that compelling either.
I expect a massive decrease in his playing time if he remains with the team, as he will end up behind Jennings, Nelson and Cobb—and perhaps even Donald Driver.
TIGHT END: Will Jermichael Finley's play match his recent talking?
I actually find it a good sign he's talking more confidently because his play last year was pretty inconsistent.
We know he has tremendous talent—the Packers just need to see it on the field again.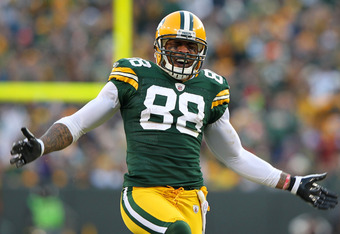 Jamie Squire/Getty Images
Finley has looked good and appears to be poised to turn things around.
I wonder who will get cut from the tight end group, as I can't see the Packers going into the season with six tight ends. Tom Crabtree is a fan favorite and a hard worker who can step in if need be, and beyond him are some guys with upside.
The team has very good depth—I just wonder when push comes to shove, how many they'll keep.
OFFENSIVE LINE: Last time out, I really peeved off TJ Lang, so maybe I'll let the offensive line go?
Nah.
This is a line which has added a lot of depth somewhat inadvertently. When they took Derek Sherrod, they didn't expect Marshall Newhouse to have the season he did. It's a packed line (so to speak) which is getting better every year.
The struggles they had last year were in part due to injury, in part due to growing pains and with everyone working out, this is a group I expect to be very good.
This is a line with no real weak spot—everyone plays well. The biggest question mark might have been Jeff Saturday, but he seems to be fitting in just fine.
The key to keeping this offense in tip-top shape is keeping Rodgers upright. This line should have no issue with that this year.
DEFENSE
DEFENSIVE LINE: Here come the question marks.
We'll see if Anthony Hargrove gets his suspension reduced, but come on—how much can it be reduced from eight games to where it will be a big deal? I don't expect it to drop to four games.
This, as we've talked about before, makes the development of Jerel Worthy more important that it would have been otherwise.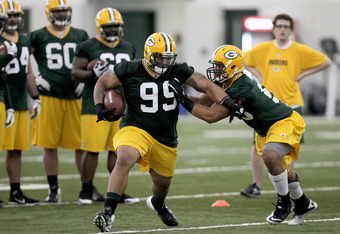 Mike McGinnis/Getty Images
Worthy is switching from defensive tackle to defensive end—a move which I believe his skills are perfectly suited for. Watch film on him and you see a guy with a tremendous nose for the football and an ability to get into the backfield on every snap.
It won't be that easy, of course—the NFL has much better athletes than any college.
That said, even if it takes him a little time, offenses have to take account of his whereabouts, which is only going to help Ryan Pickett and BJ Raji.
The line hinges on getting the pass-rush going—that might just start with a good season from Worthy.
LINEBACKER:  The same can be said, in many respects, for Nick Perry. Across from Clay Matthews, Perry will have a chance right away to have an impact. He's apt to see very few double teams—something his speed and agility will be able to take advantage of.
Perry and Worthy both seem to have done well in minicamps and OTAs so far. If they can step up quickly, the impact on this defense could be huge.
One side note: Word is that undrafted free agent Dezman Moses has been playing very well. Zach Kruse of CheeseheadTV says he looks instinctive and strong and could earn himself a roster spot—another in a long line of unheralded guys the Packers discover and mold.
SECONDARY: It looks like Charles Woodson will not make a permanent shift to safety, but instead see a lot of time moving around.
The Packers secondary took a lot of heat for a bad season, not all deserved. If the pass-rush kicks in, life will be much easier for the defensive backs.
The corners basically being set (Woodson and Tramon Williams will bounce back) leaves the question of safety. Who will line up next to Morgan Burnett?
Charlie Peprah had a lot of turnovers, but saw too many blown coverages and long balls go past. He needs to pick it up.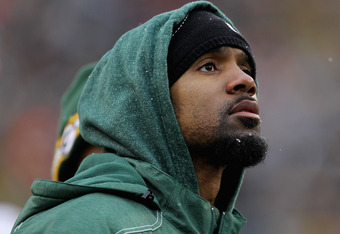 Jonathan Daniel/Getty Images
MD Jennings got a lot of first-team snaps, while Peprah sat out of minicamp and made the most of it. Jerron McMillian also looks to get some play in the coming camp.
Peprah will get first crack, but both Jennings and McMillian could very well end up at the free safety/strong safety spot Peprah is trying to hold onto.
Overall, this is a strong roster. Its overall strength hinges on what you think about the offseason moves on defense. Will they work?
I happen to believe they will, making this roster a contender for the division—and Super Bowl—title.
Check out the B/R NFC North Facebook page - like us and keep up with everything NFC North on Bleacher Report!