2012 NBA Mock Draft: Projecting the Biggest Steals of the 1st Round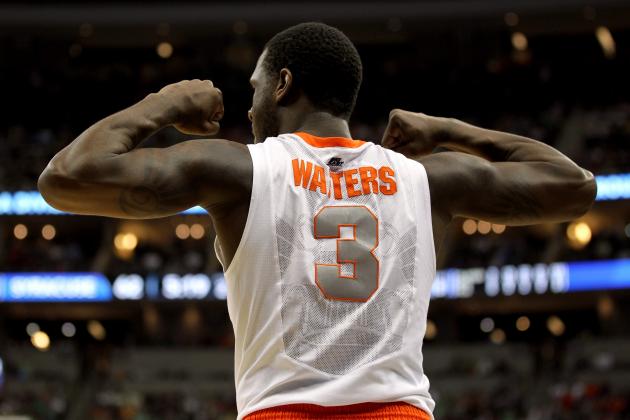 Gregory Shamus/Getty Images

Nowadays, the NBA draft is dissected so thoroughly that it seems impossible to find any player who would be considered a steal in the first round. However, it has been proven time and time again that certain players simply fall through the cracks and that often it is not the lottery picks from perennial powerhouses that make the biggest impact as professionals.
Last year, the emergence of Providence's MarShon Brooks, the 25th overall pick, and Morehead State's Kenneth Faried, the 22nd overall pick, were huge storylines. Neither player was expected to be an immediate contributor, but both proved to be more than capable of providing quality minutes for their ballclubs and proved they could be long term impact players.
The 2012 draft class, one loaded with more talent than we've seen in a long time, should prove no different. Even though top picks like Anthony Davis and Thomas Robinson will undoubtedly be impressive players when they join the league, there are plenty of guys who will be available further down the board that will come to surprise many fans and experts when the 2012-2013 season rolls around.
Here I've highlighted a few players I believe could be major steals of the first round and why other teams may regret passing them up when all is said and done.
Begin Slideshow

»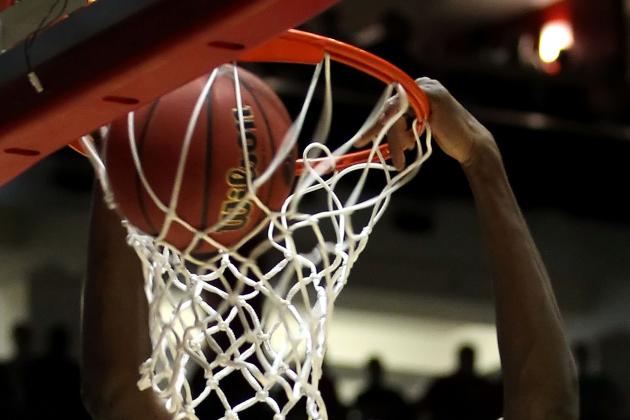 Christian Petersen/Getty Images

Golden State improved its frontline by dealing for Andrew Bogut at last year's trade deadline, and David Lee still has the skill to be a quality starting power forward, but for the team to contend for the playoffs, it still desperately needs to add size.
Ezeli improved tremendously during his time at Vanderbilt and is an extremely strong and athletic center prospect who would fit in nicely behind Bogut next season.
He averaged 10.1 points and 5.9 rebounds per game last season, using his physicality to make an impact on the glass and defensively. He has good timing, blocking two shots per game and showing he could be an impact help defender as well.
He would fit well with the Warriors, running the floor with Steph Curry and Klay Thompson thanks to his ability to finish at the rim with ferocity.
With the final pick in the first round, a team isn't looking for a star player, and Ezeli may not be a steal due to his lack of polish. However, he should still be a quality bench big for the Warriors and a step in the right direction for a team that has been lacking in strong interior players for a long time now.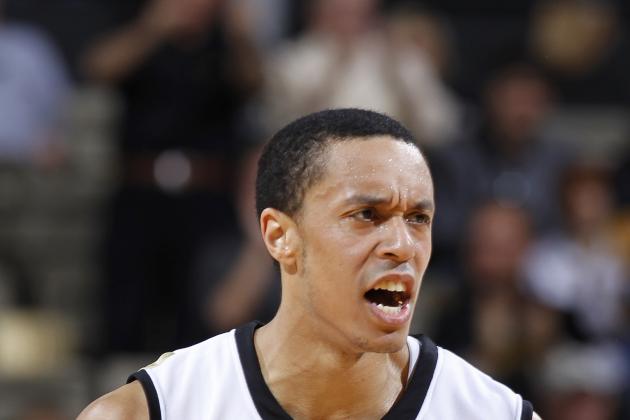 Joe Robbins/Getty Images

Potential First-Round Steal
It's not that John Jenkins is a supremely talented player who just happens to fall to the Bulls that makes him a potential steal, but that it's rare for a team to find the exact kind of player they are looking for when picking 29th in the draft.
The Bulls are still looking for a young, quality shooting guard who can create consistent offense and space the floor effectively. Jenkins, a lethal shooter during his time with the Commodores, fits the bill perfectly.
In his final season in Nashville, he averaged 19.9 points and 2.9 rebounds, while being Vanderbilt's primary deep threat and connecting on 43.9 percent of his three-point attempts. He isn't an elite ball-handler, but Jenkins moves well around screens to get open and can finish surprisingly well at the rim.
He will benefit greatly from playing with a point guard like Derrick Rose, who, when he finally gets healthy, will still command plenty of attention from opposing defenses and leave Jenkins open to be a catch-and-release marksman on the perimeter.
He is not a great passer, but he is also not a black hole on offense and is willing to swing the ball when his shot isn't there to create better offense for his team. Jenkins is an underrated athlete and can finish well on the break running alongside Rose, C.J. Watson and Luol Deng.
Though he isn't a great defensive player he carries his weight and should work well in Tom Thibodeau's system, which is less about individual man-to-man chops than effort and understanding your role.
Rip Hamilton is still a quality starter when healthy, and Ronnie Brewer is an excellent perimeter defender, but the presence of Jenkins could make Kyle Korver expendable and free up some salary cap room for the team while allowing them to develop Jenkins, who still has some room to grow.
He could potentially be a starter a few seasons down the road and, at the very least, will help to fill a hole in the Bulls' backcourt rotation.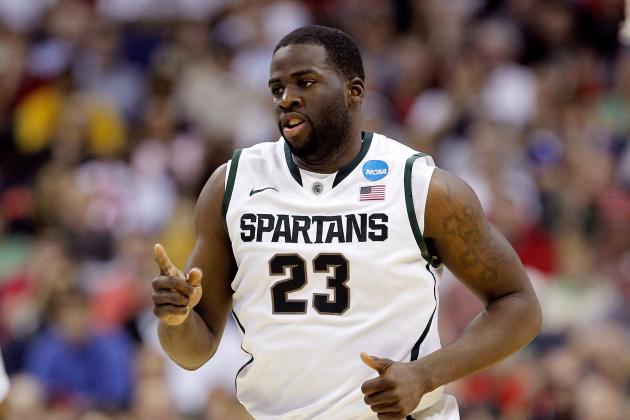 Rob Carr/Getty Images

Currently embroiled in a brutal Finals series with the Miami Heat, the Oklahoma City Thunder aren't exactly thinking about who they will be drafting this year. The team has their championship core in place and does not have many needs that must be addressed through the draft.
Michigan State senior Draymond Green will very likely be available at the end of the first round because of his perceived lack of upside, and the versatile forward would be an excellent addition to the Thunder's roster.
Green may not be an athletic freak or a dominant post player, but he's an extremely skilled and determined player who will be able to provide some spot minutes behind Kevin Durant. The Thunder need to add another forward behind their All-Star 3 man, and Green's maturity and polished game will fit in well with the team.
During his last season as a Spartan, Green averaged 16.1 points, 10.4 rebounds and 3.8 assists while being the team's unquestioned leader and a coach out on the floor.
For a team like the Thunder with such a distinct, team-first culture, they need to add an unselfish player who is willing to sacrifice himself for the team. Green certainly fits that bill: He is not motivated by stats or highlights, only winning basketball games.
He may need to slim down a bit and develop a better motor, but Green has the strength to guard most small forwards and some smaller power forwards. The team will be acquiring a big man with tremendous court vision who can step outside and hit shots.
I don't believe Green will ever be a star at the NBA level, but he has the talent and the mentality to carve out a solid niche for himself and would be a very logical pick for the Thunder at the end of the first round.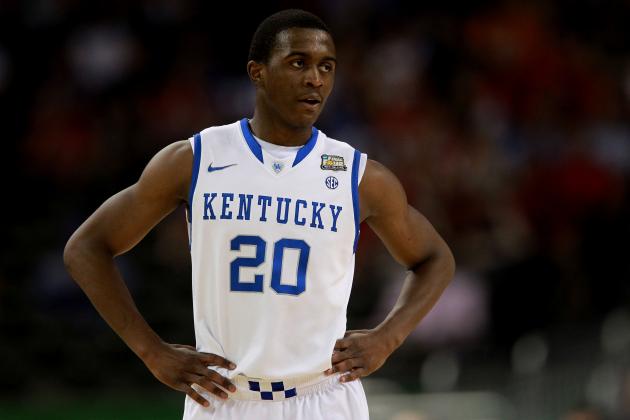 Ronald Martinez/Getty Images

With the way they've been playing this postseason, it may seem that the Miami Heat need little to continue contending for championships, but it should be remembered that Dwyane Wade is 30 years old and has dealt with a myriad of injuries throughout his career.
Though he is still an elite shooting guard, the team would be smart to grab another player at the position who could develop under him and provide them with some insurance in the rotation.
Kentucky's Doron Lamb would be a great fit behind Wade, as well as on the court alongside him. Miami often struggles to get consistent production outside of their Big Three, but adding a silky-smooth pure scorer like Lamb could help fix the problem.
Lamb was a main scoring threat on a loaded Wildcat team thanks to his limitless range and ability to move without the ball. Playing with James and Wade, Lamb would not receive much attention defensively and could connect on the open looks a defense keying in on Miami's superstars would give him.
He hit on 46.6 percent of his three-point attempts last year and would be another effective floor spacing guard for the Heat. Lamb would also be a nice part of the backcourt rotation along with Mario Chalmers and Norris Cole, giving the Heat several young athletic guards that they can use as needed.
Lamb has a solid handle and can bring the ball up court when necessary. Though he is a bit undersized, his excellent shooting and championship experience make him a very logical pick for the Heat.
Miami could obviously be targeting a big man or a high-upside player, but it makes sense to draft someone who can help to fill a need and contribute right away as they continue to contend for championships.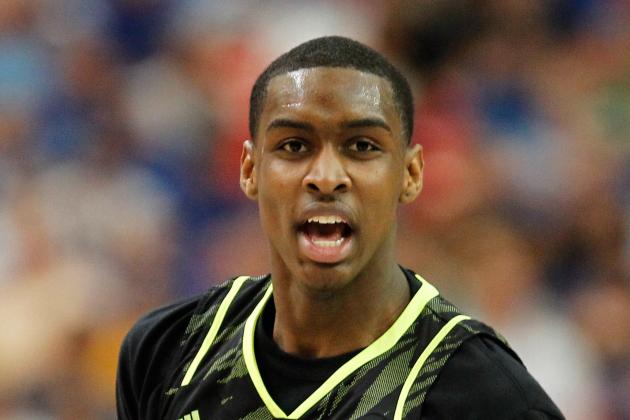 Streeter Lecka/Getty Images

Potential First-Round Steal
Quincy Miller surprised many by declaring for the 2012 draft. Although the forward was a highly coveted recruit and showed some flashes of being a potential matchup nightmare, he still has much room to grow as a player.
That's why he could fall down to a team like Indiana at the tail end of the first round and also the reason he may end up being a big steal when all is said and done.
Miller averaged a decent 11.1 points and five rebounds per game for Baylor last season, not stellar numbers by any account. However, there were moments where his unique size, athleticism and skill shined through and he looked like a player who could be a star down the road.
Miller has decent range on his jump shot and a very solid handle for someone his size, allowing him to bring the ball up the court and initiate the offense. He can get to the rim well and create his own shot, something essential for a quality small forward.
Pairing him with another hyper-athletic perimeter player in Paul George would give Indiana a great pair of young swingmen who would create major problems for opposing defenses because of their length, size and athleticism.
The Pacers have been rumored to be shopping Danny Granger for years now, and if Miller were to pan out as a prospect they would have an extremely gifted player who could fill his role. He may not be the scorer Granger is, but Miller has the potential to be a true multi-tool player and a strong rebounder from the three position.
Miller is a risky, but potentially high-reward pick for an Indiana team that can afford to do so coming off of a solid playoff run. The team would be wise to grab him, since if he ever fulfills his potential, they could find themselves getting an All-Star forward out of the 26th pick.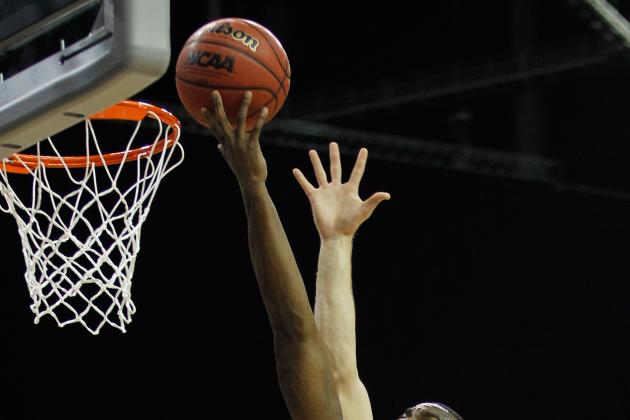 Streeter Lecka/Getty Images

Coming off of a disappointing postseason run that ended in a Game 7 loss to the Los Angeles Clippers in Memphis, the Grizzlies need to address the backup point guard position through the draft.
Memphis got away with the tandem of Gilbert Arenas and Jeremy Pargo last season, but if they want to truly contend for a championship, they must find a better reserve guard.
One of the few quality point guards in the class, Teague should still be available when Memphis is picking due to questions about his basketball IQ, ability to run a half court offense and his shaky outside shot.
Teague is an excellent scorer in transition and a gifted passer; he averaged 10 points and 4.8 assists for Kentucky last season.
However, at times it seemed he went for highlight plays instead of the fundamental play and was not always as disciplined as necessary. He needs to mature a bit and not try to play outside of his niche when on the court. Teague has the talent, but he needs to continue developing to become anything more than just a slashing, penetrating guard.
Defensively, he is extremely scrappy and would fit well with Memphis' gritty identity. He could come off the bench and be used to bother opposing point guards full court for stretches. He is very good at hounding the ball, and that is one element of his game that should translate well to the NBA.
I believe Teague did stunt his growth and damage his ceiling by declaring for the draft after just one collegiate season, but the talent is there for him to make an impact at the next level. The Grizzlies need a young, cost-efficient option at point guard behind Mike Conley, and I just can't see them passing on Teague if he's available.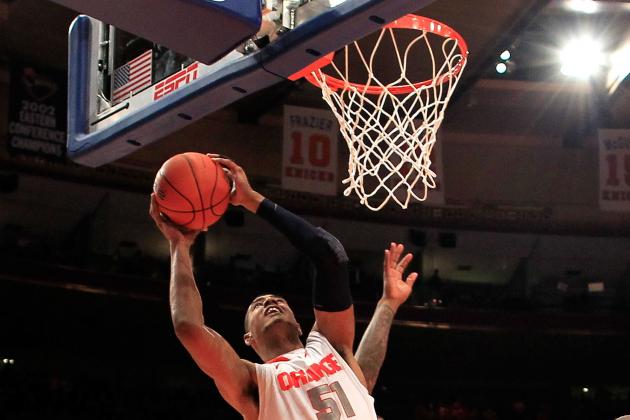 Chris Trotman/Getty Images

Despite the presence of Anderson Varejao, the Cavaliers are still looking to add size through the draft. The Brazilian big man can be an impact defender when healthy, but he is too often injured, and the team is looking for a young player with high upside that can grow alongside Kyrie Irving and Tristan Thompson.
Though Melo had his share of personal issues during his time at Syracuse, he proved to be a defensive force, averaging 2.9 blocks per game, and anchoring the Orange's formidable zone defense. He was also their most aggressive rebounder, notching 5.8 per game and helping cover Syracuse's biggest hole.
Personally, I don't think he's ready for the NBA from a development standpoint and would benefit greatly from more time at school.
He averaged just 7.8 points per game and, despite being a legitimate seven-footer, did not use his size effectively enough. There's no reason someone like him couldn't average eight or more rebounds a game, but he simply was not aggressive enough when he needed to be.
In addition, he did not play much man-to-man defense in college and needs to become stronger in order to guard the NBA's more physically dominant centers.
While the team can stash and develop him in his first few years because of Thompson and Varejao, they should be wary of his mental toughness due to his pair of costly suspensions last season.
With this pick, the Cavs are looking for a high-upside player who could be a force down the road, and while I don't think this is a great pick for them because of the red flags surrounding Melo, I do think it will be the pick that they make when all is said and done.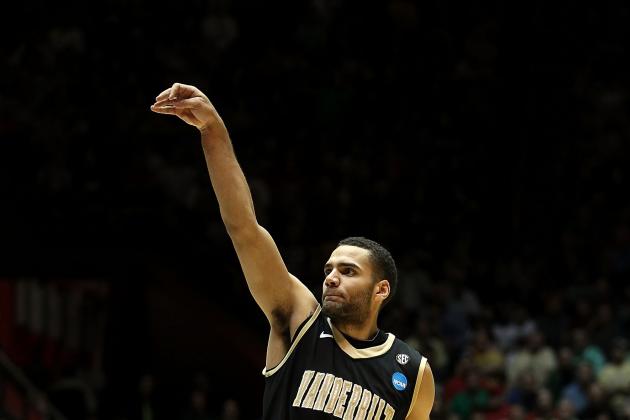 Christian Petersen/Getty Images

The Atlanta Hawks are a team that is looking to make improvements while not blowing up their nucleus, meaning it makes sense for them to take an NBA-ready player who could provide them with quality minutes the moment he suits up but also fill a need for the team.
Jeffery Taylor, who just graduated from Vanderbilt, would be a perfect fit with the ball club because of his defensive prowess and ability to drain open shots.
The Hawks lack an elite perimeter defender to pair with Josh Smith, but Taylor proved in college that his tremendous athleticism and intensity make him capable of shutting down his assignment consistently.
Within a few years he could be the Hawks' best perimeter defender. The team will likely let Kirk Hinrich walk in free agency, and Jeff Teague is really only suited to guard point guards, so getting someone who can defend against the 2 and 3 positions is essential for the team.
Taylor is more than a defensive presence, though, as his shooting improved significantly during his collegiate career, culminating in him shooting 42.3 percent from distance during his final season.
Taylor is a quality spot-up option and can also use his speed to get to the basket and finish at the rim. He averaged 16.1 points last year and would be a solid offensive piece coming off Atlanta's bench.
He is extremely active while on the court, hauling in 5.6 rebounds per game and seemingly never taking a possession off. He is the prototypical NBA small forward at 6'7", and if he can adapt to the higher level of play, he would make Marvin Williams and his hefty contract expendable in the future.
Jeffery Taylor is a solid pick for a team that wants to improve while still making the playoffs. He may not be enough to put them in an NBA Finals, but his defense and activity could be the difference between winning or losing a crucial game.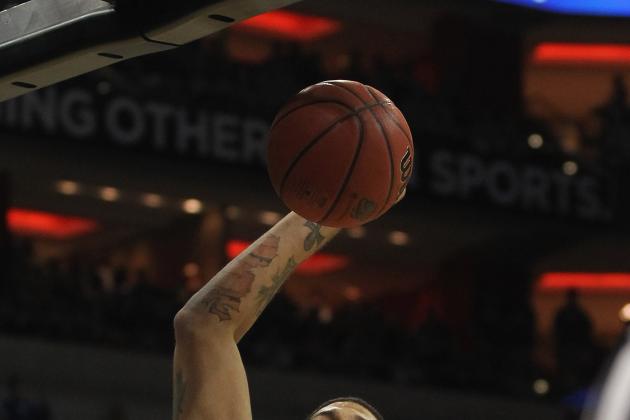 Jonathan Daniel/Getty Images

Potential First Round Steal
Royce White is easily one of the most talented prospects in this draft class. He can be a threat on the interior, scoring in the post consistently and banging against larger players, but he is also a phenomenal passer and can run his team's offense in a point forward role.
White averaged 13.4 points, 9.3 boards and 5.1 assists per game for Iowa State last season, and the only reason he isn't considered a lottery prospect is his past issues with anxiety and difficulty flying.
The Boston Celtics are entering a rebuilding period and should be looking to add the most talented players available. White seems to have made dramatic strides this past season and is simply too gifted of a player to pass up if he's available at this point in the draft, which he should be.
White would immediately be able to play behind Paul Pierce and Kevin Garnett or Brandon Bass, should either power forward return. He could come off the bench and help keep the offense running smoothly, using his unselfishness and ability to move the ball around the court to avoid stagnation.
White may not be an elite athlete like Michael Kidd-Gilchrist or Thomas Robinson, but he can impact the game in more ways than either of them. No one else available in this draft has the ability to play with his back to the basket against a 6'10" power forward or handle the ball at the top of the key and initiate the offense.
White's game is reminiscent of an Anthony Mason or Boris Diaw, but he actually has more upside if he can continue to improve his individual defense and his scoring ability.
I'm a huge fan of Royce White despite the obvious concerns about how he'll adjust to the NBA life. It's not often such a unique prospect comes along who can do so many things on the court.
If he can put up the same kinds of numbers he did in college, Boston will have found another long term piece to build around with Rajon Rondo and Avery Bradley.
The thought of White being able to consistently knock down a 20-footer is terrifying because he already has so many other developed facets of his game and could become one of the league's most devastating all-around players in a few years.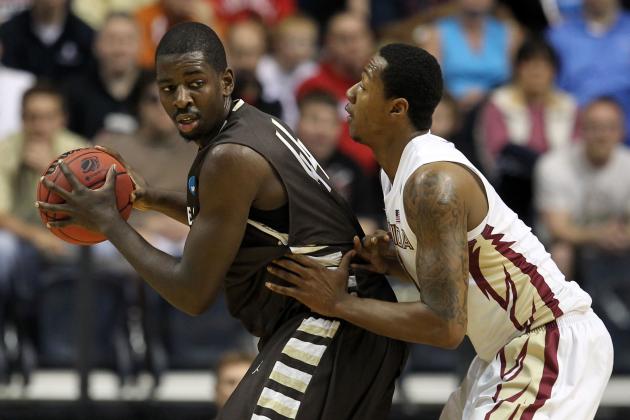 Jamie Squire/Getty Images

The Boston Celtics, whose lack of size is part of what ultimately cost them a shot at the NBA title, will be looking to add quality, young big men to their team and could very well end up taking two in this year's draft.
Andrew Nicholson of St. Bonaventure did not burst onto the draft scene until late in his collegiate career, but he did so in a major way, averaging 20.8 points in his junior season and 18.5 in his senior campaign.
Nicholson is a very skilled offensive player. He can step outside and hit perimeter shots, connecting on 43.4 percent of his three-point attempts, but is also long and strong enough to take the ball in the post.
Boston needs more scoring from its big men, and Nicholson's ability to score from anywhere on the court would make him a very logical draft selection for the team.
At 6'9", he would primarily play power forward, although he could see some time at center in smaller lineups. Ultimately, he could play a similar role to Kevin Garnett offensively, thanks to his ability to draw opposing forwards and centers away from the basket by hitting outside shots.
Having a point guard like Rondo means that a team needs big men that can open up the floor, and that is one thing Nicholson certainly could do.
He has a very high basketball IQ and understands when to dish the ball and when he needs to be aggressive and look to score. He blocked two shots per game last season, and playing under Doc Rivers would give him the opportunity to continue to improve defensively.
He may not be the Celtics' starting power forward of the future, but he would be a very nice addition to their bench and could make an immediate impact in the NBA.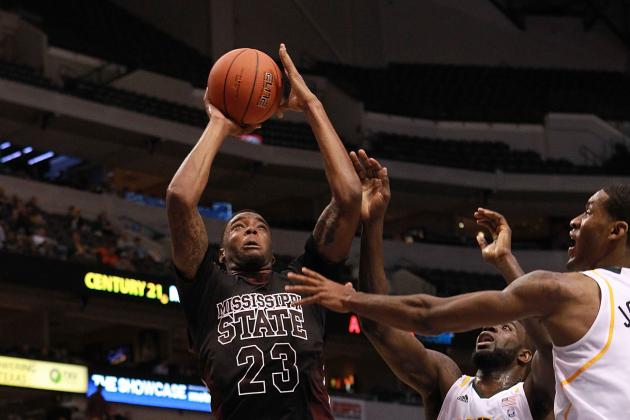 Ronald Martinez/Getty Images

This is admittedly a bit of a slide for Moultrie, but if he is still available this late into the draft, I believe Denver would be very wise to draft him.
Even with the emergence of Kenneth Faried, and JaVale McGee finally seeming to understand how to use his tremendous physical talents, a team can never have too many strong, talented, athletic big men on the roster.
Moultrie had an excellent season for Mississippi State last year and could replace Timofey Mozgov and Kosta Koufos off the bench as he continues to develop his game.
Moultrie is capable of hitting shots from the perimeter as well as taking the ball to the basket and playing well in the post. Having a big man with his face up game would be huge for Denver as it would make Al Harrington more expendable and free up some cap room in the future.
Moultrie averaged 16.4 points and 10.5 rebounds last year, contributing in more ways than just scoring. He has uncommon length and strength but is also simply willing to outwork opponents to get on the glass.
He could handle physical contact and was able to snag contested rebounds on both ends of the court. He has the speed to guard players much smaller than he is but was physical enough to cover his fellow forwards and centers.
Denver is still a playoff team and should be for the foreseeable future. The team needs to add another quality young player that they can grow with, and storing one more big man on the roster would be a wise move for the team.
Moultrie is not a great shot-blocker or defender, but he has the talent and size to be a great rotation piece for the Nuggets down the road.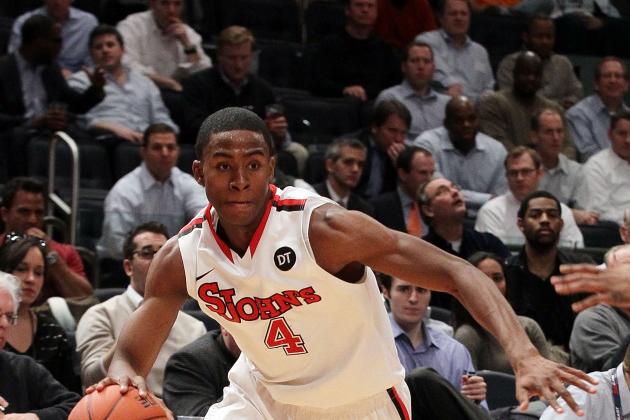 Jim McIsaac/Getty Images

Potential First-Round Steal
The Orlando Magic are desperately looking to add as much talent as possible, and one position they could certainly stand to upgrade is the small forward spot, where the team currently splits minutes between the not-so formidable pair of Hedo Turkoglu and Quentin Richardson.
In one season at St. John's, Moe Harkless proved he could become an excellent all-around player that could be a great scorer at any level. Though there are still elements of his game that could use some work, Harkless' natural talents were astounding to watch at times last season.
He averaged 15.3 points, 8.6 rebounds and 1.4 blocks and 1.6 steals per game, proving he was not merely a one-dimensional player. He was capable of cutting to the basket and finishing in the paint, as well as hitting his midrange jumper. His shot could use some more range, but that is something that will come with time if he continues to work on it.
Because of his speed and athleticism, he was very tough to stop in the open court and could be a great transition player in the NBA.
Defensively, Harkless was able not only to read passing lanes and come up with loose balls but also alter and block shots consistently. This defensive versatility will be a major reason he sees playing time early in his career as his size and length mean he could be a very good defender in the future.
Harkless is not a great man-to-man defender, but he is not a poor one and would improve dramatically by adding on some muscle and overall strength.
Harkless lets the game come to him, playing with a kind of effortless flow that is very rare for young players. He could easily be an elite scorer in a few season if he polishes up some aspects of his game.
The Magic are dealing with plenty of turnover and turmoil this summer. Adding a young, exciting rookie like Harkless would be a major bright spot for the team's front office.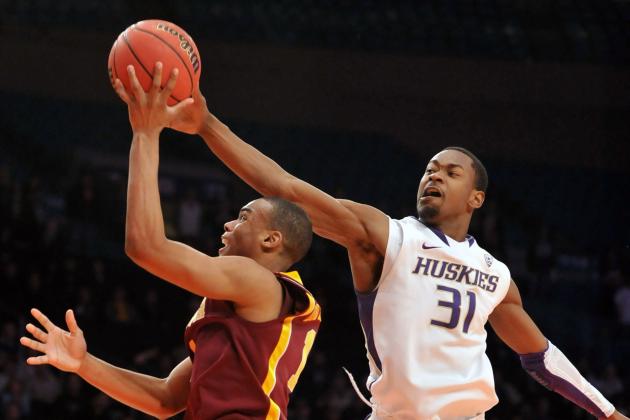 Jason Szenes/Getty Images

The Minnesota Timberwolves are still looking for a long-term answer at shooting guard after Wes Johnson failed to pan out, and if the team can snag Washington's Terrence Ross, they absolutely should.
Ross rebounded from a mundane first campaign with the Huskies for a very strong sophomore season that had him rocketing up draft boards and onto the radar of NBA teams.
Ross is built like your quintessential NBA shooting guard: He is an extremely athletic 6'6" with long arms and excellent speed. Ross averaged 16.4 points and an impressive 6.4 rebounds per game, while draining 37.1 percent of his attempts from distance.
Minnesota needs a pure scorer to go along with the unselfish Ricky Rubio, a guard who can knock down the shots that are available to him. Ross has proved that during his time in college. He was Washington's main scoring option last season and made a deadly one-two punch alongside Tony Wroten.
He can blow by his defender off the dribble but also sprint around picks in order to create an opening for a shot. He is not an excellent defensive player, but he is decent and has the quickness and length to cover both point guards and shooting guards as long as he is locked in on that end of the floor.
Ross must undoubtedly improve his shot selection and ball-handling before he cements himself as a starting shooting guard, but he has the scoring ability and athleticism to be a very good NBA player for a long time.
If Minnesota can draft him, they very well should, as it would mean the team has locked in its starting five for years to come and could contend for a playoff berth once more.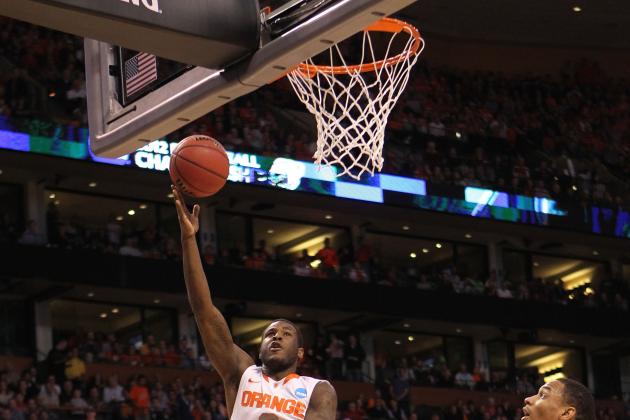 Jim Rogash/Getty Images

Potential First-Round Steal
The Dallas Mavericks need plenty of help this offseason, but one position they will likely address is the shooting guard spot, with the team looking to replace long time sixth man Jason Terry. It makes plenty of sense that they should take another dynamic sixth man, Syracuse's Dion Waiters, to replace him and be a primary scoring option.
Waiters is the complete offensive package and would provide the Mavs with a lethal scoring threat who could anchor the second unit or potentially be a starter by year's end.
Waiters would bring some much needed athleticism to Dallas' backcourt. He can move well without the ball in order to create an open shot, but he also is adept at driving the basketball and finishing at the rim around defenders.
The Mavericks need more players who can provide them with easy points in transition, and Waiters is that kind of player who could take an outlet pass and turn it into an easy layup or wide-open shot for a teammate.
Waiters can also hit his outside shots, connecting on 36.3 percent of his attempts last season. Terry was one of the Mavs' main three-point threats along with Jason Kidd, who could possibly depart as well. Dallas needs players to space the floor consistently for Dirk Nowitzki, and Waiters' ability to keep a defense honest from the outside will benefit the team tremendously.
He is not the best one-on-one defender, but he did average 1.8 steals per game, which proves he can read what his man is trying to do with the ball and that he puts in enough effort to come up with some careless balls and create more scoring opportunities.
Dallas has become a quality defensive team and has the kind of culture that could help him become a much better all-around defensive player, particularly under Rick Carlisle.
Waiters could even spend time playing point guard if need be. He averaged 2.5 assists last season and seemed adept at running the Orange's offense.
I believe Waiters could prove to be the steal of the 2012 draft because of his offensive versatility, and the Mavericks should absolutely snap him up if he is still available in the mid-first round.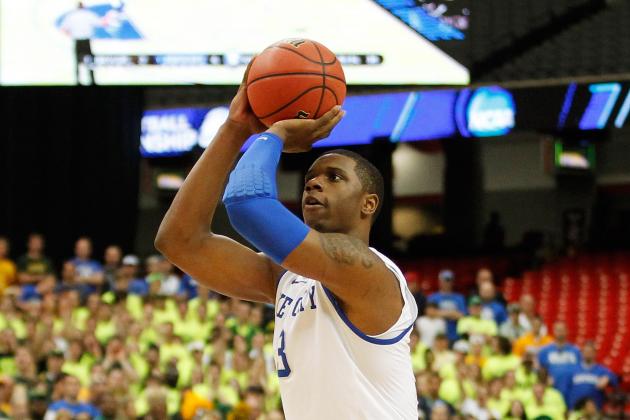 Streeter Lecka/Getty Images

In addition to adding size, the Houston Rockets will also be looking to find a quality small forward through the draft, and Kentucky's Terrence Jones should still be available when they are selecting 16th.
The team has Chase Budinger and Chandler Parsons, but Parsons is more of a natural power forward, and Jones has the talent to make more of an impact on the court than Budinger.
Jones did not stun fans in his sophomore year, but that was more due to his accepting a smaller role because of the presence of Kidd-Gilchrist and Davis than any regression on his part.
Jones has the ability to play both forward spots thanks to his mix of strength, hustle and skill. He averaged 12.3 points and 7.2 rebounds per game along with almost two blocks per contest.
Jones' shot-blocking will be a huge asset to him going forward, as he showed great timing and discipline defensively. He could be an upper-echelon defender as a professional thanks to his ability to cover multiple positions.
He had a down shooting year, connecting on just 32.7 percent of his three-point attempts, but Jones has the ability to space the floor with his shooting ability and open up driving lanes for his teammates. He can draw opposing power forwards away from the basket, something that will be beneficial at the NBA level when he spends time at the 4 in smaller lineups.
Jones would give Houston another young, athletic player they could work to develop, but also one who could come in and make his presence felt immediately on both ends of the court. He has championship pedigree and is an incredibly passionate and determined player who will undoubtedly work to improve every facet of his game while in the NBA.
The Rockets, if they don't trade this pick, should use it on Jones who is not only a need filler, but one of the best players available.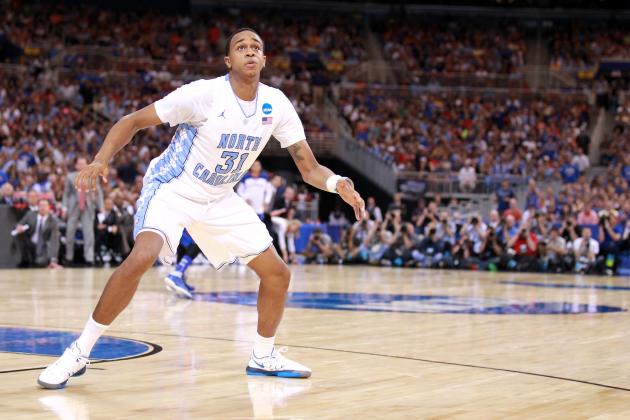 Andy Lyons/Getty Images

Potential First-Round Steal
Size is a major concern for Philadelphia this offseason. Spencer Hawes is a free agent, and it is widely believed that the team will either amnesty Elton Brand or look to shop him.
The team has Thaddeus Young and second-year forward Nikola Vucevic to fill their roles, but if the team ditches one or both players, they should certainly look to draft a talented forward or center with the 15th overall pick.
It may be a bit of a slide for John Henson, but the UNC big man could very well be available when the 76ers are picking and would be a great addition to the team.
Henson was the ACC's Defensive Player of the Year last season, and with good reasons. He averaged 9.9 boards and 2.9 blocks per game for the Tar Heels, pairing with Tyler Zeller to form a dominant pair on both ends of the court and one that would simply stifle opposing big men.
Henson protected the basket well and forced opponents into taking outside shots instead of making forays to the rim. His length and athletic ability made him a tremendous rebounder; he could box out well and pull down contested bounds with ease.
The Sixers were one of the league's better defensive teams last year because of the perimeter play of Andre Iguodala and Jrue Holiday, meaning that adding someone who could anchor their defense from the inside would be a huge boost for the team.
Offensively, Henson is not a great scorer but did average a respectable 13.7 points per game. His length and size made him a very difficult cover, and although he was a poor foul shooter, he was able to connect on his midrange shot occasionally in addition to scoring in the post.
His game still needs some work, but he is a much more complete player than somebody like Andre Drummond.
Henson is still rail thin and must add some bulk to his frame during the offseason, but there is no reason to think he won't be one of the more dominant two-way players taken in the 2012 draft.
Philadelphia would be wise to grab him if he's available because of what he can do for the team as a shot-blocker and a presence in the paint.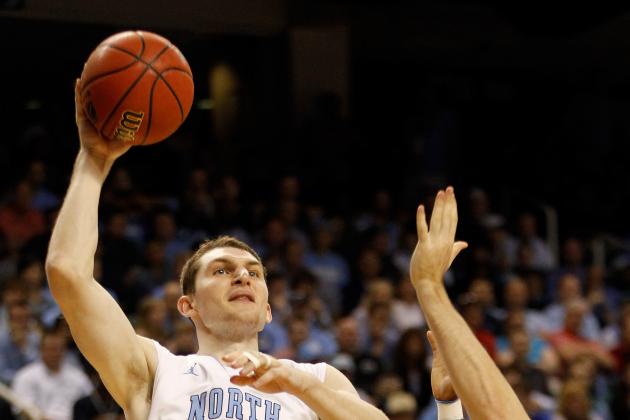 Streeter Lecka/Getty Images

The Houston Rockets are also desperately looking to add some size. The Rockets, who finished ninth in the West for the third consecutive year, have been lacking a dominant interior presence due to the injury struggles and retirement of Yao Ming, meaning that the team could very likely look to pick up UNC's Tyler Zeller with their first pick in the draft.
Zeller, though not as physical as some other centers available, has a knack for scoring in the paint and good hands around the basket. He averaged 16.3 points on 55.3 percent shooting last season. He can not only score with his back to the basket but showed more confidence in his midrange shot last season.
He can also make his presence felt on the glass and defensively. Zeller, a true seven-footer, averaged 9.6 rebounds and 1.5 blocks per game. He has an excellent nose for the ball and was able to use his size and length to grab contested boards on both ends of the court.
Rarely do big men who cannot block shots translate well to the NBA, and Zeller proved that he had solid timing and understanding of when to come over and contest a shot.
The Rockets have Samuel Dalembert and Marcus Camby, who will likely return as a free agent, but the team will be looking to add a younger center through the draft. Zeller runs the floor well and will make a nice addition to the team's young athletic core.
He'll never be an elite starting center as a professional, but his size, skill around the basket and understanding of his own limitations will make for a quality NBA career.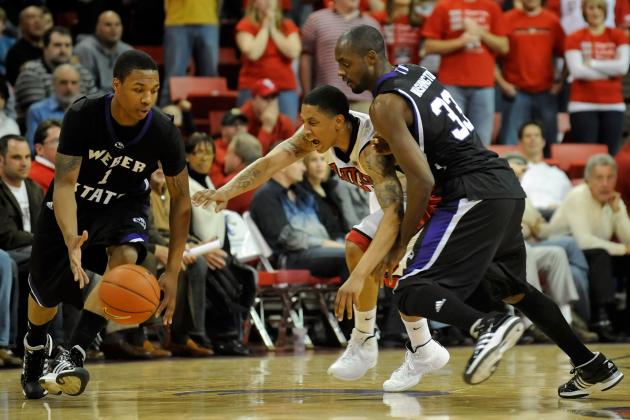 Ethan Miller/Getty Images

Though there is potential for Damian Lillard to go as high as sixth overall to Portland, I believe he will still be available in the late lottery and that Phoenix will take him in an attempt to fill the void left by Steve Nash.
Even if Nash returns, the team needs a successor for the two-time MVP at point guard, and it makes sense that they grab one of the two elite prospects available at the position in this draft.
Unlike Kendall Marshall, Lillard is a score-first guard who averaged just four assists last season but a staggering 24.5 points per game. The Suns will need a player who can generate offense, and Lillard showed the ability to break down defenses off the dribble as well as pull up and hit his outside shots.
Lillard is not going to replace Nash in terms of running a flawless pick-and-roll or delivering a dozen pinpoint passes per game, but he will be able to replicate some of his production by driving to the basket and finishing at the rim or showcasing his improved stroke from outside.
Lillard attempted seven foul shots per game last season and showed a knack for drawing contact and finding his way to the line.
In Alvin Gentry's offense, he will be able to push the ball up the court and play a very fast-paced, freewheeling style of basketball. He is most effective in transition, so for Phoenix to be successful they must work to create as many transition opportunities as possible.
Phoenix desperately needs to add another point guard, and Lillard will be able to provide them with an athletic scorer who could be their starter down the road. The major question around Lillard is the leap in level of talent he is playing against, but it will be difficult for the Suns to turn down a quality player at a position they desperately need to address.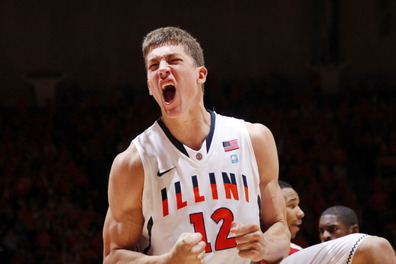 Joe Robbins/Getty Images

Though they added an elite scoring guard in Monta Ellis at the trade deadline last year, Milwaukee created a significant need for size by dealing gifted but injury-prone center Andrew Bogut.
With that in mind, the Bucks will undoubtedly be looking to add size through the draft, and Illinois' Meyers Leonard is a player who has the size and athleticism to be a potential star in the NBA, despite his need to keep developing his skill set.
Leonard averaged 13.6 points, 8.2 rebounds and a pair of blocks per game in his first season playing major minutes. His interior scoring improved as the season wore on, and he impressed many with his intensity on the defensive end and ability to alter any shots within reach.
His footwork needs improvement, and he could certainly stand to bulk up a bit, because it will be much more difficult to score and guard opposing NBA centers that have his size and more skill, but few bigs can run the floor as well as him.
He would fit in well with Ellis and Brandon Jennings, sprinting down the court for easy shots and establishing great position down low.
Obviously he has to add some muscle before going pro, as stronger forwards and centers will still be able to back him down in the post, but he possesses the physical gifts that every scout loves to see in a big-man prospect.
In addition, he is a decent shooter. He can face the basket and help to draw his man outside of the paint as well as hit his foul shots when he goes to the line.
There is still much improvement necessary for Leonard before he is a great NBA player, but going to a defensive-minded team like Milwaukee should help him towards this goal as long as the team doesn't lean too heavily on him initially.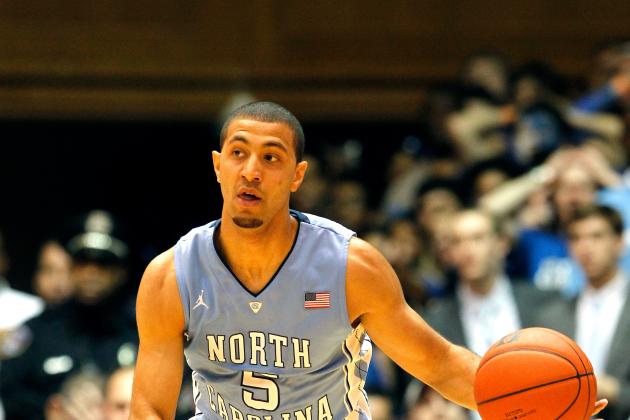 Streeter Lecka/Getty Images

Potential First-Round Steal
After the Raymond Felton trade failed to yield anything but disappointment and a lottery berth, the Portland Trail Blazers should look to bring in another UNC point guard, but this time one with unparalleled court vision who thrives on making the right play and improving the play of his teammates.
Kendall Marshall is as pure a point guard as they come, someone who runs both the half-court and fast-break offense effectively due to his passing instincts and ability to read and react to a defense.
Marshall averaged 8.1 points and 9.8 assists last season, second in the nation. He was the engine that made a tremendously talented Tar Heel team run because of his ability to spread the ball around and maximize everyone's effectiveness while out on the court.
He has as high a basketball IQ as anyone in the draft and is always looking to make the right play instead of the jaw-dropping play, which leads to more success and scoring opportunities. He could form an excellent guard-forward tandem with LaMarcus Aldridge as he did with Harrison Barnes and John Henson in college.
Though he needs to improve his own offensive production, Marshall improved last season. As the season wrapped up, he was hitting his jumper with more regularity and getting to the rim more consistently. He has good size for a point guard and should be able to back down smaller defenders Andre Miller-style.
Marshall is not an elite defender, but all of this can be overlooked for his playmaking abilities. The Blazers desperately need a point guard who understands his personnel and when to get them the ball, a concept Marshall should be able to learn quickly.
Though they seem to be in disarray, Portland is not too far from being a contender and adding a stellar point guard could have them back in the playoffs as early as next season. Teams are wary of his lack of scoring and athleticism, but Portland would be foolish to let the best facilitator available slip through their fingers.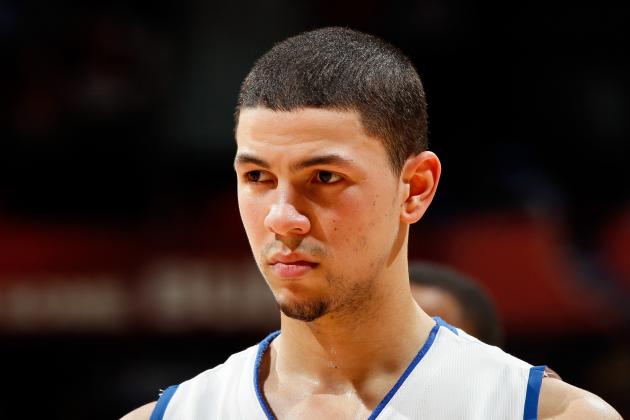 Kevin C. Cox/Getty Images

This pick may be a bit of a risk, but with Anthony Davis already aboard, the Hornets will have the chance to go for a player who could be a star down the road if he can develop his game and become more of a team player.
Duke's Austin Rivers showed flashes of being an elite shooting guard during his one season in Durham, but he surprised many fans and pundits by declaring for the NBA draft after just one season in college.
Obviously New Orleans' first priority is to bring back Eric Gordon, but due to his restricted free agency and injury history, it makes sense that the team grab another 2-guard who can play behind him or even replace him if he should depart for another team.
Rivers could play alongside Gordon in a smaller lineup and would benefit as a catch-and-shoot player due to the attention Gordon creates on offense. He is an elite three-point shooter with unlimited range and would help to space the floor consistently for New Orleans.
Few 2-guard prospects are as athletic and explosive as Rivers, who proved during the regular season that when he was locked in, he could simply blow by his opponent and finish at the rim.
Rivers averaged 15.4 points per game last season, a number that likely would have been higher if he settled for a few less perimeter shots and was more willing to drive the ball to the basket.
Rivers is very quick on the court and not particularly big, meaning he could even be groomed to log some time at point guard if necessary. He proved to be a talented passer last season, though he undoubtedly needs to improve his decision-making and understanding of when to look for his shot and when to dish.
The Hornets should be looking for the best player available with the 10th overall pick, and very few players have the kind of potential Rivers demonstrated last year. He plays with incredible intensity and heart, which will translate well to a fledgling team carving out an identity. He could become a very successful NBA player in the future.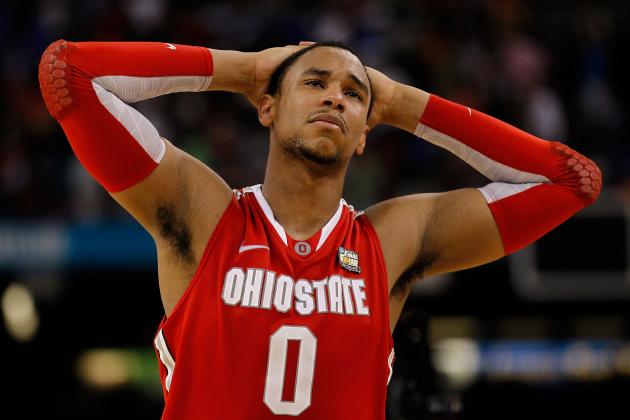 Chris Graythen/Getty Images

Jared Sullinger's stock has fallen precipitously since his freshman season at Ohio State, but he is still an extremely talented power forward with the best set of post moves of anyone in this draft class and would make a nice front court tandem with Detroit's star center Greg Monroe.
The Pistons need to get back to the physical, interior dominated style of play that won them a championship in 2004 and made them a perennial playoff contender during the 2000s, so picking a true bruiser like Sullinger makes plenty of sense.
Averaging 17.5 points per game last season, Sullinger demonstrated his excellent touch around the rim and a trove of scoring moves with his back to the basket, which will be essential to his transition to the NBA. His jump shot continues to improve, and he showed flashes of being a pick-and-pop threat down the road, in addition to just rolling and attacking the hoop.
Having a scoring big man is a major asset for an NBA team in this big-man-starved league, and the pairing of Sullinger and Monroe would be difficult for opponents to contain offensively.
He does not have elite athleticism by any means, but few players relish physical play and contact than Jared Sullinger. He averaged 9.2 rebounds per game not because of his leaping ability, but because of his ability absorb blows and to bang bodies around the basket.
He could make an impact on the offensive and defensive glass and used his length and strength to counteract his lack of ups and athletic ability.
Sullinger is the kind of high-character player Detroit needs as they distance themselves from a troubled history.
He's not the franchise player that fans anticipated in the 2010-2011 season, but Sullinger is a more-than-solid power forward prospect that should become the Pistons' starting power forward in the future and help to bring Detroit back to playoff contention eventually.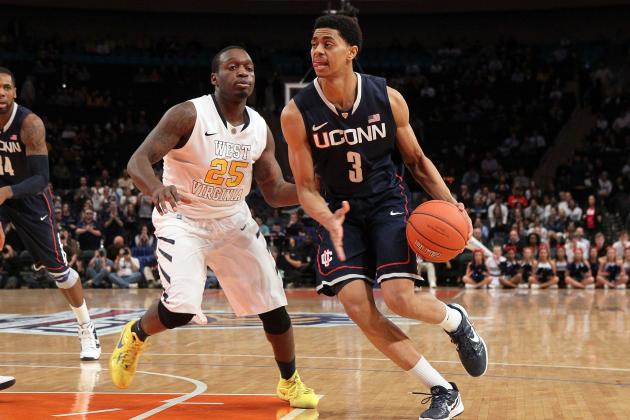 Jim McIsaac/Getty Images

The Toronto Raptors were a much improved defensive team last season, but at times they had extreme difficulty scoring. With that in mind, it would make sense for the team to grab a player like UConn's Jeremy Lamb, who has proven he can be a first option offensively and carry a team with his scoring ability.
The Raptors have DeMar Derozan but could swing him and Lamb between the 2 and 3 spots or use Lamb as a sixth man anchoring their bench offense like James Harden.
Lamb averaged 17.7 points and was the most important offensive player for the Huskies last year. He shot well from the field, while proving that he could connect from the perimeter or use his solid handle and ability to read defenses to get into the lane and drive the ball to the hoop. He could move well around screens and get open for shots as well, proving he did not simply need the ball in his hands to be effective.
An underrated athlete, Lamb would fit nicely running fast breaks with Jose Calderon and Derozan. The team is full of young athletic players who run the floor hard, but they need someone who can hit shots and create consistent offense.
Lamb proved to be that kind of player during his time in college and, at 6'5", has an NBA ready frame to go with his well-developed game.
Besides just scoring, Lamb averaged 4.9 rebounds per game, proving that he can go inside and be active around the basket when his shot isn't falling. He is not a great defender, but under Dwane Casey, he could make significant strides with hard work and discipline.
Though Toronto may not look like the right landing spot for Jeremy Lamb, he could prove to be a great addition to the team off the bench next season and as a starter in the future.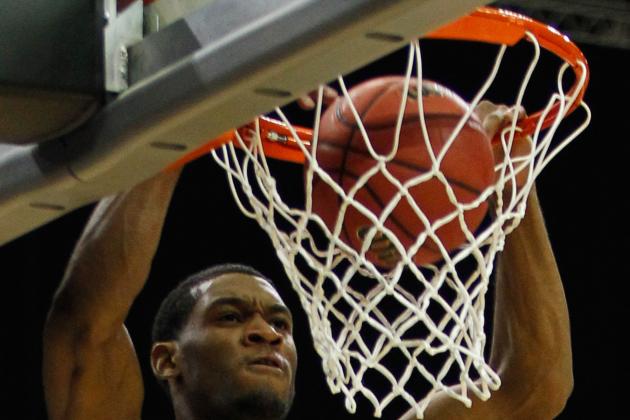 Streeter Lecka/Getty Images

Potential First-Round Steal
If this were the 2011 draft, Perry Jones III would be considered a top-three prospect and someone who could surely change the course of any NBA franchise lucky enough to draft him. However, his lack of growth during his second season at Baylor has led to many questions about whether he can thrive at the NBA level.
Still, there is no denying his talent and unique mix of skills, and if he can put it all together as a professional the Golden State Warriors would be able to answer their small forward question and add an extremely gifted player to join Steph Curry and Klay Thompson.
Jones averaged 13.5 points and 7.6 rebounds while demonstrating a unique skill set that is possessed by very few players of his size. The 6'11" forward can rebound well and even run the break on his own, thanks to his strong handle.
Jones could often be seen bringing the ball up the court for the Bears and staring the team's offense at the top of the key. Very few players of his stature have this ability, and it would make him a nightmare match up for opposing forwards.
He has the size to back down most defenders at his position, but he can also guard smaller threes and even some shooting guards because of his length and quickness. Though Jones was never a dominant shot-blocker he could very well become a quality defensive player in the NBA because. he has all the physical tools to bother his assignment and disrupt his rhythm offensively.
Golden State needs to add another strong defensive player alongside Andrew Bogut, and Jones could become that player in a few years.
PJ3 obviously needs to bulk up and work on connecting on his outside shots, but these issues do not offset the potential he demonstrated during his two collegiate seasons.
Jones may never be the perennial All-Star some expected him to be during his high school years and freshman season, but I believe he would be a major addition to the Warriors' roster and one that could potentially be a starter and a key player for the team in the future if he keeps working diligently and improving.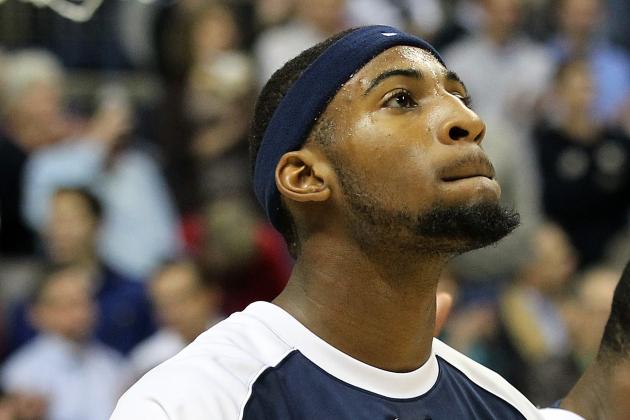 Jim Rogash/Getty Images

The Trail Blazers are looking to add a franchise center after finally cutting ties with Greg Oden, and Andre Drummond is exactly the kind of high-risk, high-reward big man that the team has loved picking in the past.
While I hope they are not, I believe the team will ultimately be swayed by Drummond's unmatched athleticism and ridiculous upside enough to draft the UConn center, despite his extremely raw game.
Portland needs someone to pair with LaMarcus Aldridge after trading Marcus Camby at the trade deadline, and Drummond, an extremely athletic 5-man who was simply able to overpower opponents during his one season as a Husky, seems like a natural fit for that role.
Drummond averaged 10 points, 7.6 rebounds and 2.7 blocks last season, using his excellent motor to score on the interior, contest shots in the paint and snag tough rebounds in traffic.
However, Drummond's game is simply too underdeveloped for him to make much of an impact next season. He has almost no moves in the post, and it will be much more difficult to out-muscle NBA centers like he did in college.
Most quality professional centers rely on more than just powering inside or beating their man down the court for fast break dunks because those are much harder to come by.
Drummond is an atrocious shooter, hitting less than thirty percent of his free throw attempts, and there is no reason to think an opposing coach wouldn't try a "Hack-a-Drummond" strategy by repeatedly following him to get the ball out of his hands.
Still, Drummond proved he could be a dominant defensive force in the interior and has the kind of size and athleticism that simply cannot be taught.
Overall, I think there are too many question marks surrounding Andre Drummond for a team to take him this high. If he does not pan out, Portland could be setting themselves back years, but if he can defy many expectations and develop skill to go with his pure size, then he could very well end up as an All-Star center in the future.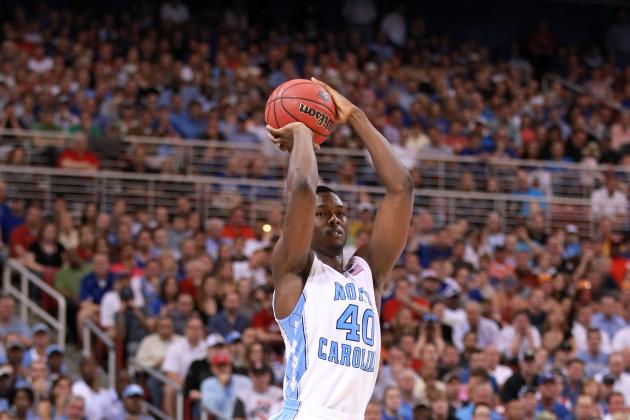 Andy Lyons/Getty Images

The Sacramento Kings need to find a long-term answer at small forward, and though Harrison Barnes' lack of growth from his freshman to sophomore season has left many pundits questioning just how good he'll be in the NBA, he still will be a quality wing player at the professional level and would be a very nice addition for Sacramento to make.
Barnes is as pure a scorer as they come, averaging 17.4 points per game last season, and has the kind of silky jump shot and effortless game that should allow him to continue to make baskets as a professional.
Barnes would fit well with the young, athletic Sacramento team as he can run the floor well and also finish strong at the rim when necessary. Though he does not take advantage of his athleticism as much as he perhaps should, the thought of him running breaks with Isaiah Thomas and Tyreke Evans is certainly an exciting one for Kings fans.
He needs to work on being aggressive with the ball instead of settling for too many jump shots, but that will come with time and experience.
He needs to improve defensively, staying with his man and being disciplined, but he proved to be a decent rebounding small forward. Barnes used his 6'8" frame to snag 5.2 rebounds per game, although he could stand to become a little more aggressive in the paint thanks to his athletic ability.
Barnes can also handle the ball pretty well, bringing the ball up the court at times for North Carolina and leading the Tar Heels' offense for stretches of time.
Barnes has plenty of talent and will be a nice addition for a Sacramento team that really needs a solution at the small forward spot.
While he does not have nearly the hype he had around the 2011 draft, Barnes' scoring ability and high character would make him a nice addition to a Sacramento team that should make significant strides next season as it continues to develop its young players.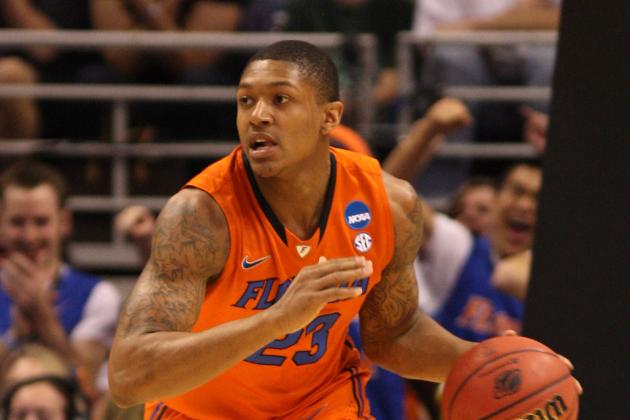 Christian Petersen/Getty Images

Potential First-Round Steal
In Bradley Beal, the Cavaliers would get their 2-guard to pair with Kyrie Irving for the next decade or more and a very gifted offensive player who can hit his outside shots and also make plays at the rim. Beal had a strong season for Florida and still possesses the kind of upside that is attractive for a young team like Cleveland.
Beal would compliment Irving well because he does not need the ball in his hands to be effective. He cuts well and can be a catch-and-shoot player once the defense collapses around Irving in the lane.
Though he can handle the ball when necessary, it does not stick in his hands, and he is a willing passer when he sees a better shot available than his own.
Beal scored 14.6 points per game and emerged as Florida's main offensive option. He is more athletic than many people believe and showed that he could break down a defense and get to the rim as well as pull up for jump shots.
The really impressive aspect of Beal's freshman season, however, was his ability to impact the game in ways beyond scoring. The 6'3" guard averaged a staggering 6.7 rebounds per game and proved he could be aggressive on the glass even when contending with much larger players.
His activity would be a real asset for Cleveland going forward, and he can still continue to improve as a defensive player and a passer, although he averaged 2.2 assists per game.
The Cavaliers have Alonzo Gee, but he could potentially be moved to small forward in order to open up minutes for Beal, who is a better shooter and when all is said and done will likely end up as the better NBA player.
It is refreshing to see a guard who is not just content to jack up outside shots and not sacrifice their body to win games. Beal is a true competitor and one who could seriously help the Cavs' rebuilding project next season.
A back court of Irving and Beal may be a bit undersized, but the heart and skill shown by both guards should make Cleveland very confident about taking Bradley Beal fourth overall.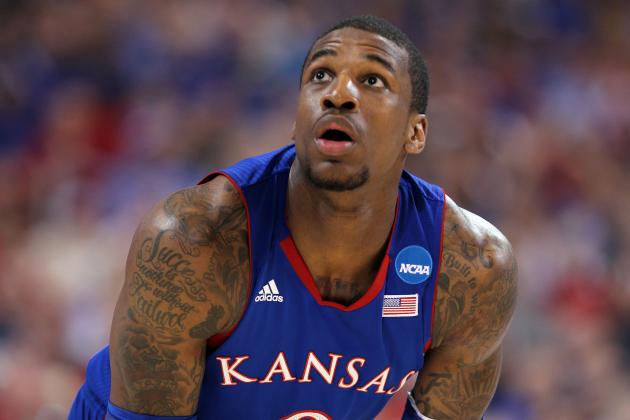 Andy Lyons/Getty Images

The Washington Wizards are trying to establish a new culture for their team and have made the right moves by dealing talented but troubled players Nick Young and JaVale McGee.
Now, sitting with the third overall pick and a core of John Wall, Jordan Crawford and Nene, the team should be looking to add some athleticism and strength to their frontline.
In his first season playing heavy minutes for Kansas, Robinson was sensational. He averaged 17.9 points and 11.8 rebounds, dragging the Jayhawks to the NCAA championship game in what many pundits believed would be a down year for the team.
Robinson was the team's primary scorer and was incredibly tough to handle in the paint. He could back down his defenders in the post consistently and had a knack for establishing great inside position.
Robinson would be an absolute nightmare running the floor with Wall. At 6'9" and built like a freight train, Robinson is surprisingly quick and can easily beat his man down the court and finish at the rim.
The Wizards are trying to become a fast-paced, athletic team and grabbing a big man like Robinson would give them someone who could create easy baskets.
No one in the nation was better at banging in the paint for rebounds, and Robinson's tenacity on the glass will translate well to the NBA level. Though he may be slightly undersized, he has the length and strength to battle for boards and will not be denied playing against larger professional competition.
Even when his shot isn't falling, Robinson was able to make an impact on the game by controlling the boards and helping to dictate the pace of the game.
He isn't a great defender or shot-blocker, though he's capable as a man-to-man defender. He has the speed and strength to cover most power forwards and even some slower-footed small forwards at the professional level.
The Wizards have a lot of options with the third pick, but I believe the best one is to snag an elite power forward like Thomas Robinson who will be a difference maker from day one. Robinson has proven to be an excellent and mature leader, something that the Wizards will benefit from, even when he is a rookie.
Kevin C. Cox/Getty Images

I'm not nearly as high on Michael Kidd-Gilchrist as a lot of people, but I still recognize that he can be an impact player in the NBA next season.
After losing out in the Anthony Davis sweepstakes, Charlotte will undoubtedly be looking to add another high-energy, high-upside player who can become a franchise cornerstone. If MKG can continue to improve, he certainly could fill that role nicely.
There are few long-term players on the Bobcats' roster, and Kidd-Gilchrist could be the answer at the small forward spot. Defensively, he has the strength and size to guard the position effectively, although he must improve his perimeter shooting and handle in order to thrive there.
He also can spend time at power forward if the team goes small and would make a quality defensive frontcourt with Bismack Biyombo.
His offensive game could use some work, but no one in college basketball was as deadly as Kidd-Gilchrist in transition. He could run the break by himself or finish off a pass and simply would not be denied at the rim.
His 11.8 points and 7.4 rebounds per game came primarily off of these sorts of hustle and effort plays that cannot be taught to young players.
Most importantly, Kidd-Gilchrist has the will to continue to improve and is as gritty as they come. His staggering 24-point, 19-rebound performance against Louisville is proof that even though he still lacks some polish, he is capable of having monster games when necessary and carrying his team for stretches.
There are still areas he could improve, obviously, but he put together a very impressive freshman season that had NBA scouts salivating.
Charlotte needs to change its culture from being one of perennial disappointment, and adding an extremely passionate, intensely prideful player like MKG would certainly help them turn the team attitude around.
He has the capability to make electrifying plays and make his team better, something that the Bobcats should be very excited about even if he never blocks shots like his former Wildcat teammate.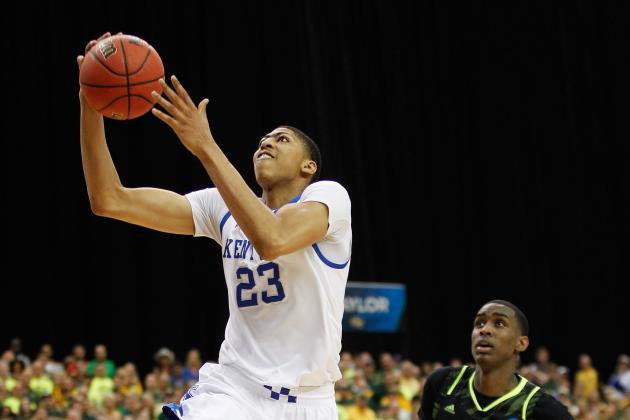 Streeter Lecka/Getty Images

You can't exactly be a steal as the first overall pick, but no player available has the potential to be as good as Anthony Davis does.
Defensively, he was the best player in the nation for Kentucky last year, blocking an absurd 4.7 shots per game and anchoring the Wildcats' stifling defense. He has the size, strength and athleticism to be a dominant forward and center even if he does nothing to improve his game at the NBA level.
Davis averaged 14.3 points and 10 rebounds per game last year. His offensive game could still use some work, but that should come with time. If he can develop a few more moves in the post and be able to hit an 18-foot jump shot, then there's no reason to think Davis won't be competing for MVP awards in a few seasons.
On the defensive end of the court, he thrives as both a man-to-man and help defender, with the ability to rotate and help out a teammate or shut down any opponent who is trying to get into the paint.
The Hornets need help on the frontline with the likely departures of Carl Landry and Chris Kaman, meaning that they would be pairing with Davis with fellow defensive-minded big Emeka Okafor and improving forwards Jason Smith and Gustavo Ayon to form a frontcourt that could be very scary sooner rather than later.
Davis is the kind of transcendent talent that a team builds their future around. He is a true team player and an unselfish one, always willing to make the right basketball plays to help win games.
In New Orleans, he will join a quality coaching staff that will continue to develop his game and with his hardworking instincts and high basketball IQ, the sky truly is the limit. In Davis the Hornets may have found not only a devastating two-way player but also a superstar to replace Chris Paul.