WWE: 7 Matches That Should Be Booked as the Money in the Bank Card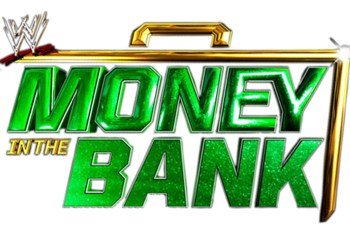 WWE Money In the Bank is supposed to be a proving ground for some of the newer wrestlers. With feuds finally being set up in WWE, here is what the promotion should do for the Money in the Bank card.
A couple of things to keep in mind when looking at the card:
1) The matches are in order of how they should be shown
2) Some of these are feuds that are current and some are feuds that are on their way to starting
3) A couple of the matches will feel a bit random, but it's the WWE, it is a bit random.
Tag Team Champions R-Truth and Kofi Kingston vs. The Prime Time Players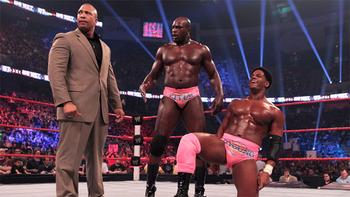 Courtesy WWE.com
Stipulation: Winners earn the Tag Team Championship
R-Truth and Kofi are at a point where they need to relinquish the tag titles and move up into the singles division to help with depth there. While they do that, it only makes sense to re-build the tag team division with actual tag teams in the Usos, the Colons, Gabriel and Kidd and the Prime Time Players.
By having the No. 1 contender for the tag titles actually compete for the tag titles, the WWE would have some continuity in their storylines for once.
They could also use this as a way to spring board a division with one of the most tremendous heel tag teams to have been formed in a long while; expect the Prime Time Players to continue to chant "Millions of Dollas."
Big Show vs. Brodus Clay Grudge Match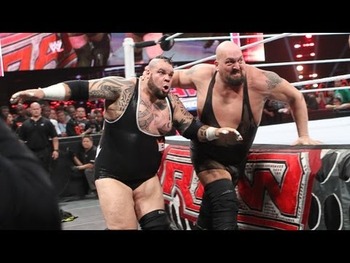 This one is just going to be a fun match for the purpose of hatred between two men.
The Big Show still isn't happy that Brodus Clay came out and danced on his proverbial grave. Brodus Clay isn't happy that the Big Show attacked him, Kofi Kingston and R-Truth a few weeks back.
The Big Show also could use how he was being taunted in his cage match with John Cena by Clay as ammunition for the feud.
Clay and Show are both big men and while the typical big-man feud tends to be long and boring, this has the potential to be quick and easy.
Clay shouldn't be able to beat the Big Show, but he is one of the few guys who has the size to compete and his finisher being much more ineffective on the Big Show than it is on his other competition could be the next big challenge for Clay to overcome.
Intercontinental Champion Christian vs. Damien Sandow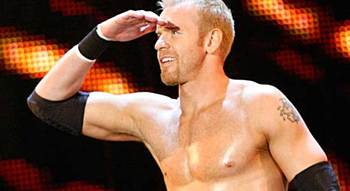 Courtesy RingsideNews.com
Stipulation: Winner earns the Intercontinental Championship
Christian is in the middle of an epic face turn, and who better for the leader of the peeps to face than the "Savior to the unwashed masses" Damien Sandow.
This one could be very easy to match them up as Sandow could come out and talk about how people aren't worthy of him wrestling, and in a shocking move, Christian challenges Sandow.
Sandow then denies unless he gets a shot at the Intercontinental title. And then a feud is born between these two.
While there isn't any blood between the two now, these are two of the best wrestlers that WWE has to offer and could put on a series of classics to lead into Summerslam.
US Champion Santino Marella vs. Alberto Del Rio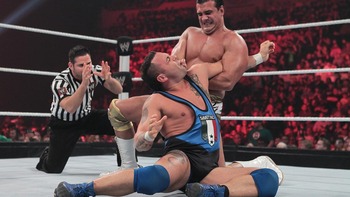 Courtesy WWE.com
Stipulation: Winner earns the US Championship
They have already been hinting that this will be the rivalry, so why not continue it?
Santino is turning more and more into a joke as the US Champion, and it would only make sense to have Del Rio come in and compete with Marella as retribution for trying to take out his ring announcer, Ricardo Rodriguez.
This could be an interesting battle and could turn into a long-term feud between the two.
The only question here is why are two non-Americans competing for the US Title? Alberto Del Rio represents Mexico and Santino Marella is from Italy.
It would make much more sense to take this and have someone like Jack Swagger inject themselves into this rivalry on Smackdown following the PPV and turn it into a three-way for Summerslam.
The Money in the Bank Ladder Match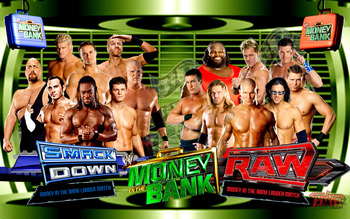 Competitors: Kane, Cody Rhodes, Chris Jericho, Jack Swagger, David Otunga, John Cena and Wade Barrett
Stipulation: Ladder Match with winner getting a title shot of his choosing to use at any point in the next year.
There has been a lot of speculation about who should be the winner of the Money in the Bank match. While rumors are out there about Wade Barrett winning the spot, he has to fully recover from his injury.
Cody Rhodes is looking to be ready for his next push. Swagger and Otunga are added as filler and someone to add much like what WWE does every year.
Chris Jericho and Kane are added to be the veteran presence in the match and allow for whoever to win the match to be put over as a true title contender.
John Cena is thrown in there because at this point there is nothing for him to do, and what better for him to do than to help put someone over as a legitimate title contender?
Co-Main Event: The World Heavyweight Champion Sheamus vs. Dolph Ziggler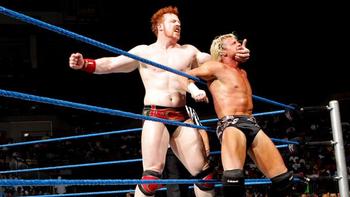 Courtesy WWE.com
Stipulation: Winner earns the World Heavyweight Championship
Sheamus and Ziggler put on a great show at No Way Out. They have a great start for a rivalry, especially now that Jack Swagger has been kicked to the curb by Vickie and Ziggler.
Ziggler could use that he was the closest one to beat Sheamus since Sheamus won the title at Wrestlemania to his advantage and force the interim GM that week to set up the event.
Sheamus has no reason to duck Ziggler as he beat him already, but by actually having time to set up a true feud this time, there will be much more interest in what will be a great wrestling match.
These two can put on a show at Money In the Bank and could even carry this rivalry all the way to Summerslam if Sheamus loses to Ziggler.
Main Event: The WWE Champion C.M. Punk vs. Daniel Bryan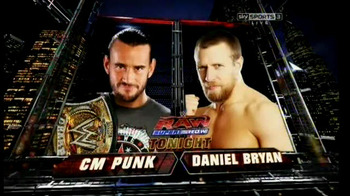 Stipulation: Ladder Match, Winner earns the WWE Championship
It wouldn't be Money In The Bank without multiple ladder matches. While there is only one Money in the Bank match, there is no better way to finally end a feud than a ladder match.
Bryan and Punk are both two of the best wrestlers in the WWE today and have already put on some classic matches, but this could be the cream of the crop.
Bryan and Punk both have hardcore abilities and now that the writers have a way to give these two an out for the AJ Lee situation, they could have an even more exciting match.
No matter who wins the match itself, this one would be a win for the fans and would finally put the main event back into the hands of the WWE Champion.
Keep Reading