New Orleans Saints: Ugly Bounty Evidence Must Urge Players to Drop Appeal
June 19, 2012

Slaven Vlasic/Getty Images
The New Orleans Saints players involved in the bounty scandal must give up before the situation worsens.
According to the Associated Press via the Boston Globe:
The league also showed a computer slide it got from the Saints, dating from before a playoff game against Seattle the following season, showing photos of three Seahawks with "Now it's time to do our job. Collect bounty $$$!. No apologies. Let's go hunting'' printed on it.
Another part of what the NFL revealed strictly was about Jonathan Vilma:
One document showed linebacker Vilma offering "two five-stacks,'' or $10,000, to knock out Favre in the title game, which the Saints won, leading to their Super Bowl victory over Indianapolis in February 2010.
Considering the severity of the entire ordeal and what has already been revealed, the Saints' players need to swallow their pride and move on.
Since taking over as the NFL's commissioner in 2006, Goodell has been ruthless and relentless towards anyone that has violated rules and policies on or off the field.
Just ask James Harrison.
The Saints involved in the bounty scandal knew who and what they were going up against and their chances of winning are slim-to-none, especially with all the evidence that has been revealed, not to mention the cooperation of the main source, Gregg Williams.
Time, if anything, will be the only healer of this situation as pro football continues to improve the safety of the game. The NFL must also keep in mind that the physical contact of the sport is what has made it such an appealing spectacle.
These players must know it is a privilege to be a part of that and the best way to win back respect from the league and fans is to accept responsibility and give 100 percent effort upon returning to the field.
As professional athletes, these players earn millions each year. There's no need for bounties to begin with. This would have made more sense if the players were getting paid like those who put the pads on in the 1920s, '30s, '40s and '50s.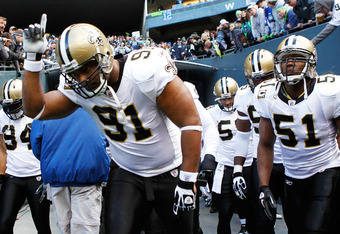 Jonathan Ferrey/Getty Images
And it wasn't that the hits were illegal, because tough football is what the Saints' defense played when Williams was the coordinator. In a league driven by offense, the production of a defense is more important than ever before.
Still, that by no means is an excuse to put bounties on players just to get paid extra cash. Motives and incentives may need to be changed/modified, however, the physical demands of the game are enough to put anyone at risk of injury.
So there's no need to up those odds (even if it's not on purpose) as players continue to get bigger, faster and stronger.
John Rozum on Twitter.