MLB Rumors: Playing Fact or Fiction with the Latest San Francisco Giants Buzz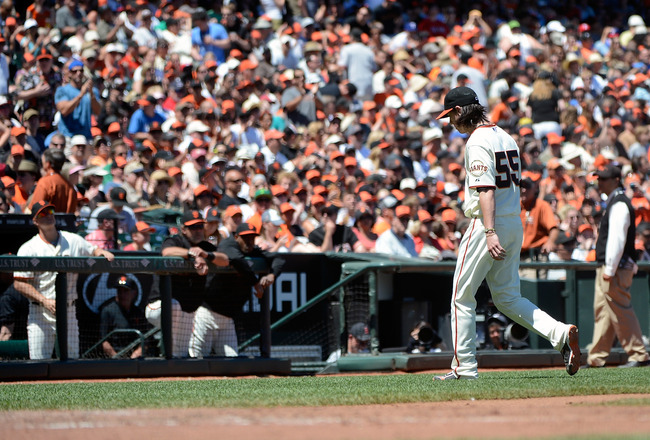 Tim Lincecum walks off the field after he picked up a loss against Texas.
Thearon W. Henderson/Getty Images
This is the time of year when rumors fly around the MLB.
There are trade rumors. There are rumors about people being called up from the minors. There are rumors about people being released.
And this year is no different.
Today, I'm here to give you guys some updates about those rumors. If you want updates about the all of the Giants rumors, read on to find out whether I think they are fact or fiction.
Brandon Belt Will Be San Francisco's Everyday First Baseman
Brandon Belt is greeted by Joaquin Arias after scoring a run.
Lisa Blumenfeld/Getty Images
Brandon Belt has been on a tear lately, going 10-for-22 with three homers and seven RBI in San Francisco's last seven games.
Belt has started San Francisco's last nine games and has shown why he deserves to be in the everyday lineup. Brett Pill is in the minors and Aubrey Huff is on the DL, and the only other player capable of playing first is Buster Posey.
Posey barely plays at first anymore, and Belt has shown that he deserves to stay there by playing good defense and hitting the ball very well.
Belt was striking out a lot, but he isn't striking out much anymore. In his last eight games, he has just three strikeouts, while in his last six games, Belt has raised his batting average from .227 to .261.
Bochy won't bench Belt unless he cools off significantly; right now Bochy can't afford to take Belt out of the lineup.
Unless he starts to chase bad pitches or gets hurt, Belt should continue to be San Francisco's everyday first baseman.
Verdict: Fact
San Francisco Will Trade for a Shortstop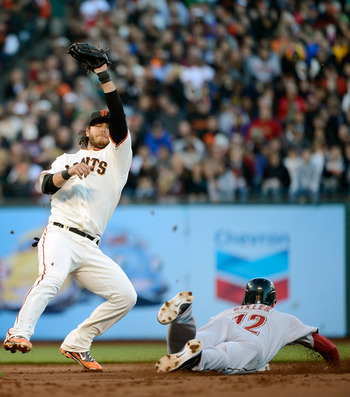 Thearon W. Henderson/Getty Images
Brandon Crawford is young, but he has struggled mightily this season.
Crawford has a 23.2 percent strikeout rate, while hitting just .232 for the year. He has the same number of hits as strikeouts, and his 12 errors has hurt the team considerably.
San Francisco could trade for a shortstop, as they have received little production at the position. However, the Giants don't have many top prospects, and they don't have many trade chips on their major league roster. San Francisco could try to trade Barry Zito for a shortstop.
Or, they could try to trade their struggling, shaggy-haired pitcher, Tim Lincecum.
There aren't many shortstops on the market, and the only one on the market that could be a fit for the Giants is Chicago's Starlin Castro. While I would be in favor of trading Lincecum and some prospects for Castro and a starting pitcher, I don't think Bruce Bochy would be.
The Giants simply don't have enough trade chips to acquire an elite shortstop, though I would like for such a transaction to happen.
Though Crawford has struggled for the most part this season, he is starting to play better, hitting well with runners on base (21 RBI). Since he is young and still improving, he is unlikely to be traded.
Verdict: Fiction
Tim Lincecum's Next Start Will Be Skipped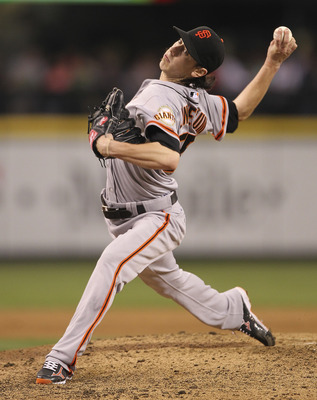 Otto Greule Jr/Getty Images
As you may know, Tim Lincecum is struggling.
The former ace has a record of 2-8 and an ERA of 6.19 this year. Out of the 111 ERA qualifiers, Lincecum has the second-worst ERA in the major leagues.
You may think Bruce Bochy would do something about it, but I don't.
Bochy shows confidence in all of his players, especially proven veterans, by letting them work out their issues on the field. Lincecum is a two-time Cy Young winner and World Series champion, and in the 2010 postseason, he went 4-1 with a 2.43 ERA.
Most people think the issues are mental, and it seems likes Bochy thinks that too. Bochy had this to say about his struggling ace (via cbssports.com):
"We think the best thing is to let him fight through this. If we felt differently, we'd do it," Bochy said. "He's doing all he can to come out of this. He hasn't lost any fight in him. He's healthy. He feels good. I know the results haven't been great for Timmy, but you're seeing too many good signs."
Lincecum is working hard, but the results haven't been great. However, Bochy will let him stay in the rotation to work things out.
Verdict: Fiction
Tim Lincecum Will Be Traded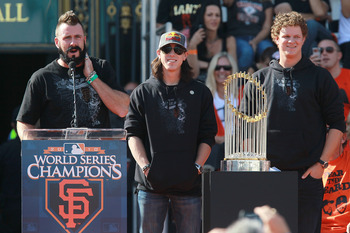 Justin Sullivan/Getty Images
Back to the Tim Lincecum rumors.
The struggling pitcher has received lots of praise and lots of criticism during his tough stretch. Giants fans have continued to support him, but many people around the league think the Giants should trade Lincecum.
If Lincecum were traded, there would be the risk of him getting it back together and dominating elsewhere. Since Bochy has tons of confidence in Lincecum, it is very unlikely that he or GM Brian Sabean would let go of the star pitcher.
Even though the Giants would benefit from getting another shortstop or maybe even another pitcher, there's no way the Giants would trade Lincecum at this point. They may trade him if he is unable to get things together by the trade deadline, but, for now, Lincecum is staying in San Francisco.
Verdict: Fiction
Keep Reading

San Francisco Giants: Like this team?