2012 NHL Mock Draft: Long-Term Projects Teams Need to Build Around
June 20, 2012

The reason that NHL teams are always so optimistic is because of the draft. Look at what the Los Angeles Kings were able to build, thanks largely to their work in drafting and player development, and you realize that the future starts now. 
While fans look for immediate answers, a lot of teams don't have the luxury of being able to turn their fortunes around in such a short space of time. In fact, going after a long-term, high-risk, high-reward player is the best strategy to take. 
Here are the best long-term projects teams need to build around. 
1. Edmonton Oilers: Nail Yakupov, F, Sarnia 
The once-proud Oilers hit the jackpot by getting the No. 1 pick in this year's draft. Yakupov is not going to be a once-in-a-generation player, but he has the raw talent to be a perennial All-Star and MVP candidate. 
Yakupov's speed and ability to put the puck in the net are unmatched by anyone in this draft class. He is just 18 years old, so there is plenty of time for him to develop in the lower levels before making his debut with the Oilers. 
Give Yakupov time and he will be the star this franchise needs right now. 
2. Columbus Blue Jackets: Ryan Murray, D, Everett 
Murray is a very rare talent. He doesn't have as much upside or potential as Yakupov, but as a defensemen who can score, he might have more value in the eyes of some teams. 
Given that the Blue Jackets are a mess and need as much help as they can get, Murray is the most logical choice for them in this spot. 
3. Montreal Canadiens: Alex Galchenyuk, F, Sarnia   
If not for a knee injury this past season, Galchenyuk would be in the conversation for the No. 1 pick. His offensive prowess will make him a top-five pick, though I need to see how he responds when he gets back on the ice before declaring him the same player he was before. 
4. New York Islanders: Mathew Dumba, D, Red Deer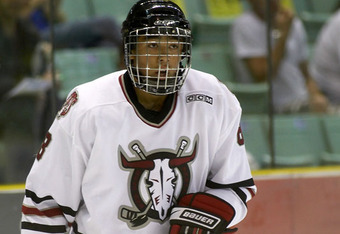 Dumba is the very definition of a prospect who brings plenty of raw talent to the table right now and the future projection to be worth a gamble for the Islanders. 
At just 17 years old and around 175 pounds, Dumba has shown he is more than capable of lining up against bigger players and holding his own. His body is going to mature, and with it will come more power. 
Dumba's offense is going to be strong enough, but his defense is going to be off the charts when he does get to the NHL. 
5. Toronto Maple Leafs: Filip Forsberg, F, Leksands
Forsberg, at just 17 years old, is probably going to end up being the same player he is right now: Goal-scoring forward with great puck-handling skills. 
6. Anaheim Ducks: Mikhail Grigorenko, F, Quebec 

With the Ducks looking for more offensive firepower, Grigorenko would not be a bad place to end the search. He has dominated the Quebec Major Junior Hockey League with the Quebec Remparts, and is poised to bring his considerable talent to the NHL. 
7. Minnesota Wild: Griffin Reinhart, D, Edmonton
Reinhart is done growing physically, which does limit his upside and projection a little bit. He is a solid prospect with improving offensive skills, though he does have the ideal frame to look for in a defenseman. 
8. Carolina Hurricanes: Teuvo Teravainen, F, Jokerit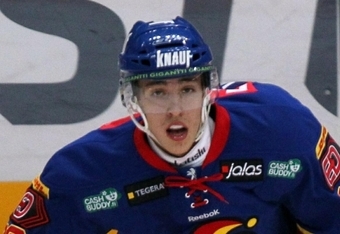 If you are looking for a prospect to bank on in this class, Teravainen is the player for you. He is not the most physical player now, which he needs to be to succeed in the NHL, but he is young and his projection is off the charts. 
He is probably the best pure puck-handler in this class, with the ability to score 25-30 goals at his peak. The Hurricanes can afford to bank on his projection, as they are not going anywhere anytime soon. 
9. Winnipeg Jets: Radek Faksa, C, Kitchner 
Faksa has a limited ceiling due to an inconsistent performance on the offensive side of the puck, yet he is good enough in that regard and a strong defender. 
10. Tampa Bay Lightning: Morgan Rielly, D, Moose Jaw   
Rielly is on offense-first defenseman. He is a good offensive player, though he seems to be miscast in his current role. 
11. Washington Capitals (from COL): Jacob Trouba, D, USA U-18
Trouba feels like an old-school defensemen when you watch him. He doesn't do much with the puck in his hands—or at his stick—but he makes opponents notice him because he can hit and hit hard. 
For a Capitals team that needs to get tougher, both mentally and physically, Trouba is the perfect pick. 
12. Buffalo Sabres: Cody Ceci, D, Ottawa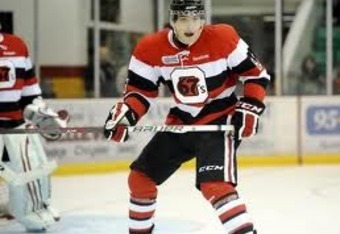 Yet another defenseman with a good offensive game, Ceci needs to work on handling himself to stay at his current position. He is physical enough, though he needs to take a more assertive approach without the puck in his hands. 
When he is handling the puck, Ceci is as dynamic as any defensemen in this draft. He can score and pass with the best of them. His upside is worth a look, though I am seriously skeptical about him reaching his potential. 
13. Dallas Stars: Olli Maatta, D, London
Maatta is going to be a strong defense-first defenseman. He doesn't add anything with the puck at his skates, so unless the defense is off-the-charts great, his upside is severely limited. 
14. Calgary Flames: Sebastian Collberg, F, Frolunda HC 
A speedster who can finish, Collberg might be as safe as any pick in this draft. He could turn into a star, though his ceiling is more likely that of a solid offensive forward. 
15. Ottawa Senators: Hampus Lindholm, D, Rogle    
Lindholm doesn't bring a great set of skills to the table. He has a big frame and attacks the puck, but he is not a great defender, and won't add much in the way of offense. 
16. Washington Capitals: Zemgus Girgensons, F, Dubuque
If Girgensons had more speed and could develop a consistent shot, he would be a top-10 pick. Since his game is based on sitting in front of the net and waiting for things to come to him, his upside is limited. 
17. San Jose Sharks: Brendan Gaunce, F, Belleville
While Gaunce certainly has a mind for the sport, I don't know exactly what he is going to be. He doesn't score enough to be a dominant center, isn't a great passer and not too strong on the defensive side of the puck. 
If you want to see his potential, I won't fight you. I just don't agree with that assesment.
18. Chicago Blackhawks: Tom Wilson, RW, Plymouth
On sheer intimidation alone, Wilson ranks right up there with anyone. He has a big body that will get in the heads of his opponents, yet he also has the potential to be a strong scorer and defender in this league. 
Wilson doesn't have star potential, but he might be the best player available outside of the top 10. 
19. Tampa Bay Lightning (from DET): Derrick Pouliot, D, Portland 

With Pouliot, the Lightning will get one of the most exciting defensemen in this class. He gets after opponents when they have the puck, and is not afraid to stick his neck out in any situation. 
In addition to his defensive prowess, Pouliot just keeps getting better and better with the puck. I don't see him becoming a great scorer in the NHL, but a defender who can bring 50-55 points to the table is a valuable asset. 
20. Philadelphia Flyers: Dalton Thrower, D, Saskatoon
Thrower is a smaller defender, so he needs to use his speed and instincts to succeed. He has shown no signs of slowing down, giving him the grade of a first-round pick. 
21. Buffalo Sabres (from NSH): Slater Koekkoek, D, Peterborough 
With Koekkoek, the Sabres are getting a good, if underachieving, talent who needs to develop. I see a lot more bust potential with him than some of the other prospects, so I can't give him the benefit of the doubt. 
22. Pittsburgh Penguins: Brady Skjei, D, USA U-18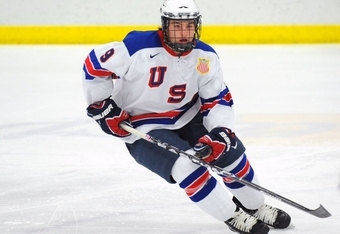 Skjei is the last of the serious long-term projects in the first round. He is years away from being a contributor in the NHL, yet the upside is off the charts. He has shown excellent speed and a strong presence on the ice throughout his young career. 
If you believe that his body is going to fill out, he will add more muscle and learn to attack bigger players, Skjei could turn into an All-Star caliber defensemen. I like his future right now, and believe he should at least come close to hitting that ceiling. 
The talent-rich Penguins can put Skjei away for a few years before he has to make his debut. 
23. Florida Panthers: Matt Finn, D, Guelph 
With the Panthers starting to make some noise in the Eastern Conference, Finn is the strong defensive presence they can add to the mix and take the next step. 
24. Boston Bruins: Stefan Matteau, F, USNTDP
As long as Matteau continues to stay aggressive with the puck in his hands, he can give the Bruins their forward of the future.
25. St. Louis Blues: Pontus Aberg, F, Djurgardens
Aberg needs to focus on his offensive game right now, but his defense and understanding of the game make him a strong value pick right here. 
26. Vancouver Canucks: Henrik Samuelsson, C, Edmonton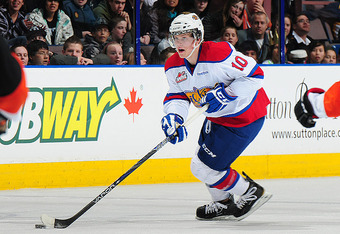 The Canucks tend to find diamonds in the rough late in the draft. Samuelsson has tremendous talent and will be a strong asset for the Canucks in four years. 
27. Phoenix Coyotes: Scott Laughton, F, Oshawa  
Laughton is a solid player who can contribute in the NHL, though his upside is limited because he isn't a strong skater or puck-handler. He can score when he doesn't have to create shots on his own. 
28. New York Rangers: Tomas Hertl, F, Slavia 
As long as the Rangers have the patience to wait on Hertl's raw offensive upside, he would be a great value pick here. He doesn't bring much else to the table, but he doesn't have to right now. 
29. New Jersey Devils: Malcolm Subban, G, Belleville
At some point Martin Brodeur is going to walk away, right? That would put Subban in the unenviable position of being his future replacement. That is a long-term project that no goalie can hope to handle. 
30. Los Angeles Kings: Colton Sissons, F, Kelowna
The Kings will need to add more offense to make it through the regular season. They have the goaltending to make annual postseason runs every year, though they don't have the scorers to get into the Stanley Cup Playoffs every year. 
Sissons is a great scorer right now and should keep getting better as he learns the subtle nuances of the game.