Michael Phelps: U.S. Trials Plan Proves Swimmer Still Wants to Dominate
June 19, 2012

Streeter Lecka/Getty Images
Swimming world, take note: Michael Phelps is all in for London.
According to Pat Forde of Yahoo! Sports, the Olympic legend will swim seven events at the U.S. Swimming Trials next week. If he qualifies for each and makes all three relay teams, he could conceivably race in 10 events at the 2012 London Olympics and break his own record for medals won at a single Olympiad (a record he shares with Soviet gymnast Aleksandr Dityatin).
Chances are that magical "10" figure won't hold. Phelps registered for nine events at the '08 trials before dropping three, and over-scheduling is a common practice at this all-important meet.
The historic and seductively rounded number that is stealing headlines today will likely fade with time. Even so, it's clear that Phelps intends to dominate London much like he did Beijing and Athens.
Those who believed that he would decelerate into retirement can now abandon that notion. Phelps may yet retire after London—as he has insisted for months now—but he isn't content to fade away.
Quite frankly, we should have seen this coming.
Phelps has always had a bipolar relationship with the water. Like many swimmers, he is susceptible to aquatic burnout—even to the point where he essentially stopped training in the fall of 2009.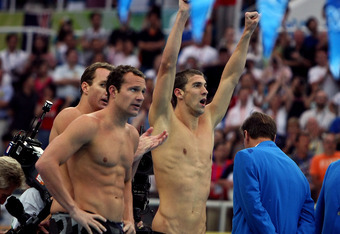 Al Bello/Getty Images
But when rubber meets road and the big meets arrive, Phelps always comes front-crawling back. He can't help himself. Phelps lusts for victory in ways that can only be described as Jordan-esque.
When Bob Costas once drew that very comparison in any interview with Phelps, noting Jordan's singular ability to derive motivation from his competition, the swimming great seemed to agree.
"I welcome any comments," he said. "All they do is fire me up."
Phelps hates swimming, but he also needs swimming—if only as an outlet for his unquenchable desire to be the absolute best.
In fact, I wouldn't be surprised if he makes an earnest attempt for nine medals—a feat that would set him apart as the single-most decorated athlete at one Olympic Games.
Because for Phelps, a tepid first-place tie won't cut it. He has to rise above.
At least that is what I'm taking out of today's announcement. Phelps has lost some interest in swimming, but at base, he still runs on the same overzealous competitive drive that first propelled him to greatness.
In London, he is going to push his body to its physical limits one last time—because he's Michael Phelps, and that's what Michael Phelps does.
He won't opt for the graceful sendoff. He won't accept a token relay nod. He won't retire on typical terms.
And why should he?
Michael Phelps, after all, is no typical athlete.