2012 NHL Mock Draft: USHL Standouts That Will Become NHL Stars
June 20, 2012

Richard Wolowicz/Getty Images
With the 2012 NHL draft taking place June 22-23, the talk of which of the biggest stars coming out this year will pay dividends for their teams has reached boiling point.
One of the leagues that routinely offers top prospects is the United States Hockey League (USHL). With another stellar class, it's time to find the difference makers from this league.
All of the USHL standouts that will be NHL stars are italicized.
1. Edmonton Oilers: Nail Yakupov, LW, Sarnia Sting (OHL)
Nail Yakupov is the NHL's version of Anthony Davis in the NBA. Slam dunk at No. 1.
2. Columbus Blue Jackets: Filip Forsberg, LW, Leksands IF (Allsvenkan)
With all the trade talk surrounding Rick Nash, the Columbus Blue Jackets would be wise to get the best pure offensive forward in the draft in Filip Forsberg; even if it means he will stay another year in Sweden.
3. Montreal Canadiens: Mikhail Grigorenko, C, Quebec Remparts (QJMHL)
There is absolutely no question that Montreal's biggest need is at center, and Mikhail Grigorenko has the size and strength to fill that void.
4. New York Islanders: Ryan Murray, D, Everett Silvertips (WHL)
As great as the forwards are on the Island, New York must be smart and go with a defenseman at No. 4. Ryan Murray is a great pick.
5. Toronto Maple Leafs: Alex Galchenyuk, C, Sarina Sting (OHL)
If center Alex Galchenyuk can live up to the hype that has surrounded him throughout his young career, Toronto will have a serious star on their hands. Knowing the luck of the Maple Leafs, though, this will be a bust.
6. Anaheim Ducks: Matthew Dumba, D, Red Deer Rebels (WHL)
There is no question that the Anaheim Ducks have this scoring goals thing down, but it's the playing defense aspect of their game that has been terrible. Matthew Dumba is the best all-round defender in the 2012 draft.
7. Minnesota Wild: Jacob Trouba, D, USNDTP (USHL)
While Matthew Dumba and Ryan Murray come into the draft as more publicized defenders, USHL star Jacob Trouba has more upside than both.
Trouba may be younger and less experienced than the other two, but his size and speed—coupled with the hockey I.Q. he already shows—is flat-out amazing for a defenseman.
Minnesota has shifted into a full-on rebuilding mode, and no better place to start than the linchpin of the defense. Trouba will be their man for a long time.
8. Carolina Hurricanes: Griffin Reinhart, D, Edmonton Oil Kings (WHL)
The need to protect star goalie Cam Ward was made obvious last season by the Hurricanes' struggles last season. A potential star like Griffin Reinhart would be a smart move.
9. Winnipeg Jets: Morgan Rielly, D, Moose Jaw Warriors (WHL)
Another team looking to rebuild from the bottom up is the Winnipeg Jets. That process will continue with Moose Jaw Warriors defender Morgan Rielly.
10. Tampa Bay Lightning: Teuvo Teravainen, LW, Jokerit Helsinki (SM-Liiga)
There is no question that the forwards in Tampa Bay are getting older, and Teuvo Teravainen could be the long-term replacement for Vincent Lecalvier or Martin St. Louis; or both.
11. Washington Capitals (from Colorado Avalanche): Brendan Gaunce, C, Belleville Bulls (OHL)
The Washington Capitals need grit through the middle that can also add some offensive prowess, and Brendan Gaunce is the kind of Bull the team needs. If this doesn't fix the problems, Washington is in trouble.
12. Buffalo Sabres: Cody Ceci, D, Ottawa 67s (OHL)
Ryan Miller is arguably the best goalie in the NHL, but he is left out to dry by his porous defense far too often. Cody Ceci will be asked to change that in 2012-2013.
13. Dallas Stars: Radek Faksa, C/W, Kitchener Rangers (OHL)
With Loui Eriksson playing either wing the Stars need him on, the team must find a great utility piece to fill in on that top line at center or the opposite wing. Dallas will take the best player available, which is also the exact fit they needed; this will be a great pick.
14. Calgary Flames: Zemgus Girgensons, C, Dubuque Fighting Saints (USHL)
All you have to look at is the stats this 18-year-old future star put up this year to realize that he isn't a joke. In just 49 games, Zemgus Girgensons scored 24 goals, and had 31 assists as well as 69 penalty minutes.
With all of that grit on top of the offensive output, it almost sounds like he was meant to play alongside an All-Star like Jarome Iginla.
Despite being in the twilight of his career, Iginla can teach Girgensons to be the Flames' leader going forward and let him learn firsthand what it takes to be the star in Calgary.
This pick makes Calgary a must-watch this season.
15. Ottawa Senators: Hampus Lindholm, D, Rogle (Allsvenskan)
Ottawa's recent success developing defenders will not go unnoticed, and the team will try it again with raw prospect Hampus Lindholm. It's a bit of a reach, but the Senators know what they're doing.
16. Washington Capitals: Olli Maatta, D, London Knights (OHL)
No one knows what is going on in Washington, but one of the most likely reasons behind their failures is the lack of a consistent leader on and off the ice. Olli Maatta will lead by example and turn this team around.
17. San Jose Sharks: Sebastian Collberg, RW, Vastra Frolunda HC (SEL)
Joe Thornton needs to reiterate to the San Jose management that he needs a pure sniper that goes 100 percent on every play. The hope is that drafting Sebastian Collberg will fill that void; it won't.
18. Chicago Blackhawks: Pontus Aberg, LW, Djurgardens IF Stockholm (SEL)
With the need for offensive stars beyond Patrick Sharp, Patrick Kane and Jonathan Toews, Chicago would be silly not to snag Pontus Aberg if he falls all the way to No. 18.
19. Tampa Bay Lightning: Matt Finn, D, Guelph Storm (OHL)
Now that the Lightning snagged a forward early in the first round, they must get the best defenseman available. They will do so when Matt Finn falls to them at No. 19.
20. Philadelphia Flyers: Slater Koekkoek, D, Peterborough Petes (OHL)
Getting younger in the defensive corps is a must for the Philadelphia Flyers, and Slater Koekkoek will be the best remaining from an already thin class of defenders.
21. Buffalo Sabres (from Nashville Predators): Tom Wilson, RW, Plymouth Whalers (OHL)
Just what the Buffalo Sabres needed, an underperforming, overrated prospect that will never live up to the hype. It's OK though; Tom Wilson will be a star in a few years once he leaves.
22. Pittsburgh Penguins: Derrick Pouliot, D, Portland Winterhawks (WHL)
If the regular season wasn't proof enough, the series against the Philadelphia Flyers was enough to make the Penguins management put all their efforts into the defensive unit.
23. Florida Panthers: Brady Skjei, D, USNDTP (USHL)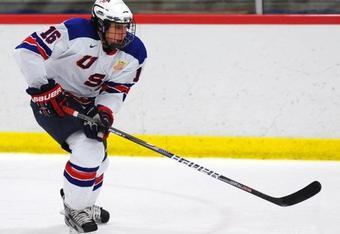 One of the biggest rising stars of this year's draft process has been Brady Skjei. The 17-year-old defender has a world of talent and has been doing everything right in the pre-draft process.
With a unique mix of skating speed and agility not usually found in defenders his size (6'2"), Skjei has shown that he can be a serious force in all aspects of the game.
Along with his natural grit that teams love, his ability to jump into the offensive play will have him on powerplay units fast. Florida will be snagging an amazing player.
24. Boston Bruins: Dalton Thrower, D, Saskatoon Blades (WHL)
With Tim Thomas taking a year off, there have been questions if the Bruins will take a goalie in the first round. Instead, they will snag the best defender left on the board in Dalton Thrower.
25. St. Louis Blues: Stefan Matteau, C, USNDTP (USHL)
To play in the Ken Hitchcock system, players have to be responsible at both ends of the ice. Stefan Matteau fits that mold perfectly.
26. Vancouver Canucks: Scott Laughton, C, Oshawa Generals (OHL)
The lack of postseason success is starting to wear thin in Vancouver, and adding a gritty center like Scott Laughton can help be the team's shot in the arm.
27. Phoenix Coyotes: Tim Bozon, LW, Kamloops Blazers (WHL)
Phoenix must find consistent scoring, but they will likely only draft left wing Tim Bozon. As good as he is, he will not be enough to make a difference.
28. New York Rangers: Andrey Vasilevski, G, Tolpar Ufa (MHL)
The New York Rangers can afford to make such a long-term investment in a goalie like Andrey Vasilevski because Henrik Lundqvist isn't going anywhere for a long time.
29. New Jersey Devils: Malcolm Subban, G, Belleville (OHL)
As great as Martin Brodeur looked in the Stanley Cup playoffs, the end is near. New Jersey must snag standout goalie prospect Malcolm Subban.
30. Los Angeles Kings: Tomas Hertl, C, HC Slavia Praha (Czech)
Even after winning the Lord Stanley's cup, the Los Angeles Kings will snag a potential star if he fulfills his potential in Tomas Hertl. It's almost not fair.
Check back for more on the National Hockey League as it comes, and don't miss Bleacher Report's NHL page to get your fill of all things hockey.