Euro 2012 Scores: Most Predictable Results from Final Round of Group Stage Play
June 19, 2012

Alex Livesey/Getty Images
France, England, and Ukraine, who's your money on?
Group D concludes today with France taking on the already eliminated Sweden, and England up against co-hosts Ukraine.
France and England need only a draw to secure progression to the quarterfinals, while Ukraine need all three points.
The winner of the group will set up a quarterfinal tie with the Italians, while the runner up will be in for it against reigning champions Spain.
It is sure to be a nervy few hours of play today, but here is what you can expect to see.
France vs. Sweden
When: June 19 at 2:45 pm ET
Where: Olympic Stadium, Kiev
TV: ESPN 2
This is not the French team that took the pitch and humiliated themselves at the 2010 World Cup.
This side looks more disciplined, skilful, and willing to work (something we've come to expect half of the time).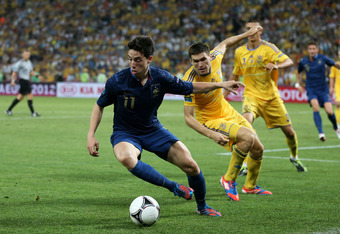 Julian Finney/Getty Images
The predictable outcome of this match in Kiev is France strolling to victory.
Sweden no longer have anything to play for but their pride, and the French know that a strong performance will lay the ground work for further success in the tournament.
If France can get an early goal to settle their nerves, it could be a long day at the office for the Swedes.
I expect Laurent Blanc to employ his usual expansive style of football, but also to remain wary of the ever present threat of Zlatan Ibrahimovic.
Talk of unrest between players in the Swedish camp further enhances the likelihood of a French win.
We've seen in many prior tournaments that teams with bad chemistry usually crash and burn as a result (ie: France 2010).
My prediction 2-0 France.
Benzema will finally show his worth, scoring both goals.
Ukraine vs. England
When: June 19 at 2:45 pm ET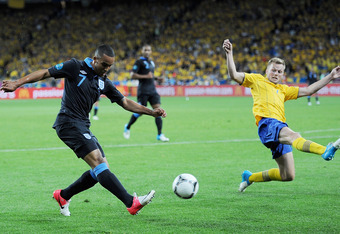 Christopher Lee/Getty Images
Where: Donbass Arena, Donetsk
TV: ESPN
The most scintillating tie of the day goes to England and Ukraine, both still with much to play for.
It is likely to be skipper and legendary striker Andriy Shevchenko's final game for the national side, bringing an end to his illustrious career (112 caps and 48 goals).
Wayne Rooney is back for the Three Lions, and will replace Andy Carroll up top to partner his Manchester United teammate, Danny Welbeck.
The dynamic duo should have a field day against this suspect Ukrainian defense, and run out easy winners.
Ukraine manager Oleg Blokhin, who desperately needs the win, will set up his side in a defensive minded formation and hope to break England on the counter.
Despite the obvious advantage in fan base, Ukraine simply does not have the depth that Roy Hodgson has at his disposal.
The only other change I see to the lineup that scraped past Sweden 3-2, will be Walcott coming in on the right for Milner.
His ability to run past defenders and cut the ball back from the end line will prove to be a nightmare for the co-hosts
My prediction: 3-0 England.
Rooney will score early and Ukraine will unravel, bringing their Euro 2012 campaign to a screeching halt.