Kate Upton Makes Tremendous Splash on Cover of July GQ Magazine
June 19, 2012

You may have woken this morning to birds chirping, the sun shining and the grand feeling that all was right in the world. That would be the release of Kate Upton's cover on GQ Magazine.
The gods of pulchritude are shining on us. So, let's just enjoy it. 
Kate Upton, the beautiful bombshell who has given us such hits as random dougie dance and Sports Illustrated swimsuit cover, will now feature prominently in the upcoming issue of GQ Magazine, and this is grand news. 
The cover model is shedding one bikini for another, dishing on Tim Tebow and Mark Sanchez and retelling a story of how she popped out of a one-piece swimsuit. 
Yup, that sounds possible with Upton.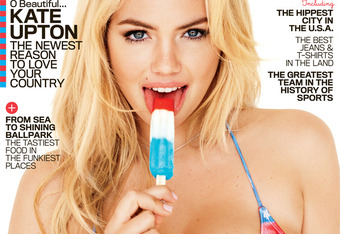 We present you with a cover that will be doing its damn job by making grown man stop in the middle of the supermarket aisle, take notice and plunk down cash to have this issue at home. 
If you need more convincing, there is this photo as well.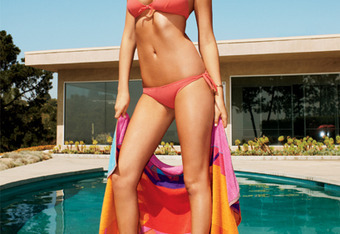 The good people at GQ Magazine understand that people love their videos. With that, they have given us a behind-the-scenes video to keep us all fat and giggly until the issue drops at newsstands June 26th. 
Upton breaks down one of the more embarrassing moments during the GQ shoot, via GQ Magazine. 
For the GQ photo shoot, we were on that ride where the seat spins while the actual ride is spinning, and I'm wearing a one-piece. And all of a sudden the whole entire top falls off! I'm holding myself, laughing, turning bright red...it was so embarrassing. You wouldn't think that would happen with a one-piece!
Yes, Upton broke a damn one piece. The lady is no mere mortal, of this I am convinced. 
As for the New York quarterback tandem, GQ reports the following. 
Mark Sanchez: Spotted bearing gifts at Kate's apartment. Tim Tebow: Caught chatting up Kate at an Oscar party. Kate's sole comment on the looming quarterback controversy: "I'm going to be less emotionally involved this year."
The should make a couple of Jets' QB's very sad emoticon right about now. 
Upton is doing what she does best, taking off a great deal of clothes and saying cheese. I for one think this may be some of her best work. 
Which is something I haven't said since her last work. 
Follow me on Twitter for updated sexy talk.