Philadelphia Eagles: Best- and Worst-Case Scenarios for 2012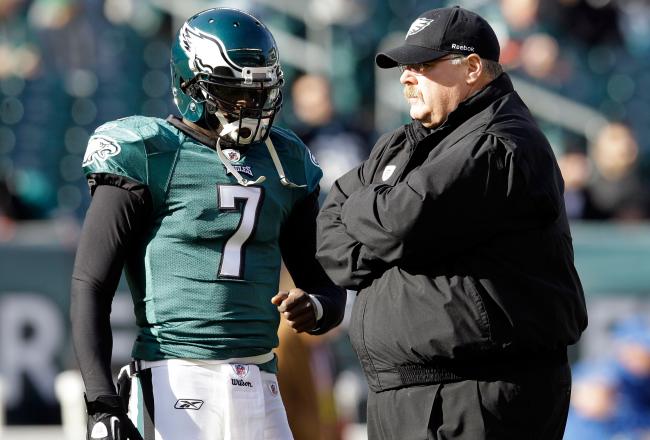 Rob Carr/Getty Images
Broadly, the best-case scenario for any NFL team is an obvious one, but in order to accomplish the ultimate goal of winning a Super Bowl, a multitude of positive scenarios have to come to fruition throughout the season.
Looking specifically at the factors that are most in flux, here are the best-case scenarios for the Philadelphia Eagles' 2012 campaign, and in the interest of being fair and balanced, we give cynics their fuel with the worst-case scenarios:
Best-Case Scenarios
Demetress Bell stays healthy, proves 2011 performance wasn't a fluke
You get the feeling the Buffallo Bills believe he won't, and it was. After all, why else would Buffalo have pretty much no interest in re-signing a man who surrendered only one sack and seven hurries on 401 snaps last year, according to Pro Football Focus?

The 28-year-old left tackle has missed large chunks of two of the last three seasons due to injury. He didn't play at all as a rookie, meaning he's only made it through one full season in his four-year career. And in that season—2010—he was terrible, giving up eight sacks and 29 hurries on 978 snaps, per PFF.
So did he improve that much last year, or did he just get a little lucky in a small sample size?
In a perfect world, Bell puts it all together this year, staying healthy like he did in 2010 and dominating like he did in 2011. And if that happens, the team won't miss All-Pro tackle Jason Peters one bit.
Michael Vick starts 16 games
How many games must Michael Vick start for the Eagles to contend?
The NFC East is expected to be too tight a race for the Eagles to be able to afford to start Mike Kafka or Trent Edwards (or even Colt McCoy).
The Giants won the division last year by a hair, and the key might have been that Eli Manning took every single offensive snap. Even in Dallas, Tony Romo took all but 90 snaps. But in Philadelphia, backups Kafka and Vince Young took 251 snaps (per PFF).
It's one thing if you have stellar backups who can do things similarly to how the starter did them, but that's pretty much impossible with Vick. He simply has to stay on the field. Unfortunately, as I wrote a couple weeks ago, a lot of that could come down to simple luck.
Nnamdi Asomugha and Dominique Rodgers-Cromartie return to form
Coming from Oakland and Arizona, respectively, the two Pro Bowl corners struggled in 2011. And while we know the Eagles' pass rush will be superb, you still have to get quality coverage from your starting cornerbacks in a division like this one.
There's a belief that things will change this year. Juan Castillo's defense is supposedly making things a little simpler and giving Asomugha and DRC a chance to play more man. Plus, they should be more comfortable with a full offseason in Castillo's system.

Still, I have some concern about both players. Asomugha is 31 and his effectiveness has seemingly declined several years in a row. Will he ever get back to where he was in his prime with the Raiders? That might not be necessary, but he's certainly expected to get close.
As for DRC, he also struggled quite a lot in coverage during his final season with the Cardinals.
A lot of people fail to realize how much Asante Samuel helped this secondary. He was easily their best corner last season, and thus replacing him with DRC could be considered a downgrade.
Other best-case scenario events
Mychal Kendricks and DeMeco Ryans help eliminate the team's tackling problems, Nate Allen and Kurt Coleman become reliable starters and Brandon Graham finally delivers on his potential.
Result of these scenarios
The Eagles finally win their first Super Bowl.
Worst-Case Scenarios
The pass protection lets up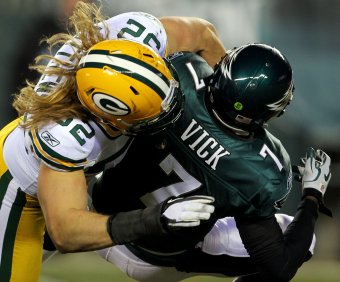 Al Bello/Getty Images
Because of our second point in the best-case scenarios above, the onus is higher for this line than any other line in football. They did a decent job pass-blocking for Vick last season, but they'll have to be better this year.
The problem could be the aforementioned drop-off from Peters to Bell and/or King Dunlap. Vick still has the steady Todd Herremans protecting his blind side, but this is a unit that still somehow has to allow fewer than 15 sacks, 20 hits and 100 hurries if the team is going to be successful.
Those numbers are within the general range of where they were last year, but now they're without an All-Pro tackle.
In this worst-case scenario, Bell and Dunlap don't deliver, Jason Kelce and Danny Watkins fail to improve in their sophomore seasons and Evan Mathis returns to planet earth.
DeMeco Ryans doesn't deliver as an every-down player

Not only did Ryans struggle so much in passing situations that he was removed from the field on third downs last year in Houston, but he also was ranked 30th out of 37 qualifying inside linebackers by PFF when it came to tackling efficiency.
Considering that he's in Philly to, at the very least, be a reliable tackler, that's a bit of a concern.
It would be easy to chalk that up to the fact he was adjusting to a 3-4 defense and was coming off an Achilles injury that cost him much of his offseason. He did get better as the 2011 season wore on, but Ryans was actually even worse in that category in 2009 and 2010.
Ryans has been an overrated player for much of his career. In the worst-case scenario, people in Philadelphia are forced to realize that in 2012.
Juan Castillo's defense doesn't take
Was a successful final month an indication that the Philly defense will be better in 2012?
A lot of people were surprised that Castillo got to keep his job considering how badly his defense played for much of 2011. A late-season push might have saved Castillo, but many wonder if that was somewhat of a mirage against so-so opponents.
The wide-9 scheme is obviously quite effective in terms of getting pressure, but I'm still concerned about this defense's ability to stop the run. Can Castillo successfully plug gaps, or will backs continue to reach the next level far too often?
Other worst-case scenario events
LeSean McCoy hits a wall, Vick gets hurt and DeSean Jackson becomes too comfortable with his new contract.
Result of these scenarios
The Eagles finish 6-10. Andy Reid and Castillo lose their jobs.
Conclusion
The good news is that Philly isn't overly reliant on rookies this year, while the Giants might be more so than you'd expect. That means there are fewer unknowns—they know exactly what they have to do, and they know they have the players who can do it.
The bad news is that there's a lot of room for everything to hit the fan.
This article is
What is the duplicate article?
Why is this article offensive?
Where is this article plagiarized from?
Why is this article poorly edited?

Philadelphia Eagles: Like this team?