The Baltimore Ravens had one of the league's better ground games in 2011, ending the year with averaging the eighth most rushing attempts and 12th most rushing yards per game, and most of it coming courtesy of their starting running back Ray Rice.
Of course, Rice did have help, namely Ricky Williams—but Williams is retired now and other backs will need to step up to effectively spell Rice and again help the Baltimore run game be one of the league's best this season.
So let's take a look at the running backs currently on the Ravens roster and see what kinds of contributions they'll make to their offense this year.
Ray Rice
One look at Rice's 2011 highlights and it makes sense why he's looking for a big payday.
Ray Rice is currently in a contract holdout, unwilling to sign the $7.7 million franchise tender the team offered him in the spring. Whether this tactic will result in a long-term deal is as of yet unknown, but it's more than likely that some kind of agreement will be made between the two parties before the start of the regular season in order to ensure the team's top offensive contributor is on the field.
Calling Rice the Ravens' "top offensive contributor" is not an exaggeration. Last year, Rice led all non-quarterbacks in total offensive yards, with 2,068 (1,364 rush yards and 704 receiving yards) and had a total of 15 touchdowns.
The hope is that quarterback Joe Flacco will have an improved and more consistent 2012, but should he not, then Rice will again be the safety valve for the Ravens offense. And even if Flacco has greater success in the passing game, Rice will still be a major component to the Ravens' success.
Look for Rice to yet again have an astounding number of both rushing and receiving yards. There's a reason why he's projected to be a top-three running back this year (both in reality and in fantasy)—because he simply is that good.
Anthony Allen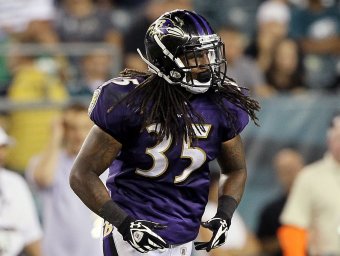 Jim McIsaac/Getty Images
Anthony Allen got the first-team reps at OTAs and minicamp with Rice a holdout no-show. He is Rice's No. 1 backup as the team heads into camp, but he's being closely pursued by 2012 third-round draft pick Bernard Pierce, who could ultimately wind up with the job once the season begins.
As a rookie in 2011, Allen had just three carries for eight yards. Of course, he was behind both Rice and Williams on the depth chart. This year, he should see more action than that, even if Pierce jumps him, but not much more.
Allen's carries last year were held so low because of a nagging hamstring injury, but he was impressive in the 2011 preseason, averaging nearly seven yards per touch.
Bernard Pierce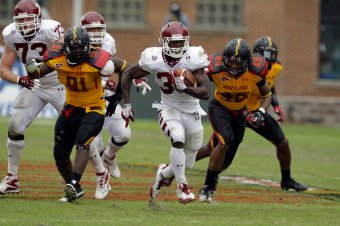 Rob Carr/Getty Images
Bernard Pierce, the Ravens' third-round draft pick this year, could easily snag the No. 2 running back spot out from under Anthony Allen. He's a battering-ram style of player who represents a change of pace from Rice's shifty style.
Pierce is fast, but not explosive, and has work to do in order to contribute in the passing game as either a receiver or a blocker. But if the Ravens want a straight-ahead bruiser in short-yardage situations, Pierce could be their man. The training camp battle between him and Allen should be quite interesting.
Damien Berry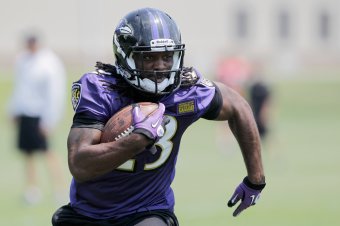 Rob Carr/Getty Images
Damien Berry is another player competing for that No. 2 spot who took reps with the first team offense during OTAs while Rice sits out. Berry is a 2011 undrafted free agent who spent last season on the practice squad.
Berry had only two years at running back in college—he switched from safety his junior year—and rushed for over 1,500 yards and scored 13 touchdowns during that time.
Berry certainly has a shot to compete with Allen and Pierce for that No. 2 running back job, but it seems less likely that he'll win it. He'll have to show he made major progress while on the practice squad last year to earn any time on the field come September.
Bobby Rainey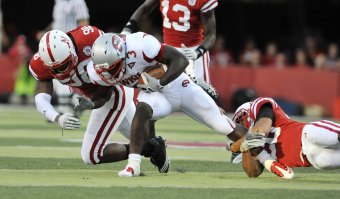 Eric Francis/Getty Images
Bobby Rainey is an undrafted rookie out of Western Kentucky who rushed for over 1,600 yards last season. The deck is certainly stacked against Rainey to get any significant playing time this year—if he even makes it through camp.
If he does hold on with the Ravens, he'll likely spend the year on the practice squad, just as Berry did last year, in the hopes that he can be ready for the active roster in his sophomore season.