Milwaukee Brewers Close to Challenging Record for One-Season Team Decline
June 19, 2012

Hannah Foslien/Getty Images
We're not even midway through the 2012 season, but that won't prevent us from analyzing the 2012 season and what is going wrong with the Milwaukee Brewers.
Obviously the team has not played up to its capabilities (and the expectations that people had for them based on last year's playoff run).
The decline in play can be traced to several factors: the free-agency loss of Prince Fielder, the season-long slump of Rickie Weeks, the slow start of free agent Aramis Ramirez, an inconsistent bullpen and injuries to three Opening Day starters (Lucroy, Gonzalez and Gamel).
We can only hope that Shaun Marcum's missing a turn in the rotation due to tightness in his elbow is not more than a one-time issue.
The season is obviously not over, and with 95 games left on the schedule, the Brewers certainly have time to make up the seven-and-a-half game deficit they face in the NL Central. They have yet to string together a long string of victories (the longest win streak this season has only been four games), and have been fortunate to not have a losing streak longer than four games.
That having all been said, there are still concerns from the Brewer faithful. The team has a 31-36 record (.463 winning percentage). When you compare it to the .593 winning percentage of last season, that is a .130 decline over last year.
If the season ended today, that would be the second largest one-season decline in Brewers history.
Greatest one-year declines in win percentage in Brewers history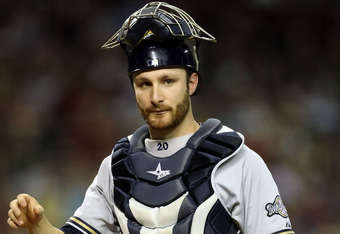 Christian Petersen/Getty Images
1992 (.568) to 1993 (.426): .142 decline
1983 (.537) to 1984 (.416): .121 decline
2001 (.420) to 2002 (.346): .074 decline
2008 (.556) to 2009 (.494): .062 decline
1979 (.590) to 1980 (.531): .059 decline
Looking at each of the five biggest declines, a few of them involved managerial changes. It's doubtful that ownership with make a change in managers, but it is interesting to note that drops of this magnitude do signal changes.
The Brewers' .130 point drop in winning percentage from last year is not the largest drop in the majors. In fact, the Philadelphia Phillies have seen a much larger decline in their winning percentage from the 2011 season. The Phils, who won 63 percent of their games in 2011, are at .456, a decline of .174 percentage points.
The following are the biggest drops in winning percentage from last season (through games of June 18).
Team, 2011 win pct./2012 win pct, Difference
Philadelphia: .630/.456, .174 decline
Milwaukee: .593/.463, .130 decline
Detroit: .586/.485, .101 decline
Chicago Cubs: .438/.343, .095 decline
Arizona: .580/.493, .087 decline
San Diego: .438/.353, .085 decline
Colorado: .451/.385, .066 decline
Boston: .556/.500, .056 decline
St. Louis: .556/.507, .049 decline
It's interesting to note that the four teams that played in the National League playoffs last year (Philadelphia, Milwaukee, Arizona and St. Louis) are all on the list. Add Detroit, which played in the American League playoffs in 2011, and we have five of the eight playoff teams from last year having a winning percentage decline of .049 or more points as of June 18.