PGA Tour: Is Webb Simpson the Next "Great Golf Messiah"?
June 19, 2012

Ezra Shaw/Getty Images
Webb Simpson won the 112th U.S. Open at Olympic Club on Sunday evening in dramatic fashion.
He started Sunday four shots behind the leaders, 2003 U.S. Open champion, Jim Furyk, and 2010 U.S. Open champion, Graeme McDowell. 
No one expected them to shoot themselves out of a U.S. Open win.
Simpson turned in a masterful performance and posted his second consecutive 68 of the weekend to capture the U.S. Open Trophy.
Webb Simpson attended Wake Forest on an Arnold Palmer Scholarship and is just one of the many talented young American players on the PGA Tour.   
Is this just the start of an above-average career for Simpson or will this be his only major title?
Webb Simpson turned professional in 2008 and joined the Nationwide Tour.
He entered eight events on the junior circuit, made five cuts, and had two runner-up finishes.
He also got invites into six events on the PGA Tour, made three cuts and a whopping $38,460, not an auspicious start to his professional career.
Simpson was able to finish seventh in the 2008 PGA Q-School and earn eligibility to the 2009 PGA Tour.
In his first year full-time on tour Webb only missed three cuts, had eight top-25s, and posted four top-10 finishes.  He earned $1.2 million and finished No. 62 in the FedEx Cup standings.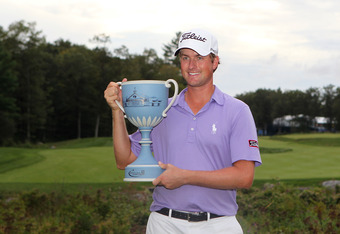 Jim Rogash/Getty Images
Webb did not have quite as successful year in 2010 but he did manage to get two top-10s, earn $972,000 and finish No. 85 securing his card for another year. 
With two years experience under his belt, more confident and now more familiar with life on tour, 2011 became his breakout year.
Simpson won twice in 2011 was runner-up three times, earned $6.3 million and finished second to Luke Donald for the PGA Tour Money Title.
With his future on the PGA Tour now secure, two year exemptions from his wins and a pocket full of money, he could now focus on the big tournaments.
He was having a slow start to the 2012 season and had missed consecutive cuts at the Players and the Memorial heading into Olympic Club.
Simpson was completely under the media radar at the U.S. Open, even on Saturday night after he had posted his third round 68 and moved to within four shots of the lead.
He will not be overlooked by the media again. 
Webb Simpson has had a steady progression to his golfing career thus far. 
He started on the Nationwide Tour progressed to the big tour and has had multiple wins, as well as, experienced heartbreaking losses and set backs.
He is a family guy with one young child and his wife Dowd is getting close to delivering their second. 
He has announced that he may skip the Open Championship next month at Royal Lytham for the birth.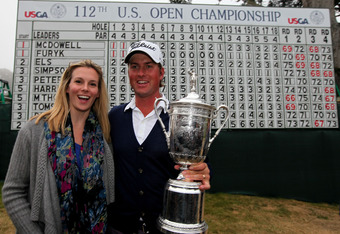 David Cannon/Getty Images
Simpson's major at Wake Forest was Religion.  He is well grounded and has his head in the right place.
It is also important to recognize another important member of Simpson's team, his caddy, coach and friend Paul Tesori.
Tesori is a great swing coach and keeps Webb calm and focused while on the course. 
Tesori recognized flaws early on in the young Simpson's swing and they set about correcting them.  
Together they developed a swing that has proven successful in the severest pressure situations.
He has done a masterful job of bringing a raw talented player from the lowest level of the professional golf ladder, step by step, to the top rung.
With Tesori on his bag and watching him on the range, Simpson has a strong support system in place to help him attain future success.
The golf media always want to anoint the latest major winner as the next "Great Messiah of Golf Greatness."
Webb Simpson is a very talented golfer who has had a very nice progression to his golf career.
He is blessed with a good family, as well as, a knowledgeable coach and caddy.
"Golf Messiah" maybe not, but barring injury or other unforeseen catastrophes, he should be a factor on the PGA Tour and in the majors for several years to come.