Tiger Woods: Struggles at US Open Prove Return to Dominance Is Unrealistic
June 19, 2012

Andrew Redington/Getty Images
Coming off his recent captivating win at the Memorial Tournament Tiger Woods had fans thinking that he was "back" and poised for a breakthrough at the 2012 US Open.
Tiger proceeded to tease us with a performance that had him at the top of the leaderboard heading into Saturday, only to collapse and finish with a seven-over-par and tied for 21st.
Tiger remained positive after his performance, showing his mental progress in an interview (via Yahoo!):
"There's a lot of positives this week. Hit the ball really well. Unfortunately, I just didn't have the speed of the greens until today. But overall, the way I struck the golf ball, the way I controlled it all week is something that's very positive going forward, and if I just would have just hung in there little bit better (Saturday) and missed it on the correct side a couple times then I would have been in a better position going into today."
There are two sides to Tiger Woods' 2012 US Open performance and there are plenty of people vehemently defending each side.
On one hand Tiger was excellent through the first two days of golf's toughest challenge and when coupled with his Memorial Tournament performance,  he showed he still has what it takes to be the best golf has to offer.
On the other hand, the Tiger of old would never have crumbled down the stretch and just taken a good first two rounds as a positive consolation. The old Tiger would have grabbed the tournament by the throat, bared down and blown the competition out of the water.
So the question on everyone's mind remains: Is Tiger Woods really back to his old form?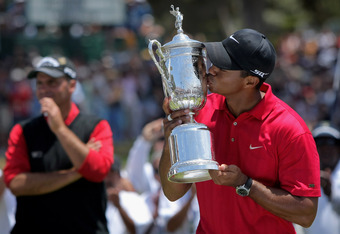 Doug Pensinger/Getty Images
The answer simply is that expecting Tiger to return to his dominant old self is utterly unrealistic.
Between 1999 and 2010, Tiger Woods was ranked as the No. 1 golfer in the world for an astounding 545 weeks.
He won 14 majors that included four Masters Tournaments, four PGA Championships and three US Opens.
The stranglehold that Tiger Woods had on the game of golf was unlike any other that we have seen from an athlete in their respective sport, outside of perhaps Michael Jordan.
In his prime, Tiger Woods was arguably the greatest athlete in any sport. The fact of the matter is that Tiger isn't in his prime anymore, and we should not expect him to return to his former dominance.
In many ways, Tiger Woods is "back". He is back to being one of the best golfers on the PGA Tour, and he is a dangerous threat to win every single tournament he enters.
But to think that the Tiger Woods of old will come back and regain his title as the best athlete in the world is unrealistic and unfair to a man who has been through more scrutiny than any athlete in recent memory.