College Football Rankings: 10 Worst Stadiums for Away Fans to Visit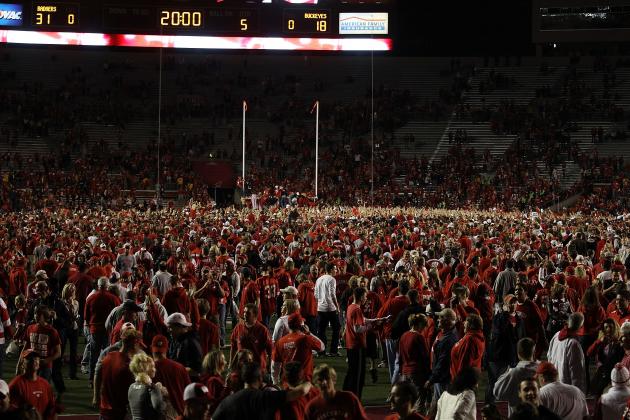 Jonathan Daniel/Getty Images

College football is one of my favorite things in the entire world.
Many amazing experiences are had on university campuses all around the nation on fall Saturdays.
At the same time, there are any number of things that can ruin the experience, for visiting fans in particular.
Every weekend during the season, visiting fans follow their team into "enemy territory" to support them on the road, only to sit through verbal (and sometimes physical) abuse, just to watch their team be annihilated on the football field.
While compiling this list, I took a few different things into consideration including fan behavior, general atmosphere, possibility of extreme weather conditions and the probability of the road team escaping with a victory.
So, before you jump down my throat for including your team on here, take a look at why I included them, because I could just be complimenting the fact that your squad is unbeatable at home.
I'm sure many of you have some wonderfully disturbing stories to tell about stadiums on this list or some that didn't make the list—feel free to share below.
Many of these examples are stories of individuals or small groups reflecting poorly on the entire fan base. Of course, it's a given there are good-natured fans of every team.
Unfortunately, it's these negative stories that set each fan base apart in a negative way. In the end, it's not the good fans that make the difference, because every team has those, it's the bad fans, and just how bad they are, that sets each fan base apart.
Still, if you have a legitimate gripe with why your team is listed and want to defend your fellow fans, go ahead.
Anyway, without further adieu, here are the 10 worst stadiums for away fans to visit:
Begin Slideshow

»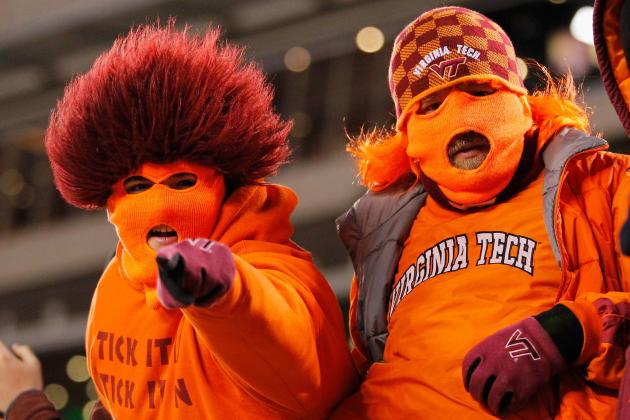 Geoff Burke/Getty Images

Lane Stadium: Virginia Tech's Lane Stadium has a capacity right around 66,000, which is relatively small compared to some of the 90,000-plus seat stadiums of the SEC and Big Ten. But, make no mistake, it is one of the toughest places to play in all of college football. In 2007 Bruce Feldman (now of CBS, then with ESPN) named it the second scariest venue for opposing teams to play.
As you can see by the friendly looking Hokie fans pictured here, it can get more than a little chilly in Blacksburg. Cold, wind, snow, rain, you name it, and they have it in the mountains of Virginia, which will make late-season trips to Blacksburg that much worse.
VT Fans: Virginia Tech fans are easily one of the most faithful and passionate fanbases in the country. While they don't have the negative reputation that some fanbases do, they don't have the nicest reputation either. Just check out this letter to the editor of the Roanoke Times written by a Boise State fan.
While harassing opposing fans and tossing projectiles may sound fun when you're excessively drunk, it really isn't too enjoyable to be on the receiving end.
Probability of Winning: Not very good. When Lane Stadium is rocking to the sound of "Enter Sandman," it is one of the most intimidating stadiums in the country. According to the VT athletic department website, the Hokies are 41-6 at home since entering the ACC in 2004.
All in all, Lane Stadium is a nice venue—if you're a Hokie fan. If not, you're better off staying home.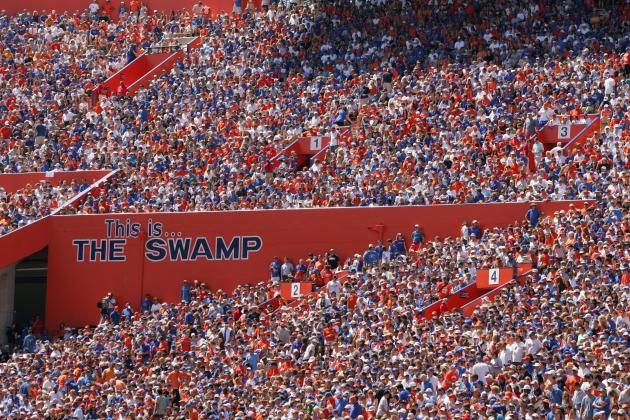 Sam Greenwood/Getty Images

The Swamp: Home of the Florida Gators, Ben Hill Griffin Stadium (rightfully known as The Swamp) has a capacity of 88,548, but regularly averages more than 90,000 screaming Gator fans, making it one of the loudest, most intimidating venues in all of college football.
On the opposite side of the spectrum of Lane Stadium, the Swamp will get hot—really hot. Not only will you be dripping sweat by the end of the game, but your 89,999 new friends will be sweating all over you as well.
Gator Nation: Tim Tebow loves 'em. Everyone else, not so much. Florida fans are some of the most hated in all of college football. Here is a nice fan testimonial from Helium.com about expectorating, bottle-throwing, fight-picking Gator fans in which a college football fan happened to collide with the Florida faithful all around the nation.
Here's another funny little tidbit from eHow.com about how to dress at a Florida game. It goes on about wearing sunscreen and loose-fitting, orange and blue clothing, but the best part is at the bottom under "tips and warnings." There, it cautions fans to pay attention to the opposing team's colors and avoid wearing them on game day—excellent advice.
Chances of Victory: If any of you played EA Sports NCAA Football, then you know exactly how hard it is to play at the Swamp. Screen shaking, receiver's routes jumbled, controller about to jump out of your hands, the works. In the time span of 1990-2010, Florida claims the highest win percentage in the nation at home, according to their athletic department website.
Let me put it this way, if you aren't a Florida fan, you straight up don't want to go to Ben Hill Griffin Stadium—unless you are trying to cut weight by sweating for four straight hours while having 90,000 fans do the gator chomp in your face.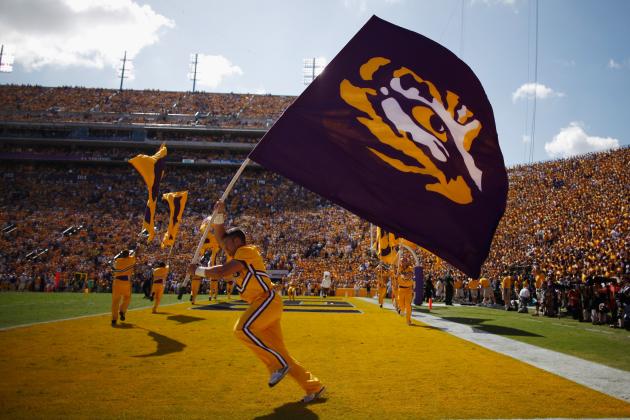 Chris Graythen/Getty Images

Death Valley: Tiger Stadium, LSU's 92,542 seat edifice is affectionately known as "Death Valley." It is without question one of the most intimidating stadiums in college football. During a game against hated rival Auburn in 1988, the crowd at Death Valley erupted after a fourth quarter game-winning touchdown, a roar so loud it registered as an earthquake on a seismograph in the LSU geology department.
Not unlike Florida, games in Baton Rouge can be very hot and sticky, even during the famed night games at Tiger Stadium (more on that later).
The Fans: LSU fans can be really nice and welcoming. At the same time they can be pretty rude and spiteful. A lot of what Tiger fans do, they see as being all in good fun. Take, for example, "Tiger Baiting." It's when a group of LSU fans circles some visiting fans and chants "Tiger Bait!" over and over.
While it isn't especially harmful, it is pretty rude, annoying, and intimidating (in the most uncomfortable way possible). Think of it this way, would you want to be surrounded and chanted at by a bunch of people wearing the opposite color as you? It's kind of a cool idea and would be fun if you're the one doing it, but otherwise it's an awful experience to go through.
Life at Death Valley: After you become Tiger bait outside of the stadium, your team will probably become Tiger bait inside of the stadium too. And if the lights are on, the lights will likely be turned off on your squad. LSU is 55-5 under the lights at home since 2000 and 30-1 under current head coach Les Miles in night games.
If you don't want to become Tiger bait, stay away from Baton Rouge on fall Saturdays. If you do want to become tiger bait, you still may be better off in some Siberian forest.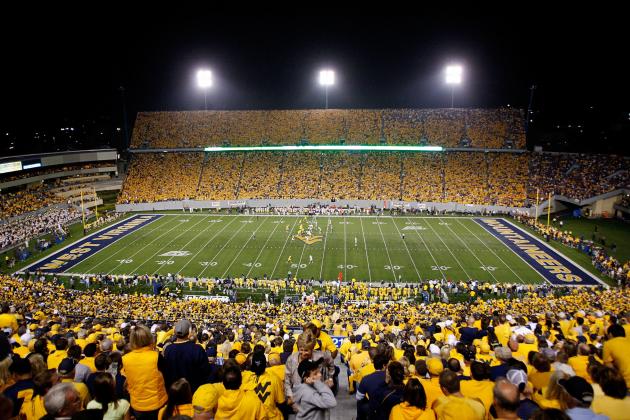 Jared Wickerham/Getty Images

Milan Puskar Stadium: Mountaineer Field at the 60,000 Milan Puskar Stadium is home of the West Virginia Mountaineers and one of the most notoriously rowdy fanbases in all of college football. It is also one of the most unique experiences in the sport, where the buckskin-clad Mountaineer mascot can be seen (and heard) firing off his custom musket between quarters and after each WVU score.
The weather can really vary here, much like Happy Valley and Blacksburg, from snowy evenings to rainy or sun-cooked afternoons. Again, hit or miss. Sometimes you'll freeze, sometimes you'll have to buy a Zul's frozen lemonade (or as of last year, beer) just to stay cool.
The Fans: Here we go. I'm sure you've heard about the reputation of the change-tossing, couch-burning, vulgar fans of West Virginia. As a WVU alum, I can say that it's all true. I've seen it all, most of which has probably happened at other schools around the country as well.
But, at the same time, I can also say there are plenty of good-hearted, welcoming, friendly Mountaineer fans. I have personally met visiting fans who traveled from all over and proclaimed that they've had a great time, free of issues and (relatively) free of ridicule while in Morgantown. There are (just like nearly every other fanbase) a few idiots who give the rest of the fans a poor image.
Winning in Morgantown: The Mountaineers are 18-3 at home in night games since 2002 and 49-10 overall at home since 2004. Milan Puskar Stadium can be electric despite just having a capacity of 60,000, making it one of the toughest places to play in the nation.
Whether you have a great time or a terrible time as a visitor at a WVU game is really all up to you. Generally, if you stay out of the student section while wearing the opposing team's color, you'll be fine. But, if you're looking for a rough time, you'll find it.
So just be smart, don't root for Pitt, know the words to John Denver's "Country Roads" and you'll have a great time. As a bonus, West Virginia now sells beer in the stadium, which should make the 60,000 people screaming at you a bit more bearable.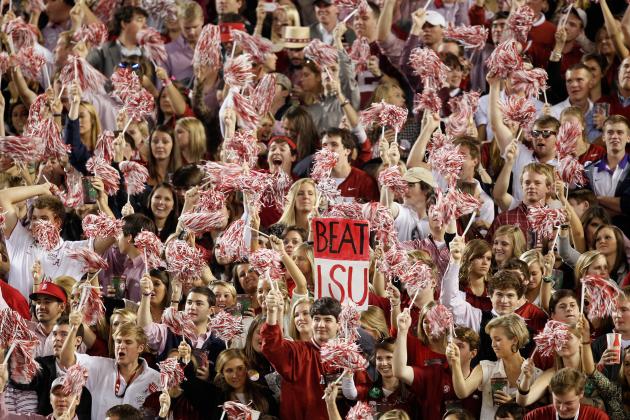 Streeter Lecka/Getty Images

The Stadium: Bryant-Denny Stadium is home to 101,821 crazy Alabama football fans. It is named after Dr. George Denny, the Alabama president who essentially made the the university what it is today and Paul "Bear" Bryant, arguably the greatest coach in college football history.
The Fans: Alabama fans love the Tide more than any other group of people loves anything in the entire world. At times, they can be seen as a little too passionate. I mean, one Alabama fan poisoned some beloved trees on the Auburn campus. I just have one question in regards to that: Why? At the same time, there was a group of Tide fans and alumni that raised money to help save the trees at Toomer's Corner, so it's hard to blame the entire fan base for this one wacko.
Beyond the trees, this year after 'Bama crushed LSU in the national title game, there was a Tiger fan passed out in a New Orleans restaurant. A group of Alabama fans proceeded to pose for pictures and generally mess with the the LSU fan, which is all in good fun. People who are passed out drunk in a public place are generally fair game, usually only if you know the person—but it was harmless at first so I'll let that slide.
Then one fan proceeded to cross the line by pulling out his genitals and teabagging the poor soul. (Note: I didn't post a link to the video in fear of the consequences, but you can find it on Deadspin.com). Putting cheesy fries in the guy's ear is one thing, but teabagging and humping the guy's face is something completely different. Again—why?
Stopping the Tide: Alabama has a .828 win percentage all-time at Bryant-Denny Stadium, including a 30-5 record under Nick Saban and a 72-2 record under the legendary Bear Bryant. As good as Alabama has been in recent years, your team's chances of winning are pretty slim.
Don't pass out. Hide your kids, and hide your trees. Most importantly, when in doubt, roll with the Tide.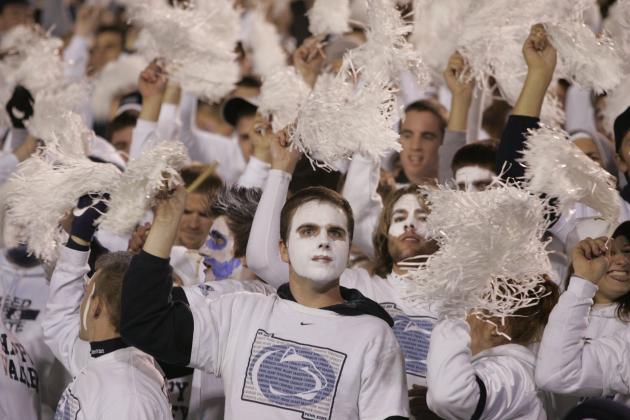 Hunter Martin/Getty Images

Happy Valley: With a capacity of 106,572, Beaver Stadium is the second-largest stadium in the country. Penn State's famed white-outs, with close to 110,000 fans all dressed in white, is one of the greatest sights in all of college football.
Of course, being in central Pennsylvania, it will get very cold in Happy Valley, snow, rain and high winds are all common. At the same time, you could get a beautiful night, so it's hit or miss.
The Fans: There's absolutely no arguing the fact that the Penn State faithful are one of the most passionate fanbases in the country. That being said, the students can get pretty, pretty, pretty, pretty rowdy. When their beloved coach Joe Paterno was fired, the PSU students rioted in the streets, overturning cars, tearing down light poles, assaulting law enforcement and more.
The Penn State administration denounces negative cheering and highly promotes "The Penn State Way," but it doesn't always work out for the better. Take a look at this video of PSU fans chucking beer cans at some visiting Ohio State fans. Not only is that poor and violent behavior, but it's a waste of beer!
Probability of Winning: As is expected with more than 100,000 fans on your side, the Nittany Lions are pretty darn good at home. Since 2005, PSU is 47-8 inside the confines of Beaver Stadium.
In short, just wear white and you'll be fine. If not you'll stick out like a sore thumb are are liable to be heckled to no end, especially if you are wearing Ohio State scarlet.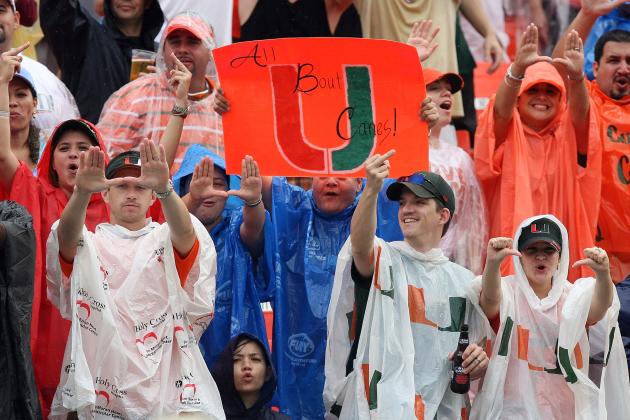 Doug Benc/Getty Images

Sun Life/Pro Player/Joe Robbie/Dolphin/Land Shark Stadium: Yep, it's had a lot of names and a lot of teams have called it home. The Hurricanes, Dolphins and Marlins have been housed there, along with a number of other events, including the Orange Bowl. Before making their home at the 75,540 seat pro stadium, the U was housed at the other Orange Bowl, which was demolished in 2008.
The Fans: The Miami Hurricanes played a huge role in bringing the city of Miami together and making it what it is today. But since then, things have gone downhill. Miami hasn't been a national power for a while now and Canes games are becoming more synonymous with fights, both on the field and in the stands, than a national title-caliber on-field product.
Here's a nice video from Break.com of a fight between Miami and Florida State fans. Before the next video, go ahead an conjure up some mental images from the infamous on-field brawl between Miami and FIU. I'm sure you remember it.
Next, here's another fight that occurred in the stands during a game against Florida A&M. If fights are breaking out against lowly opponents like FIU and FAMU, it's best to stay away, especially if your team is actually good.
Beating the Canes: As I mentioned before, the Hurricanes have been down lately. But this is a team that once went on an incredible 58-game home winning streak. If they get back on top, they could start another streak because the fanbase is there. It just happens to be a fanbase that is frustrated with losing at the moment.
Just watch what you say, or you're liable to be punched in the face.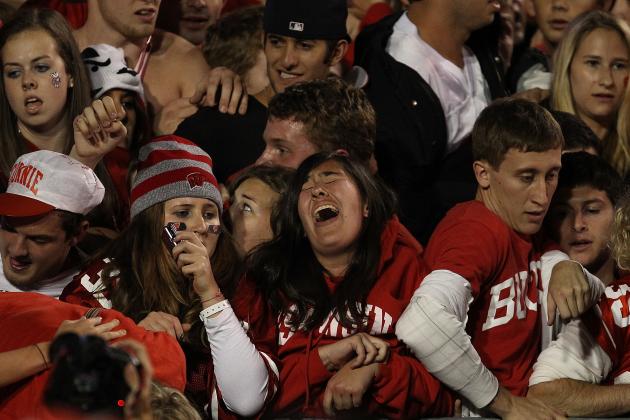 Jonathan Daniel/Getty Images

The Stadium: Camp Randall Stadium is the 80,321 seat home of the Wisconsin Badgers football team on the UW campus in Madison. It is one of the most electric atmospheres in all of college football, famous for it's stadium-shaking "Jump Around" celebration.
The Fans: Wisconsin fans are some of the most passionate in all of college football, but are also regarded as some of the rudest in the usually relatively docile and welcoming Big Ten conference.
The most embarrassing incident in UW history occurred back in 1993 when the Badgers upset Michigan to earn a Rose Bowl berth. The fans rushed the field, but there were 73 fans in total injured, six of them critically in what is known as the "Camp Randall Crush."
More recently, here is an article from the Examiner in Lincoln, Nebraska. The writer, Kristen McDowell, has many harsh criticisms of the fans at Camp Randall, which can be summed up with this, her best quote: "Camp Randall is not a family affair."
Winning in Madtown: Lately the Badgers have been nearly unbeatable at home with a record of 50-4 at Camp Randall since 2004.
If you're in Madison and not rooting for Wisconsin, don't expect to be treated well. Expect to be endlessly verbally abused, and if your team is about to be upset, get out of there.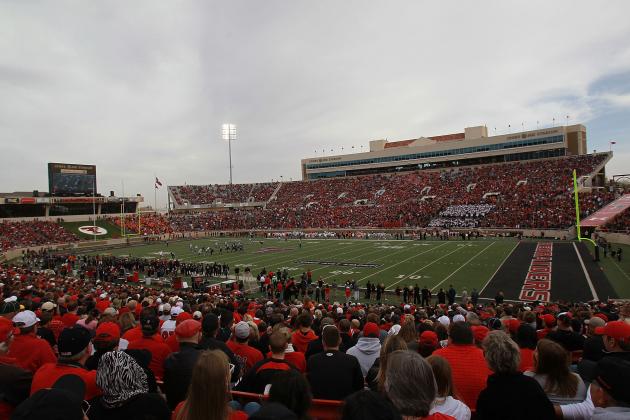 Ronald Martinez/Getty Images

The Stadium: Texas Tech's 60,000-seat Jones AT&T Stadium may not be one of the most famous or notoriously intimidating on this list. But, you may remember the 2008 matchup between No. 7 Texas Tech and No. 1 Texas in Lubbock.
The Red Raiders took the lead on a touchdown pass with one second to go and the fans rushed the field not once, not twice, but three times. Once after the touchdown, again after the extra point and one final time after Texas was stopped on the kick return.
The Fans: I love the fact that they rushed the field three times. It doesn't make them look like the most football-savvy fans, but you can understand the passion on arguably the biggest win in school history. Passion is great and it's what makes college football better than professional in my mind. One thing I don't love, however, is when fans take it too far.
Like last season when TTU fans vandalized the Texas A&M buses during their final game with the Aggies in what will be a very long time. Rivalries can be extremely heated, that I understand. But destroying the other team's buses, come on. That may be one isolated incident, but take a look at this nice quote from a TTU student on CollegeProwler.com: "Although we are passionate football fans, we have terrible attitudes and are known for being awful to other surrounding schools."
Winning Chances: The Red Raiders may not be the most traditionally powerful team in Texas, but they do know how to win at home, as they have more than 300 wins all-time at "The Jones" alone. That 2008 squad used that huge win over Texas to finish 7-0 at home.
Chances are you'll make it out of Lubbock just fine, but with what has happened in the past, you might want to think before taking that chance.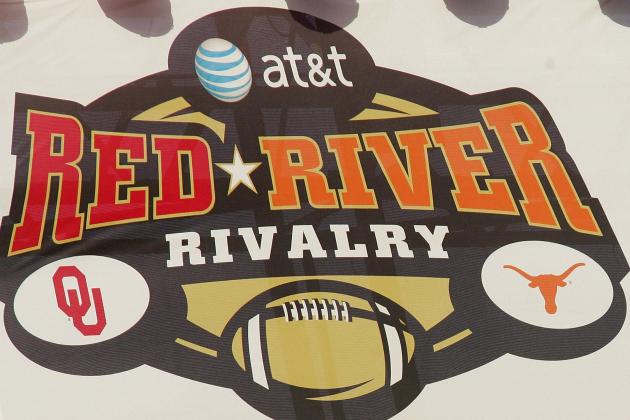 Ronald Martinez/Getty Images

The Stadium: The 92,100-seat Cotton Bowl stadium in Dallas has hosted numerous different events, from an Elvis concert to the State Fair Classic rivalry between Grambling and Prairie View A&M. Most notably, it is the former site of the actual Cotton Bowl game (which has since been moved to Cowboys Stadium) and of course the Red River Rivalry between Oklahoma and Texas.
The Fans: Separated, Oklahoma and Texas fan are actually two of the more respecting and welcoming fanbases. Like anywhere, you're liable to be heckled a little bit, but usually nothing over the top. But when you bring them together, things can be ugly.
This incident, from FoxNews.com, actually happened just outside of the OU campus in Norman, where a Texas fan was nearly castrated during a bar fight after he wore a UT shirt into the bar. Here's another nice story from San Antonio's KENS5 news station about a Sooner and Longhorn fan and their knife fight inside an Applebee's which left them both hospitalized. My favorite part of the story is the quote from the San Antonio police officer Matt Porter: "These individuals might have been passionate about their teams which led to a heated argument...Sometimes it's better to just walk away," says Porter.
Well said, Officer Porter. I didn't want to tab just OU or UT as being solely to blame for incidents like these, so I laid the blame on the Cotton Bowl, where the two rabid fanbases meet annually.
Red River Shootout: I don't mean to further stoke the flames of the rivalry, but Texas leads the all-time series 59-42-5, although Oklahoma is 8-4 since 2000.
If you aren't a hardcore fan, don't go to this game. And if you are a hardcore fan, don't wear burnt orange in Oklahoma and don't wear crimson in Texas. If you do, take Officer Porter's advice and just walk away if you sense something bad is about to happen.