NHL Draft Order 2012: Blue Jackets and Teams Who Would Benefit from Trading Down
June 19, 2012

Christian Petersen/Getty Images
The Columbus Blue Jackets are one of the NHL teams that would benefit from trading down in the first round of the 2012 NHL draft to acquire more picks or proven talent.
This isn't one of the deeper drafts of the last few years, and there are few can't-miss players at the top of the draft. There will be future stars from this draft, but there are no guaranteed franchise-changing players such as Jonathan Toews, Steven Stamkos and John Tavares.
Let's look at three teams who should consider trading down in this year's draft.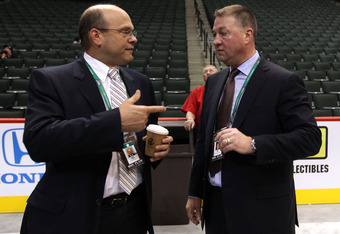 Bruce Bennett/Getty Images
The Bruins have the 24th pick in the first round and likely won't find a player who will play a role at the NHL level in the next few years.
Since the Bruins have only five picks in this draft, they should trade their first-round selection for more picks in the later rounds.
Boston has found quality NHL players such as Milan Lucic, Brad Marchand and David Krejci in the second round or later in the past few drafts.
Carolina Hurricanes
The Hurricanes have the No. 8 pick in the draft and would be smart to consider trading down in the first round and adding more picks in the later rounds.
Carolina needs to keep building their organizational depth on defense, and since this draft is stocked with quality young defensemen, they can trade down in the first round and still select a good blueliner.
If there is a player who surprisingly slips to No. 8, the Hurricanes could take advantage of teams looking to trade up and select that player.
Columbus Blue Jackets
The Blue Jackets have so many needs and there isn't a sure-fire star who will help them immediately with the No. 2 pick.
With the Blue Jackets already having a pretty good blue line at the NHL level, they should trade their first-round pick for a young forward who has proven himself in the NHL.
If the Toronto Maple Leafs or another team want to trade up to No. 2, especially if Nail Yakupov isn't taken first by the Edmonton Oilers, then the Blue Jackets would be foolish to keep the pick unless the offers just aren't good enough.
Nicholas Goss is a Boston Bruins Featured Columnist for Bleacher Report and was also the organization's on-site reporter for the 2011 Stanley Cup Final in Boston. He has covered the Boston Bruins first hand since the 2011 SCF.