Euro 2012: Why Wayne Rooney's Return Won't Boost England
June 19, 2012

Clive Mason/Getty Images
The heart and soul of England returns to the pitch today, but unfortunately, Wayne Rooney won't be the difference-maker against Ukraine.
One of the sport's most popular players will be back in the lineup after serving a two-game suspension for intentionally kicking Montenegro's Miodrag Dzudovic in October.
However, his game hasn't lived up to his big name in recent international action.
The 26-year-old striker has starred for Manchester United since 2004, scoring 182 goals in 366 appearances after scoring 17 in 77 appearances for Everton.
Despite his offensive prowess, which included becoming the youngest player to score in England's history, Rooney's international career has been a rocky road.
After taking the world by storm with his impressive Euro 2004 performance, injuries and discipline have prevented Rooney from recapturing his early-career magic.
In 2006, the world's third-highest paid soccer player fractured a metatarsal bone in his right foot, casting doubt over his ability to play in that year's World Cup.
Although he attempted to recover for the monumental tournament, Rooney's conditioning simply wasn't there as England was eliminated in the quarterfinals.
Perhaps in frustration at his own performance, Rooney ended his lackluster World Cup showing by stomping Ricardo Carvalho.
For his transgression, Rooney earned a red card and a hefty fine.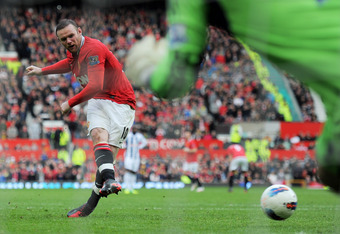 Michael Regan/Getty Images
In the 2010 World Cup, Rooney once again made headlines for his apparent lack of maturity.
As England was booed off the field after earning a draw against Algeria, Rooney took a stab at the home fans' loyalty. 
During those two World Cups finals, Rooney put up a big goose egg in eight games.
Though Rooney remains a talented scorer who can take over a game at any point, he will face a goalkeeper who's playing better than expected in the tournament.
Ukraine's Andriy Pyatov, the team's fourth-choice goalkeeper, has kept his squad in the game throughout the tournament.
Pyatov has made some impressive saves against Sweden and France even though Ukraine fell 2-0 to the French team.
In no way will Pyatov be the best goalkeeper Rooney has ever faced, but he's not someone to immediately dismiss either.
At the same time, Rooney has the ability to take over the game in an instant.
Despite his penchant for losing his cool, the strong-legged striker's resume is nothing to scoff at.
When his head is on right, he can be a true offensive force.
When it's not, he can self-destruct.
After sitting out two games, it could be a tale of two Rooneys today. 
Unfortunately for England, this story may not have a happy ending.