London 2012: Olympic Torch Relay Updates and Opening Ceremony Preview
June 19, 2012

Mark Thompson/Getty Images
The London 2012 Summer Games, like so many Olympic competitions before it, will feature its fair share of non-athletic spectacle.
But even you sporting purists must admit, the Olympics needs its pomp
Face it, a two-week rotation of 36 disparate athletic competitions wouldn't hold much meaning or coherence without a bit of heavy-handed ceremonial symbolism.
That in mind, let's get you up to speed on what's happening in the world of opening/closing ceremonies, torch travelings and all of the light-hearted, off-the-field Olympic fare we've grown to love/grudgingly accept (scandals not included).
Songs in the Key of Sport
On Tuesday, British press obtained a leaked version of the playlist for 2012's opening ceremony. Olympic officials would not confirm the accuracy of the 86-song document, but The Telegraph called it "a good indication of what to expect."
Controversy has already arisen over the inclusion of "God Save the Queen" by legendary British punk rockers The Sex Pistols.
The song's lyrics begin, "God save the queen/The fascist regime/They made you a moron/Potential H-bomb/God save the queen/She ain't no human being/There is no future/In England's dreaming."
And yes, Queen Elizabeth II will be in attendance, celebrating her Diamond Jubilee no less.
Love is a Burning Thing
If you're one of those dolts who still thinks a stadium proposal qualifies as creative, take note. You have officially been one-upped.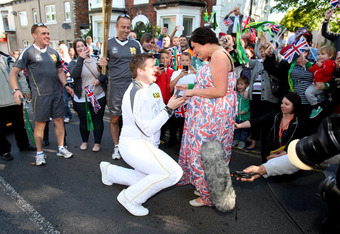 LOCOG/Getty Images
On Monday, Olympic torchbearer David State proposed to girlfriend Christine Langham while carrying the Olympics torch.
After she said yes, State uttered a quick "I've got to go" and continued with his run.
Chariots of Flame
Carrying the Olympic flame? Awesome.
Carrying the Olympic flame while reenacting one of the most famous scenes in movie history? Epic.
A 13-year-old Scottish student named Joseph Forrester got a taste of the epic last week when he led a group of his classmates down West Sands beach in St. Andrews in a recreation of the opening scene from Chariots of Fire.
The only glaring inaccuracy was the large, flaming vessel in his hand. That and the camera phones.
Counting Sheep
Early details have emerged regarding the 2012 opening ceremony, and there's one tidbit catching everyone's eye. In order to  recreate England's pastoral past, artistic director Danny Boyle (of Slumdog Millionaire fame) has called on the services of 12 horses, 3 cows, 2 goats, 10 chickens, 10 ducks, 9 geese, 3 sheep dogs and 70 sheep.
That's right, 70 sheep.
And to answer the next, most obvious question: Yes, all animals will be living, breathing, actual farm animals.
No word on whether organizers are working to prevent a potential wolf infiltration.
Based on Name Alone, Ringo Would Have Been More Appropriate
Earlier this month, legendary Beatle and less-than-legendary solo artist Paul McCartney confirmed that he will take part in the 2012 opening ceremony.
As for his role, Sir Paul told BBC radio station 5 he would be the closing act of London's kickoff pageant.
That leaves quite a bit to the imagination, though I'm willing to guess "Spies Like Us" doesn't make the set list.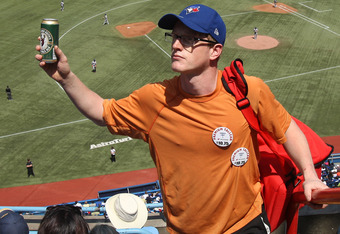 Tom Szczerbowski/Getty Images
For What Do I Owe This Beer?
Controversy is, ahem, brewing over the price of beer at the 2012 London Games. A pint will cost spectators the equivalent of 11 American dollars. That comes to $6.50 for an 11-ounce bottle of Heineken.
Not so ridiculous by U.S.ballpark standards, but I must admit that the outrage is endearing.