Horse Racing Dominance Is Measured by Wins and Wins Only
June 19, 2012

Alan Crowhurst/Getty Images
Frankel is a name that means two things to most Americans.  To tried-and-true horse-racing fans, it is the name of one of the most famous and well respected trainers American racing has ever known.  To non-horse racing fans, it is the name of Bethenny Frankel of Real Housewives fame, but I digress.
Today's horse racing fans know Frankel as being a champion thoroughbred who has left only ash and dust in his wake as he beats up on European competition.  He has not only been in the money in 10 career races, he's won them all.  
In today's Queen Anne Stakes, part of England's Royal Ascot racing festival, Frankel will try and extend that streak to 11.  To that point, Frankel cannot even claim the longest winning streak among his Royal Ascot peers.
Australian mare Black Caviar has won 21 straight races.  Twenty-one.  I can't even remember to lock my back door 21 nights in a row.
In American racing, win streaks are hard to come by.  Zenyatta captivated fans with 19 straight on her way to becoming 2010 Horse of The Year.  New Mexico-bred filly Peppers Pride won her 19th consecutive race in 2008, albeit every race was in New Mexico against New Mexico-bred horses.  The only American equivalent to Black Caviar's dominance is Rapid Redux.
Horse racing fans may or may not be familiar with the strapping six-year-old who torched the American starter allowance circuit by winning 22 consecutive races.  The bonus: Rapid Redux isn't finished.  2012 will mark his fourth racing season, and he already posted one win on January 4. (EDIT: Rapid Redux was permanently pensioned at Old Friends retirement center in Kentucky on May 26, 2012)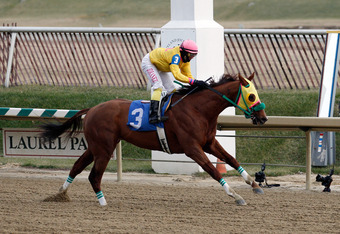 Rob Carr/Getty Images
The problem is that horses like Rapid Redux and Peppers Pride are never raced in the nationally televised races.  They don't make the back page of USA Today alongside Kentucky Derby contenders and Triple Crown hopefuls.  
These horses are raced for the sake of winning, not for the sake of prizes or money.
Today, as Frankel tries to extend his winning streak, and on Saturday as Black Caviar tries to do the same, we must remember their accomplishments for what they're worth.  Winning streaks are the most difficult feat to accomplish in sports.  The mental and physical weight that is carried going into each competition rattles an athletes nerves like nothing else.  
It is a testament of character and class, of dominance and durability.  The enduring legacy of a winning streak is remembered by fans and record books alike.
Horse racing fans should realize the effort and accomplishment in a winning streak and forget about any caveats.  Detractors of Black Caviar's accomplishments will say that her wins have come against weaker Australian competition as compared to Frankel's tougher English opponents.  European racing fans will diminish Rapid Redux's streak because he raced in lower-level allowances.  
The fact is, these horses could have lost one single race in any of their past starts, but they didn't.  A streak is a streak in any capacity, and should be celebrated as an astounding display of dominance.
NOTE: The current world record for consecutive wins by a thoroughbred was set in 1955 by a Puerto Rican horse named Camarero.