New Orleans Saints: Understanding Vilma's Defamation Suit Against Goodell
June 19, 2012

NFL Commissioner Roger Goodell heard appeals from Jonathan Vilma, Scott Fujita, Will Smith and Anthony Hargrove yesterday to refute the suspensions Goodell handed down as a result of the Saints alleged pay-for-performance program, now known as "Bountygate."
Goodell suspended Vilma without pay for the entire 2012 season, and Smith, his Saints teammate, for the first four games of the season. Fujita, now with the Cleveland Browns, received a three-game suspension, and Hargrove, now with the Green Bay Packers, will have to sit for the first eight games in 2012.
Vilma's attorney, Peter Ginsberg, publicly called the proceedings a "sham" and he will continue to represent Vilma in a defamation suit against Goodell. Read the entire text of that suit here.
Most football fans have a better understanding of the 3-4 defense than defamation, so let's have a look at exactly what defamation is, what Vilma will have to prove and how he benefits from filing this suit.
What is defamation?
According to ExpertLaw, a free online legal dictionary, defamation is "the issuance of a false statement about another person, which causes that person to suffer harm."
In Vilma's suit, he is claiming Goodell's allegation that the linebacker was involved in Bountygate is false, and Vilma is harmed by being suspended without pay for one year. Further, the defamation suit claims Goodell's public statements were "injurious to Vilma's professional and personal reputation."
What must Vilma prove?
The NOLO network, which describes itself as "one of the web's largest libraries of consumer-friendly legal information," states Vilma must prove Goodell's statements and actions were published, false, injurious and unprivileged.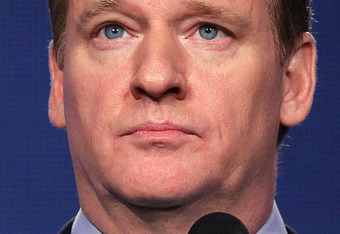 Jamie Squire/Getty Images
Let's start with privilege, the easiest aspect of defamation for Vilma to prove. According to the NOLO network, "privilege" applies to legal and legislative settings. Goodell's statements were made outside of a legal context; thus, they were unprivileged.
There is no question Goodell's statements about Vilma's involvement in the alleged bounty program were published, as he issued a press release on March 2, 2012. Vilma's suit states the press release was carried by "essentially every major news organization in the United States."
The suit also cites a Memorandum of Decision Goodell released to all 32 NFL teams on March 21. This document outlined the punishments for the accused Saints players. The suspensions were made available to the public in a press release issued by the NFL on May 2.
The suspension is certainly injurious to Vilma professionally, as he was slated to make $3.3M in 2012. What's more injurious than losing out on millions?
Finally, Vilma and Ginsberg must prove Goodell's allegations were false. This is where the rubber meets the road in a defamation suit. Goodell claims Vilma pledged money for injuring opposing players; Vilma says he did not.
How does Vilma benefit from filing a defamation suit against Roger Goodell?
Patrick Michael of Yahoo! Sports wrote of two particular benefits of filing a defamation suit against Goodell.
Jonathan Vilma's federal defamation lawsuit against Goodell has two positives. First, now that it's in the courts, the judge could issue a restraining order against Roger Goodell's suspension of Vilma. The Vikings' players in the "StarCaps" case played for years until their case finally ended. Second, in a court of law, discovery rights demand that a defendant be allowed to see the evidence being brought against him.
Obviously, Vilma would be happy with a judge blocking Goodell's suspension so he could play for the Saints and make his money.
However, Michael's second benefit of the suit is what Vilma and the other suspended players and their attorneys are after. They have never been satisfied with Goodell's evidence against them, and a defamation suit would allow the players, the press and the public to see all the cards the NFL currently holds.
Most importantly, a judge, not the NFL, will decide if said evidence is enough to warrant these unprecedented suspensions.
The legal battle between Vilma and Goodell is far from finished, and will likely reach a courtroom climax that becomes a referendum on the commissioner's power. Once it is over, football fans can get back to focusing on what is really important. Like the 3-4 defense.