NBA Draft 2012: Jared Sullinger and 5 Prospects Whose Stock Is Plummeting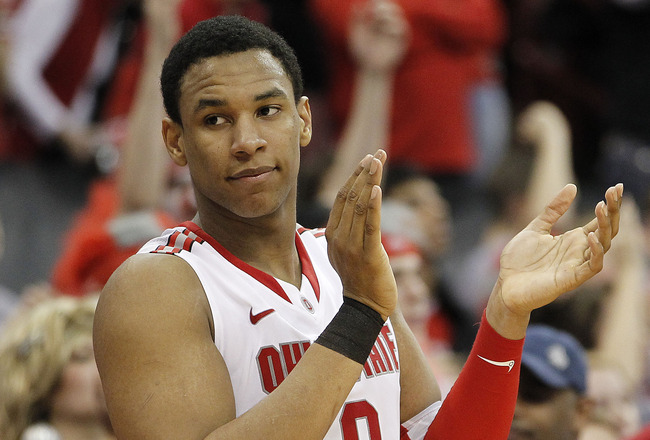 Gregory Shamus/Getty Images
The 2012 NBA draft is only a little more than a week away. It's time for scouts, general managers, fans and the media to pick apart every aspect of the top prospects' game and see what happens.
Sometimes, the players withstand the nitpicking, and their stocks remain the same. Sometimes, they even appear better in the minds of those analyzing.
However, in some cases, stocks start to plummet. Such is the case with these five players.
For various reasons, each and every one of them has been red-flagged in recent days, and their stocks are starting to drop further and further down the boards.
Read on to find out who they are.
Perry Jones III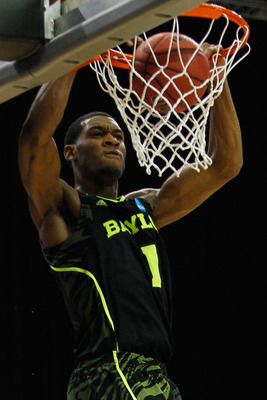 Streeter Lecka/Getty Images
School: Baylor
Position: SF/PF
Year: Sophomore
Vitals: 6'11", 235 pounds
2011-12 Per-Game Stats: 14.0 points, 7.7 rebounds, 1.3 assists
It appears as though Perry Jones III's insistence that he's a future small forward in the NBA isn't really working out in his favor.
According to Sports Illustrated's Sam Amick, Jones' stock is slipping to the end of the lottery because most teams see him as a power forward and don't buy into his and his agent's claims.
Jones has an insane amount of potential and will continue to shine during workouts thanks to his ridiculous athleticism, but being viewed as a tweener doesn't help at all. That "tweener" word is a red flag in too many people's minds.
If Jones can't play small forward at an elite level and the same is true about power forward, what's left for him?
Jeremy Lamb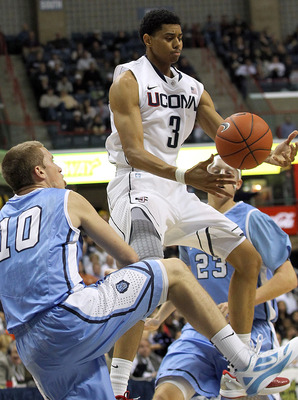 Jim Rogash/Getty Images
School: Connecticut
Position: SG/SF
Year: Sophomore
Vitals: 6'5", 180 pounds
2011-12 Per-Game Stats: 17.7 points, 4.9 rebounds, 1.7 assists
Jeremy Lamb had the talent necessary to guarantee himself a spot in the top 10 of the draft, but he's done absolutely nothing to overcome questions about his desire to be a superstar.
Throughout his second year at Connecticut, ever since Kemba Walker left and Lamb was the leader of the team, the swingman failed to step up and take control of a young and immature squad.
Throughout the draft combine, Lamb looked similarly disinterested. His workouts did nothing to dispel the question marks and neither did his interviews.
For all the talent he has, teams are starting to question whether it's worth spending a high draft pick on someone who doesn't appear to care.
Quincy Miller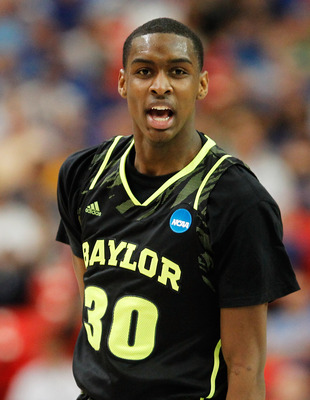 Streeter Lecka/Getty Images
School: Baylor
Position: SF
Year: Freshman
Vitals: 6'10", 200 pounds
2011-12 Per-Game Stats: 10.6 points, 4.9 rebounds, 1.4 assists
The second Baylor forward to make this list, Quincy Miller doesn't have quite as much talent as Perry Jones III, but he was still viewed as a potential lottery pick early on in the draft process.
Now, there's a chance that the one-and-done small forward may even slip out of the first round.
Miller played the bulk of his freshman season in Waco on only one good knee and hasn't put on enough weight and strength to convince scouts that he's going to be able to remain healthy at the next level.
Currently, he's a wiry 6'10" forward without the strength necessary to avoid being bulled over by the bigger and stronger players in the NBA.
He hasn't stood out during his workouts much and desperately needs to fix his jump shot, or else risk falling into the second round, where he won't be given as much of a chance to go from raw prospect to NBA stud.
Jared Sullinger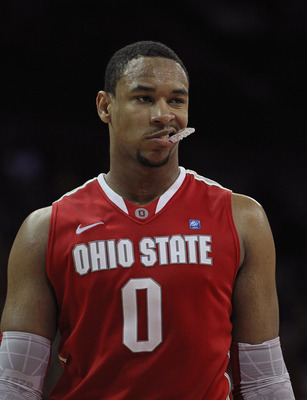 Jonathan Daniel/Getty Images
School: Ohio State
Position: PF
Year: Sophomore
Vitals: 6'9", 265 pounds
2011-12 Per-Game Stats: 17.6 points, 9.3 rebounds, 1.2 assists
Jared Sullinger's back caused him to miss multiple games during his sophomore season with the Ohio State Buckeyes, and now it may seriously damage his chances of being drafted early on in the 2012 NBA draft.
NBA doctors have medically red-flagged the power forward (per ESPN.com) and have advised teams not to spend a first-round pick on Sullinger, as his back could seriously shorten his NBA career.
Sullinger's father told ESPN.com's Andy Katz:
He had a bulging area that was due to his hamstring and quads being so tight. It pulled on his hip flexor and he's been taking care of it to loosen it. You can call it a red flag if you want. But it's tight hamstring and tight quads. He's been to doctors, he's doing yoga and deep tissue massage. The flexibility is helping take the pressure off the area. We've got nothing to hide. At this stage it's all about what they can't do. Jared is a skilled player. A two-time All-American. He can play.
Obviously, Satch Sullinger is a bit biased here, but he does make a good point that Sullinger can still play. His stock is undoubtedly going to drop as a result of these reports, but he's too talented to fall to the second round.
Tony Wroten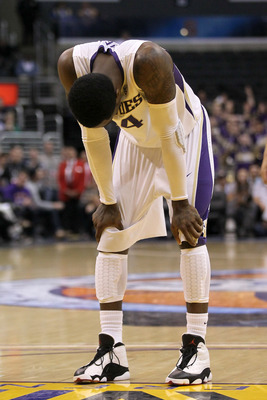 Stephen Dunn/Getty Images
School: Washington
Position: PG/SG
Year: Freshman
Vitals: 6'5", 205 pounds
2011-12 Per-Game Stats: 16.7 points, 5.0 rebounds, 3.6 assists
Concerns about Tony Wroten's complete and utter lack of a jump shot, as well as his problems getting along with his teammates, are forcing the Washington combo guard's draft stock into the second round.
Without a true position—his size works against his ability to play shooting guard, and his lack of elite ball-handling and passing skills keeps him from being a true point guard—Wroten now has too many question marks to be a guaranteed first-rounder.
The good news is that Wroten's form on his jumper is almost completely broken, giving NBA teams the opportunity to rebuild it and make him into a more pure shooter.
Keep Reading