Why LaDainian Tomlinson is the NFL's Last Great RB
June 19, 2012

Stephen Dunn/Getty Images
LaDainian Tomlinson is the last of the great NFL running backs, period.
Sure there are other impressive ball-carries like Adrian Peterson, Maurice Jones-Drew, and Chris Johnson but all have a lot of work to do to get on Tomlinson's level.
Playing for 11 years and starting off his career with eight seasons of pure amazement, let's check out why Tomlinson closes the book on an era of great running backs.
Overall Consistency
The most impressive aspect about LaDainian Tomlinson's career was his production early on, because he then proceeded to remain elite for a while thereafter.
As a rookie in 2001, Tomlinson gained 1,236 rushing and 367 receiving yards and only got better with each new season. Minnesota's Adrian Peterson has put up similar numbers, but we'll learn more about him in 2012 and 2013.
Tomlinson, on the other hand, averaged 1,945 total yards through each of his first eight seasons and finished as the NFL's fifth all-time leading rusher. Regardless of how dominant a player may be for a few years, Tomlinson's career numbers tell the whole truth.
In short, we'll never see another back like him unless someone makes a push to gain over 13,000 career rushing and 4,000 receiving yards.
Red Zone Threat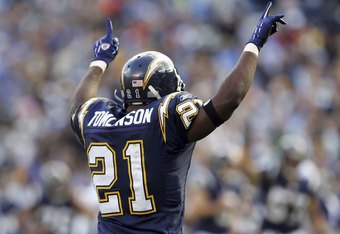 Lisa Blumenfeld/Getty Images
LaDainian Tomlinson simply knew how to find the end zone.
It wasn't until his tenth NFL season where Tomlinson failed to score at least 10 touchdowns, and he averaged 17 scores through the first nine years. Fortunately, he was also a dual-threat back that found multiple ways to score.
On the ground, Tomlinson could hit any hole on the line, or dive over everyone to avoid getting tackled for loss. In the passing game no defender would isolate him in single coverage and linebacker spies didn't work either.
For one, he was never the primary receiver (except on screens) in San Diego's spread offense. That however, is what made Tomlinson such a dangerous target out of the backfield. Put him in motion out to the slot, across the formation from the slot, or outwide and it was always a mismatch.
Reliability
One thing the Chargers could always count on with LaDainian Tomlinson was his reliability.
He missed just one game from 2001-2008 and only six for his entire career. Having played in 170 games, Tomlinson was the main focal point of San Diego's offense.
After fumbling eight times as a rookie, Tomlinson fumbled just 22 times the rest of his career which averages to less than three fumbles per season. The aforementioned Adrian Peterson has already fumbled 22 times in his career, and he's only five years in.
Being a dual-threat back as well, Tomlinson recorded 624 receptions and even caught 100 passes in 2003. Twice he totaled over 2,300 yards in a season and was the 2006 NFL MVP.
It's rare for a back to win the illustrious award in a quarterback driven league, but Tomlinson's consistent reliability of elite play shows why a complete back is so important. Unfortunately, with so many teams running a two-back system now, the days of the every down ball-carrier are seemingly over.
John Rozum on Twitter.