Clemson Football: Why Sammy Watkins Should Be Considered a Heisman Front-Runner
June 19, 2012
Mike Ehrmann/Getty Images
Only two players have won the Heisman Trophy for their play at the wide receiver position: Notre Dame's Tim Brown and Michigan's Desmond Howard.  That's pretty good company, but that's not to say Clemson sophomore Sammy Watkins cannot become the next receiver to win college football's most prestigious award.
It should come as no surprise that the Tigers' receiver is in the early Heisman Trophy discussion.  Watkins, a Florida native, was a standout receiver while attending South Fort Myers High School, setting county records for receptions, receiving yards and receiving touchdowns.  According to Rivals.com, Watkins was ranked as the third best wide receiver in his class.
Watkins was able to directly translate his high school success into the Division I ranks.  Flashing onto the scene as a true freshman, Watkins reeled in 82 passes for 1,219 yards and 12 touchdowns in 2011.  His speed and athleticism made Watkins Clemson's most dangerous offensive threat in only his first season with the team.
To understand what it takes for a wide receiver to win the Heisman Trophy, it is essential to evaluate what Brown and Howard were able to do in the years that they won the award.
In 1987, Brown won the Heisman with 39 catches for 846 yards and three touchdowns (via Sports-Reference.com).  Howard caught 61 balls for 910 yards and 19 touchdowns during his 1991 Heisman campaign. 
While Watkins' freshman year totals for catches and yards already dwarf those of Brown and Howard, he will have to be explosive in other aspects of the game in order to remain in the Heisman hunt.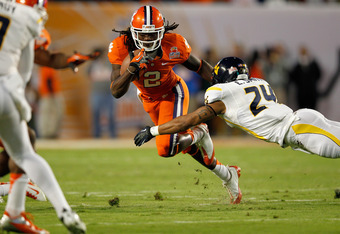 Streeter Lecka/Getty Images
Brown and Howard were also effective running the ball.  Brown was handed the ball 34 times his senior year, maintaining a 4.2 yards per carry average and adding a rushing touchdown.  Howard, who was explosive whenever he touched the ball, rushed for 112 yards and two touchdowns on only 12 attempts.
The two previous Heisman winning receivers were also electrifying producers on special teams.  While Brown excelled on punt returns, taking three back for touchdowns in 1987, Howard was a kick return specialist, averaging 31.1 yards per return in 1991.  In addition to a kick return for a touchdown, Howard also had a punt return for a touchdown when he won the Heisman Trophy.
In 2011, Watkins showed signs that he can be effective in more than one facet of the game.  The wide receiver took 32 handoffs for 231 yards (7.2 yards per carry) last year.  He also returned 33 kickoffs for 826 yards and a touchdown (via ESPN.com).
Watkins will need to expand on his production outside of catching passes if he wants to steal enough Heisman attention from top quarterback candidates to potentially win the Trophy.  A quarterback has been awarded the Heisman in ten of the past 11 years.  However, a few rushing or return touchdowns in 2012 could sway a few voters in Watkins' direction.
Another huge factor in Watkins' Heisman potential is how well his team performs.  Clemson will be in the top 25 of many preseason rankings, including this one by ESPN's Mark Schlabach, which has the Tigers at 16th.
Last year, Andrew Luck was a heavy preseason favorite to win the Heisman.  However, Robert Griffin III led Baylor to an unprecedented amount of success, including the school's first victory over Oklahoma.  Griffin III's performance against top teams like No. 14 TCU, No. 5 Oklahoma and No. 24 Texas were too difficult to ignore, earning him the Heisman Trophy over Luck.
Clemson will have to dominate the ACC, and Watkins will have to be a huge part of the offense if he wishes to remain in the Heisman conversation.  Last year, Clemson dropped conference matchups against Georgia Tech and North Carolina State.  Those two losses need to be turned into wins in 2012.
The Tigers also need to fare well against the SEC, which is college football's most competitive conference.  Clemson's schedule is bookended by SEC schools Auburn and South Carolina.  If they can manage to pull off quality wins over Auburn in September and South Carolina in November, Clemson will gain more credibility as a legitimate FBS contender and Watkins' Heisman chances will skyrocket.
Watkins and his Tigers know they will have to improve on what they did in 2011.  With a slightly different looking team, that may not be too tall of an order.
Quarterback Tajh Boyd is a year older and will be looking to improve on his already stellar quarterback rating of 141.2 (via ESPN.com).  Boyd can start improving by assessing his performance in last year's losing efforts.  In the four games that Clemson lost (including the Discover Orange Bowl against West Virginia), Boyd threw only four touchdowns and seven interceptions.  If Boyd can turn some of those turnovers into touchdown passes, Watkins Heisman dreams will have a chance to come to life.
Also, tight end Dwayne Allen will not be returning to the Tigers in 2012, as he was selected 64th overall by the Indianapolis Colts in the 2012 draft.  The departure of Allen, who caught eight touchdowns in 2011, will result in a lot more balls thrown Watkins' way.
Watkins is a truly unique talent in college football.  The receiver position may garner limited attention when it comes to Heisman voting, but Clemson's star wide out has already made a name for himself on the national level.  Watkins was only the third true freshman ever to be named a first-team All-American by the Associated Press.  Watkins' eyes must now be glued to the Heisman Trophy.