Euro 2012 Odds Preview: Picks for Group D Matches England-Ukraine, France-Sweden
June 19, 2012
Martin Rose/Getty Images
Introduction

Group Stage play comes to an end today in Ukraine with the last two of the eight quarterfinal spots to be decided in Group D play.
England and France both just need a point in its matches to advance while co-host Ukraine can still win the group with a victory and either a tie or loss by Les Bleus.
Sweden, with losses to England and Ukraine, has already been eliminated and will simply be playing for pride.
Here are odds from the LVH SuperBook in Las Vegas as well as previews for both games.  
ENGLAND vs. UKRAINE
Date: Tuesday, June 19, 2012
Location: Donbass Arena (Donetsk, Ukraine)
Time: 2:30 p.m. ET/11:30 a.m. PT
Television: ESPN, ESPN Deportes
Computer: Watch ESPN (Formerly ESPN3)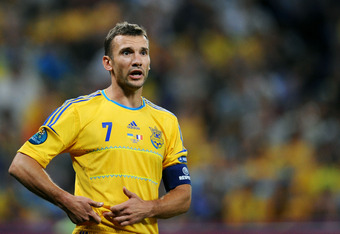 Lars Baron/Getty Images
90 Minutes + Injury Time Odds: England -½ +115, Ukraine +½ -135 Total: 2½u
Three-Way Odds: England +115, Ukraine +250, Draw +230
No doubt the majority of the fans in Donbass Arena in Donetsk will be pulling hard for the homeboys to upset England and advance to the quarterfinals and in my mind, there is no doubt this could actually happen.
But for Ukraine and manager Oleg Blokhin, a draw won't cut it so expect them to come out aggressively and try hard to get that oh-so valuable first goal.
The biggest question mark for Ukraine is the health and availability of captain Andriy Shevchenko—the country's all-time leading goalscorer with 48 in 110 games—who is still recovering from a left knee injury and is questionable for the match.
But with so much at stake, and Shevchenko's career coming to an end, I expect Blokhin to announce at game time that his star will start.
Ukraine goalkeeper Andriy Pyatov said the best way for his squad to get over its loss to France is to go out and beat England. But with just two goals in two matches, it will have to be creative in its approach in trying to get the ball by Three Lions goalkeeper Joe Hart.
One huge factor in England's favor is the return of Wayne Rooney and I expect him to shine. Rooney's return will likely mean that big-body Andy Carroll will not start for Roy Hodgson's boys.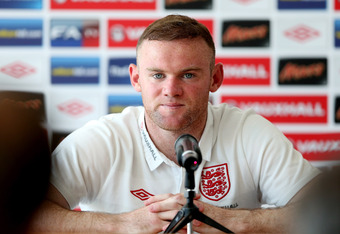 Scott Heavey/Getty Images
Along with Rooney up front, expect Manchester United's Ashley Young and Danny Welbeck along with the player who has impressed me the most in the European Championships for England—Theo Walcott.
England's defense will be buoyed by Chelsea's John Terry and Ashley Cole as well as Glenn Johnson and Joleon Lescott while Scott Parker and Steven Gerrard should start again in the midfield.
This starting 11 for England is extremely solid but with so much at stake for both teams, it's hard to see either team pulling away from the other and this match should be a pretty entertaining watch.
With so much doubt about Shevchenko's health and his availability for Ukraine and Rooney back and ready to strut his stuff for England, I believe the oddsmakers have set a good line for this match.
The game should be a low-scoring affair so betting under the total of 2½ seems smart but be aware Ukraine will set a quick early pace as a loss or draw sends them packing.
In the end, I think Rooney or Walcott will get the game-winner in the second half and England will advance to the quarterfinals where it will face either defending champions Spain or Italy.
And wouldn't a Mario Balotelli-Terry matchup be a wonderful thing to behold in the quarterfinals?
PREDICTION: England 1 Ukraine 0
BETS: England -½, +115; Under 2½, -115
FRANCE vs. SWEDEN
Date: Tuesday, June 19, 2012
Location: Olympic Stadium (Kyiv, Ukraine)
Time: 2:30 p.m. ET/11:30 a.m. PT
Television: ESPN2, ESPN Deportes
Computer: Watch ESPN (Formerly ESPN3)
90 Minutes + Injury Time Odds: France -½ -150, Sweden +½ +130 Total: 2½u
Three-Way Odds:  France -150, Sweden +450, Draw +270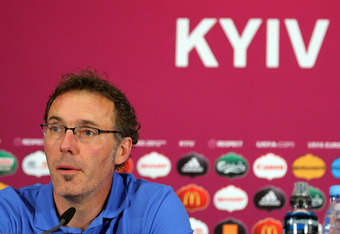 Handout/Getty Images
Laurent Blanc's Les Bleus have been on a major roll of late, going undefeated in their last 23 matches and with talents like Samir Nasri, Franck Ribery and Karim Benzema, this team may just surprise everyone and win Euro 2012.
Like England, France just needs a point to advance to the knockout stage but this one could get tricky for the French as all the pressure will be on them and none on Sweden.
Blanc knows this and has said his side must not underestimate the Swedes who are 0-2-0 (W-L-D) in the group and have been outscored 5-3 in the process.
Sweden's main threat is Zlatan Ibrahimović but in the first two matches it seemed the team had trouble clicking and getting the ball to Ibrahimović consistently in scoring situations.
The result? Sweden is stuck on the bottom of the group with no chance of advancing.
With all this in mind, it's hard to see Sweden being motivated enough to pull off the upset, especially against a squad feeling so good about themselves and the way they've played over these last 23 games.
I expect this match to be similar to the England-Ukraine game being played at the same time—no scoring in the first half and then a crucial goal by Nasri in the second half to give the favorites their 24th straight without a loss, the group win and a trip to the quarterfinals this weekend.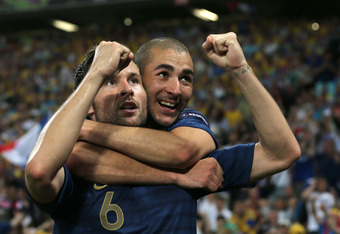 Ian Walton/Getty Images
PREDICTION: France 1 Sweden 0
BET: France M/L -150.
ODDS TO WIN EURO 2012 (June 17)
Spain 2/1
Germany 2/1
France 7/1
Portugal 7/1
England 10/1
Italy 12/1
Czech Republic 30/1
Greece 50/1
Ukraine 100/1
Follow me on Twitter: @KevinStott11