NBA Draft 2012: New Orleans Hornets' Possible Draft Targets—Arnett Moultrie
June 22, 2012

Wesley Hitt/Getty Images
With the 2012 NBA draft now less than a week away (Thursday 7 p.m. CST), the excitement over the Hornets' draft has ramped up to a dizzying frenetic whirlwind. The team already knows it will select Kentucky forward Anthony Davis with the No. 1 pick. 
What they do with their second pick (No. 10) is still very much in question. The team made a trade Wednesday with Washington to rid themselves of nearly $30 million in cap space from Emeka Okafor and Trevor Ariza while only taking on Rashard Lewis, who they will cut by July 1, and the No. 46 pick. 
As I wrote here, that deal will only help create more cap space and opens up the possibility of the team re-signing free agent center Chris Kaman to add to what was a sluggish offense in 2012. And it should provide enough space to sign franchise guard Eric Gordon. 
One thing that becomes less clear though, is what the Hornets will do with the No. 10 pick. 
Kendall Marshall, Austin Rivers, Tyler Zeller and Terrence Ross are among the most likely players the Hornets could select with that 10th pick. It also remains possible they could trade the pick and grab more pieces for their rebuilding efforts. 
It is also common knowledge that Arnett Moultrie was brought in for a workout with the Hornets in early June. The Mississippi State Bulldog made it clear he would love to play for the home region team. 
Moultrie would be a bit of a surprise pick at No. 10 if the Hornets were to take him. But with the departure of Emeka Okafor it becomes a greater possibility, especially if the team is unable to trade the 10th pick. 
Strengths
Moultrie played a lot of small forward in college, and this past year worked at power forward. He has an athletic game where he can get to the rim and can finish inside the paint. 
For his size (6'11", 240 lbs), he has a really nice jump shot and perimeter skills. He is a natural scorer, something the Hornets lacked at the big man positions for most of 2012 (except for the handful of games Chris Kaman was healthy).
He can finish with both hands in traffic and in the post. He could become a really good power forward or lanky center who can take his defender out beyond the post and make that guy guard him.
Weaknesses
Moultrie is not a great passer and sometimes becomes a bit of a black hole. It is likely not because he is selfish, but more likely because he is not as aware as some other offensive players.
Though he could guard up to three different positions at the NBA level, he has a lot of room to grow as an individual and team defender. He is still relatively inexperienced, having played only one year in the SEC (after transferring from UTEP). 
He also has had some fairly minor tendinitis issues in both his knees, which caused him to miss three games in the 2012 season. That alone could drop his stock a bit.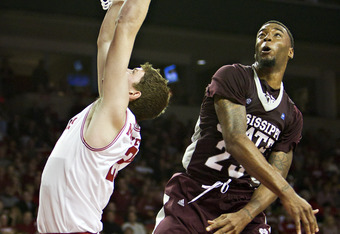 Wesley Hitt/Getty Images
Conclusion
This wraps up our player profiles for potential Hornet draftees at No. 10. With the Hornets' recent trade, selecting a second big man looks to be a potential option, though Moultrie projects to be of a similar mold to Anthony Davis as an athletic guy who gets up and down the floor. 
He has probably not shown enough in the post at this stage in his career to warrant serious consideration as a center candidate for this team. But indications are that the Hornets do like him and his game. 
He seems a more likely pick if the Hornets were able to move down to the middle of the first round in the 2012 NBA draft.