UFC 147: Fabricio Werdum Thanks Dos Santos, Vows Not to Make Same Mistake Again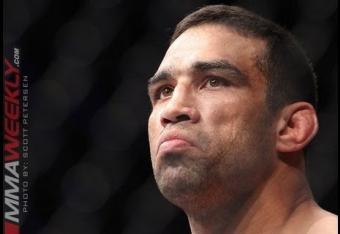 Photo by MMAWeekly.com

Fabricio "Vai Cavalo" Werdum may have a strange aura of familiarity with his bout against Mike Russow on Saturday at UFC 147. Not simply because of fighting in his native Brazil, but also with an opponent like the tough Russow.
Werdum spoke to MMAJunkie about his upcoming fight with the Chicago police officer.
"People who aren't that famous but have a long win streak, those are the ones you have to watch out for. It already happened to me in the UFC when I fought against Junior Dos Santos. He was fairly unknown at that time. He surprised me," Werdum said.
Werdum faced Junior dos Santos when many in the MMA community considered him to be nothing more than another Brazilian prospect. JDS would shock the world with a huge uppercut that floored Werdum in a single punch. The loss sent Werdum out of the UFC, where he eventually found a home in Strikeforce.
Although he didn't wish to take anything away from his adversary, Werdum was open in admitting he wasn't doing things the right way and wasn't training like he should.
"'Cigano' did his job as he was supposed to. So, if I wasn't training, if I wasn't focused, that's on me. That failure was mine, completely mine. I didn't watch his fights. I knew he could box but I didn't know how good he was. That's what happens. I learned a lot from that fight," Werdum said. (MMAJunkie)
He holds no ill will towards the current heavyweight champion, going so far as to thank JDS.
"I am even thankful in a way because if not for Junior, I would not have exited the UFC, and I would have never had the best fight of my life, which was against Fedor Emelianenko," Werdum said.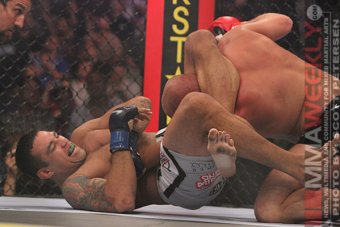 Photo by MMAWeekly.com
Indeed it was Werdum's fight against Emelianenko that has become the major highlight in the Brazilian's career. Werdum was the man to snap Emelianenko's winning streak and virtually erased the aura of invincibility the Russian once had.
Russow is a tough and talented fighter that has proven to possess one-punch KO power. Considered a step down in competition for Werdum, "Vai Cavalo" knows he doesn't want to make the same mistake he made against JDS.
"Since I'm trying to make up for lost time in my career, and since I've never been one to wait around, I took the challenge against Russow, who's nearly undefeated," Werdum said. "I've been studying him thoroughly, so I know his habits," Werdum said.
Werdum also has his eyes on a possible rematch with "Cigano." Widely considered a top-five heavyweight, Werdum could be in the running for a title match if he can put on as impressive a display against Russow as the Brazilian did against Roy Nelson in his UFC return.
And Werdum knows exactly how he wants to go about having the rematch.
"After beating Russow, my plan is to go into the 'TUF: Brazil' house and shoot a second season opposite Dos Santos. It would be great if we could coach our own teams and then face each other at the end of the season. I'm sure that the Brazilian fans would love it. First I have to win this fight, then I can bring up my idea to the UFC," Werdum said.
While nobody can fault Werdum for having plans for his future, let's hope his focus is on Russow until after UFC 147.
This article is
What is the duplicate article?
Why is this article offensive?
Where is this article plagiarized from?
Why is this article poorly edited?