LaDainian Tomlinson: A Tribute to One of the Greatest Players in NFL History
June 19, 2012

Lisa Blumenfeld/Getty Images
The 2000-01 NFL regular season was certainly one to forget for the San Diego Chargers. When the season finally reached its agonizing end, the Chargers were left with a 1-15 record, the worst in the NFL that year. That record, however, gave the Chargers the first pick in the 2001 NFL draft.
San Diego was in desperate need of a quarterback to step in behind the aging Doug Flutie, and with young and flashy Virginia Tech superstar quarterback Michael Vick available, it appeared like it would be a great move for the struggling Chargers to select Vick first overall.
San Diego took a different route, though. After struggling to come to terms with Vick on a contract, the Chargers traded down to the No. 5 overall pick. With the fifth pick, San Diego was still hoping to get their franchise player—someone who could turn their organization around and someone who could provide an offensive spark to a team that only scored 269 points the previous season.
San Diego was looking for someone who general manager John Butler compared to Thurman Thomas.
He did not play running back until his senior year in high school. He was not considered a top recruit. He did not go to a major football school. But it didn't matter.
Butler saw something special in this young running back from TCU. He saw a future star, and his name was LaDainian Tomlinson.
With Tomlinson drafted in the first round and star quarterback Drew Brees taken in the second round, the Chargers were ready for a reversal of fortune.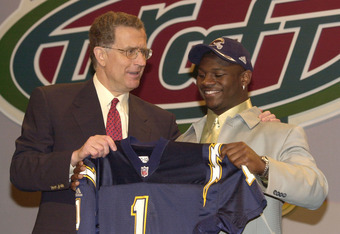 Ezra Shaw/Getty Images
Tomlinson burst onto the scene instantly for San Diego. He dazzled fans across the country with his ankle-breaking cuts, insane spin moves and catch-me-if-you-can speed. LT, as he has famously become known, was quickly turning into an elite NFL running back, and with that elite status came a golden era for the San Diego Chargers.
In his first eight seasons in the NFL, Tomlinson broke the 1,000-yard rushing barrier every year. He was voted to five Pro Bowls, was a four-time First-Team All Pro, a two-time Second-Team All Pro, and that does not even put a dent into the number of awards and records Tomlinson received throughout his career.
The statistics quickly added up for LT in San Diego. In 2006, the best year of his career, Tomlinson rushed for a career-high 1,815 yards and rushed for an NFL record 31 touchdowns, a record that still stands today. The year ended with Tomlinson winning his first and only MVP award of his career.
But the legacy of LT did not stop there. In 2007, he was once again named the NFL's rushing leader, racking up 1,474 yards on the ground.
Tomlinson was released by San Diego at the end of the 2009-10 regular season after his numbers declined. LT then went on to finish out the final two years of his career with the New York Jets, in search of that elusive Super Bowl trophy—something he would never quite grasp.
Yesterday, though, Tomlinson's career came full circle when he signed a one-day contract with the Chargers, allowing him to retire in the place where it all began.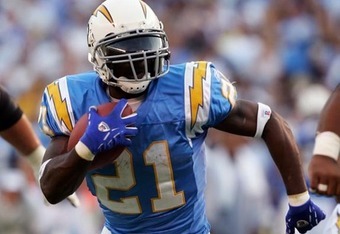 A class act as always, Tomlinson thanked so many who helped him along the way during his illustrious NFL career (via Chargers.com).
"I always felt like I was a Charger," he said. "The guys, my teammates, the bond we built and the battles (we fought) together were special. I always felt in my heart that I was a Charger, so thanks to the Chargers organization and Dean Spanos and his family."
And although that Super Bowl trophy eluded Tomlinson throughout the course of his 11-year career, LT said he walks away from the game he loves with no regrets.
"I am OK (with never winning a Super Bowl) because I realize everybody can't win a championship....But there were championship days for us we celebrated in the locker room. The touchdown record that day I scored the 31st touchdown, the linemen lifted me up and the whole team celebrated. They were championship days, for not only myself but my teammates and my family as well. So I'm ok with never winning a Super Bowl championship (because) I know we've got many memories we can call championship days."
And as Tomlinson stood at the podium Monday morning in San Diego and reminisced about his career, Charger fans across the world were reminded of the great moments of the Tomlinson Era in San Diego. They were grateful for the fact that they were able to call one of the greatest men that the game has ever seen one of their own.
Monday's appearance will certainly not be the last we see of LaDainian Tomlinson, though. Tomlinson holds a share of at least 37 NFL records. Along with the other accomplishments I listed earlier, Tomlinson was the 2006 Walter Payton Man of the Year, the 2007 Bart Starr Man of the Year, a member of the 10,000-yard rushing club, a member of the NFL 2000s All-Decade Team, a member of the San Diego Chargers 50th Anniversary Team and the fifth all-time leading rusher in NFL history.
There is one more honor that LT will be able to add to his resume in the next five years: Hall of Famer. When he becomes eligible in five years, experts and fans alike expect LaDainian Tomlinson to be a First Ballot Hall of Famer for sure.
In his speech Monday morning, Tomlinson thanked his fans and supporters. Now, I would like to thank him.
For the past 11 seasons, Chargers fans, Jets fans, Tomlinson fans and football fans in general watched one of the greatest careers that the NFL has ever seen. Tomlinson was an unstoppable force on the field for the past decade, and although more great running backs will come along, fans will be hard-pressed to see one quite as good as Tomlinson.
LT gave so much to the San Diego community on and off the field. He helped rebuild an organization that was at the absolute bottom and turned them into an elite force, and his Man of the Year awards show that it was not just all about football for Tomlinson, but he was also about helping others.
We will never again see the No. 21 of Tomlinson dashing away from defenders nor will we see his trademark flip of the football every time he scores. But for a team that does not have a long and rich history like some organizations, the LT Era will always stand out as one of the greatest in San Diego Chargers history. We will always see Tomlinson's jersey parading around on the backs of Charger faithfuls on gameday, and we will soon see it hang forever in Qualcomm Stadium.
LaDainian Tomlinson pulled San Diego fans in every week, as we collectively waited to see what spectacular things he would do next.
"I know our fans will agree with me, but whenever I watched him play, I always expected something special," Chargers owner Dean Spanos said, summing up the city's sentiments. "That's what he gave us. Special memories we will carry forever."