Los Angeles Dodgers: 10 Things the Media Just Doesn't Get About This Team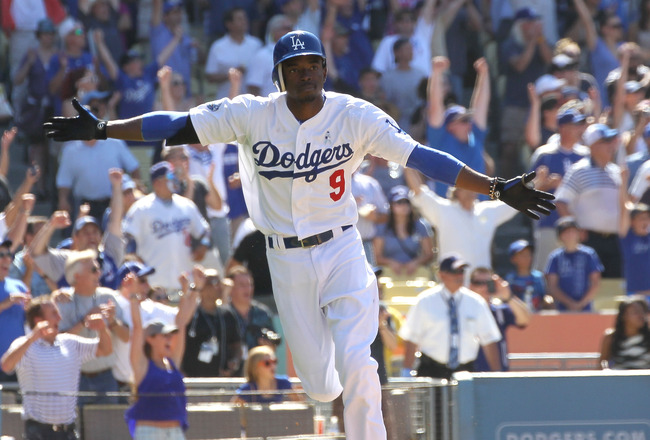 Stephen Dunn/Getty Images
Every team gets burnt in the media, no matter how well or poor they're playing. That's magnified in major cities and markets like New York, Chicago and Los Angeles.
And Major League Baseball's best team, so far in 2012, has had its fair share of love and hate spewing from certain media outlets everywhere, but mostly on the West Coast.
Some of the criticisms are deserved. Some are completely fabricated. But there are definitely plenty of things the media doesn't understand about the Los Angeles Dodgers.
Here's my list of 10 of those things:
The Record Is Not a Product of an Easy Schedule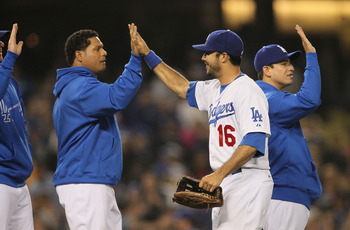 Victor Decolongon/Getty Images
We all know the cliches: Good teams beat bad teams. They win all the games they are supposed to win. Just because we're all sick of hearing that phrase, doesn't make it any less true.
Do you think the Yankees are apologizing for beating up on the hapless Blue Jays and Orioles all those years?
Yes, the Dodgers have the worst strength of schedule in baseball so far. Before rival fans get all excited over that stat, let me remind you that every NL West team is well into the bottom third in the same category. The Dodgers are just beating bad teams better than everyone else (aside from the Padres, who ARE that bad team).
And despite the incredible rate the Dodgers have been playing at all season, we still see that lack of respect from journalists who want to claim the success is solely due to playing cream puffs every other series.
As of June 18th, the Dodgers also have the best record in baseball against teams above .500 (19-8), the best record in one-run games (18-13) and the best home record (24-12). Next thing you know, we'll be hearing that we play the "bad" above .500 teams, get "lucky" in one-run games and "only" play at home.
I know it doesn't make sense on paper that this team keeps winning but give them some credit.
We don't make our own schedule. We are handed one and are expected to beat the team in the other dugout every day. And so far, the Dodgers have been the best team at doing just that.
We Have a Problem at Corner Infield...and It Ain't James Loney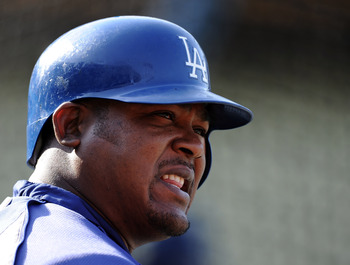 Harry How/Getty Images
In no way can I, nor will I, justify the contract Ned Colletti gave Juan Uribe after the 2010 season. Three years and $21 million for a guy who had a .297 career on-base percentage at the time is absolutely horrid.
And surprise, surprise, Uribe has been proving my point since day one. When he's healthy, which is rare (only played in 77 games in 2011 and already had a DL stint this season), he's hit a solid .245 this year with a .295 on-base percentage.
Yet, the guy catching all sorts of flak is James Loney at first base. I'm convinced that most of the reason Dodgers fans are calling for a first baseman who hits for more power is because the media continues to drill into our brains how important it is to have power from that position.
The Dodgers could use some more power anywhere. Aside from Andre Ethier and Matt Kemp, nobody is really capable of putting up a 30-homer season. And Loney, at least, has a good track record (.286 career average). This season, he's been playing legitimate Gold Glove defense and is hitting .317 with runners in scoring position.
Rather than spend time searching for a new first baseman, when we have Loney and Juan Rivera, the real issues needs to be solved in the hot corner. Uribe cannot continue to sail by on the strength of a fluke 2010 season.
The Fans Are Passionate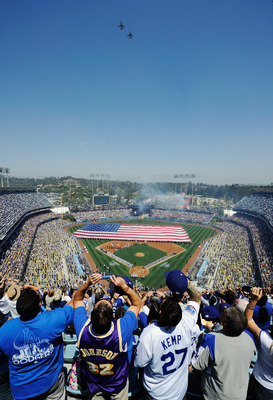 Kevork Djansezian/Getty Images
Dodger fans get a bad rap from every journalist out there. If you believe all the stories, Dodgers fans show up late, leave early and spend the four innings they're at the games picking fights.
And I'm not going to try to defend our fans against any of those things, because we are rough and we definitely aren't the most timely. But by no means are Dodger fans "bad."
You won't find many fanbases as passionate for their teams and the traditions involved than those who bleed Dodger Blue. Aside from the few bad apples who do start fights in the stands, Dodgers fans absolutely love this team.
If you didn't tune into the Freeway Series last week, you missed one of the loudest stadiums I've ever heard through a TV in a non-playoff game. And contrary to popular belief, we don't boo our own players. What a perfect segue into my next slide...
We Don't Boo Our Players
Lisa Blumenfeld/Getty Images
This one is pretty much directed at a certain Giants beat writer, who went so far as to claim the fans in Dodger Stadium were the "worst in baseball."
Hank Schulman claimed the Dodgers fans at the rivalry game in Los Angeles were booing star outfielder Matt Kemp for misplaying a ball in the outfield that led to an early run for the Giants. When Kemp came to bat the next inning and was greeted with his regular, thunderous "MVP!" chants, is when he tagged the fans as "worst."
I was watching that game, and take it from a true Dodger fan, the people there were not booing Kemp. They were upset that the hated Giants scored a run, but there's no chance they would boo the face of the franchise who is otherwise treated like a god among men.
Even guys like Uribe and Loney, who are having rough seasons, don't hear the whisper of a "boo" during their slumpiest slumps. Dodgers fans are many things, but stupid is not one of them.
The Offense Is Good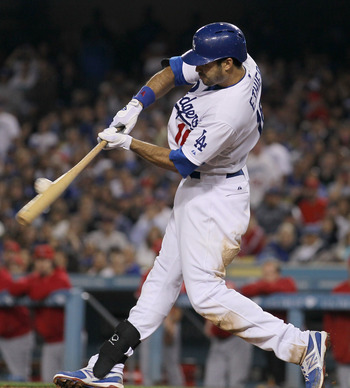 Stephen Dunn/Getty Images
It may seem crazy to tell you the Los Angeles Dodgers, the Matt Kemp-less Dodgers that is, are a good offensive ballclub.
You wouldn't expect a team that seems to be scoring a maximum of two runs in most games, missing its biggest offensive threat and is mostly made up of slow-footed veterans and Triple-A players to be the third-best hitting team in the National League. But they are.
The Dodgers are hitting .265 as a team, just one point behind the Philadelphia Phillies. As I mentioned in the first slide, they've racked up the best record in one-run games, so the total runs scored is middle of the pack.
Be that as it may, legitimate World Series contenders have complete rosters: hitting, pitching and fielding. And the reason the team can be successful is because the offense gets timely hits and just enough runs to support...
The 2nd-Best Pitching Staff in Baseball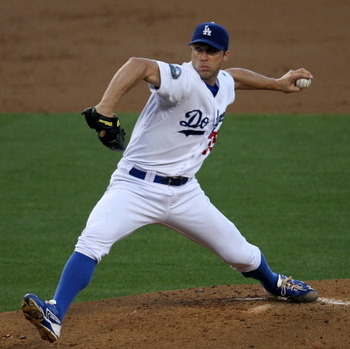 Stephen Dunn/Getty Images
...well, the second-best pitching staff in baseball!
I truly believe the media has not ignored this facet of the Dodgers, but this team is more than Clayton Kershaw. In fact, Kershaw has probably been the least consistent part of the starting rotation.
Chris Capuano has been an absolute revelation, but I'm worried as a fan of the sport that he won't even be in the All-Star Game this year because of lack of fanfare. And since being called up to the big leagues, Nate Eovaldi has pitched like an ace.
No matter where the Dodgers find the arms, the second-best ERA in baseball (behind the Washington Nationals) belongs to them. Yes, that means ahead of the San Francisco Giants and all their golden arms, and ahead of the three-headed monster in Philadelphia.
Again, winning teams have good pitching, timely hitting and solid defense. The Dodgers are maintaining their division lead because of all of these things.
We Don't Share L.A. with the Angels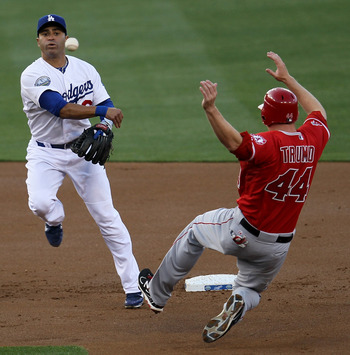 Stephen Dunn/Getty Images
This one has been a thorn in the side of Dodgers fans since the Anaheim Angels decided to capitalize on the major market in Los Angeles and change their names. And this one is also sort of a cop-out. Because, no matter how the media feels on this issue, they have to write "Los Angeles Angels."
But everyone must understand that Dodger fans sure as heck don't appreciate it. Los Angeles is and will always be a Dodgers/Lakers town. No matter how well the Angels play, this is Dodgertown, and we don't want anyone to forget it.
Amid all the accusations of tardiness and thuggery for Dodgers fans, I'll admit to this one: stubbornness. We won't let go of the city our team calls home, especially to a team that has become one of our biggest rivals.
A.J. Ellis Is the Freakin' Man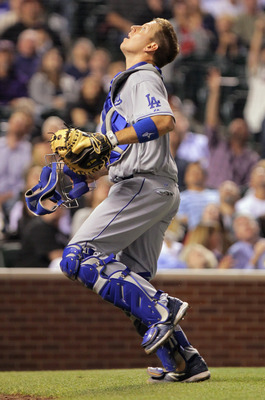 Doug Pensinger/Getty Images
This is just another reason that I'm against all this "get a big bat" talk. All the "we need more power" talk is getting old when the catcher of the current first-place ballclub is showing us why the exact opposite type of player can be make all the difference.
Before this season, A.J. Ellis was a little-used backup catcher whom nobody knew anything about. Even I was skeptical when we didn't sign a bigger name to play the position last winter. But the coaching staff of the Dodgers knew better.
Ellis is not only going to likely be one of the biggest All-Star snubs of the season, but he's still under the radar, hitting .302 with a ridiculous .434 on-base percentage as of June 18th.
I know A.J. doesn't have the power numbers of Carlos Ruiz or the career accolades of Yadier Molina or even the name recognition of Buster Posey. But he's on the same level both offensively and defensively as those guys.
Ellis is the backstop of the Dodgers for years to come, so the media might as well start taking notice.
The Farm System Isn't That Bad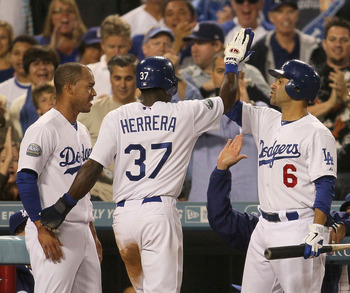 Victor Decolongon/Getty Images
OK, I'll admit it. The Dodgers are no Rays or Padres. But I truly believe the farm system is underrated. I don't think fans realize how stacked the minor league pitching is right now in the Dodgers' system.
And we don't have huge offensive names, but there are some guys down there who are completely anonymous, yet tearing it up. Need I go any farther than pointing out the newest addition to the Dodger starting lineup?
Elian Herrera is absolutely tearing it up in the majors right now, and Don Mattingly will be hard pressed to move him to the bench when Matt Kemp returns from injury. He can play pretty much every position that's past the pitcher's mound and is getting on base at a great rate.
Beyond that, guys like Alfredo Silverio, Joc Pederson and Tim Federowicz. And don't forget the Dodgers spent two early picks in the recent amateur draft on Corey Seager and Jesmuel Valentin.
Pair these big bats with arms like Zach Lee, Chris Withrow and Chris Reed and the Dodger minor league system is a little scarier than most people might have thought.
Bunting Is a Good Thing
Rob Tringali/Getty Images
This is sure to get a bad reaction—it always does for me on Twitter. But I'm going to ignore all those newfangled saber metrics that say bunting will be the downfall of baseball as we know it and the apocalypse of the entire universe.
Yes, I know that you give up an out every time you bunt. That's why it's called a "sacrifice" bunt. And is it any coincidence that the Dodgers lead the world in successful sacrifice bunts AND wins?
Don Mattingly gets a ton of crap for bunting so often, but with players like Dee Gordon, Herrera and Tony Gwynn Jr. on the roster, those skills and that speed need to be utilized. I won't go into specifics as to why I believe in bunting, but feel free to tweet me about it any time.
The media likes to immediately point to any bunting attempt for a failed rally or a loss and call for Mattingly's head because of it. But next time a journalist gets all worked up over a loss that may or may not have had a bunt attempt involved, remember which team has the best record in baseball so far.
Keep Reading

Los Angeles Dodgers: Like this team?