Predicting Most Reliable Running Backs, Wide Receivers in 2012 Fantasy Football
June 21, 2012

Rick Stewart/Getty Images
When you look back at the previous NFL season and lament your fantasy picks, you are usually lamenting an injury or five. So I'm going to take a look at players who seem to have avoided the injury plague or at least played through it, so strap in, hold tight and pay heed!
Or don't.
You know, it's all good.
There are players like Thomas Jones and Roddy White who run themselves into the ground and just keep running, and then there are players like Ryan Mathews and Darren McFadden who seem to be sidelined more than their fair share. Some players get labeled as injury risks and then go on to have plenty of productive seasons. Others never miss a game, are the best in the league and then blow out their ACL/MCL (I see you, All Day!).
Assessing risk is a difficult game to start and one that you'll never be able to fully win, but that doesn't mean we aren't going to try!
We want players on our fake football teams who have shown a track record of health and who are also young enough that their body hasn't been worn down by a ton of work. Of course, those two things contradict each other enough that the list of players is going to be pretty narrow.
So let's take a look at players who are under 27 years old and who have played in 28-plus games over the last two seasons.
Running backs
Running back is easily the most injured position. Getting a full 16 games out of a starting running back is tough. There were 10 running backs who played in all 16 last season and only three that started all 16. In this article I'm lowering the threshold of "reliable" to an average of 14 games a season over the last two seasons and 200-plus rushing attempts. That leaves us with 16 total running backs. You can see them just a little bit below here. Yeah, just move your eyes down and, yeah, there you go.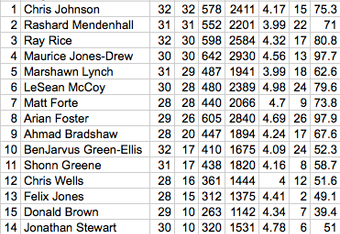 Maurice Jones-Drew: MJD is one of the few workhorse running backs left in the league. Out of all these 27-or-under backs, Jones-Drew leads in rushing attempts with 1,484. He also missed a couple games two years ago due to his knee and then had surgery last offseason, which made everyone scared to death of him. Of course, he then went on to play every game and lead the league in rushing yards.
So this season he has gone from risky to reliable. So was he risky last season? Is he reliable now? The answer is obviously somewhere in between, but we do know that he is still relatively young and can play through injuries. Now if he can just get on a team with an offense.
Chris Johnson: He is the only running back to start every game of the last two seasons. And since he also started every game of the 2009 season, he's easily the only running back to to not miss a start for three straight years. So we can't question his health. We can question last season, because it was questionable at best. However, his track record is hard to dismiss.
There are few starting, every-down running backs you can count on to be on the field. With his 2011 second half, coupled with his consistency, I am starting to warm back up to him.
Ray Rice: Amazingly, the guys who stay healthy also are good at the fake football game we play so nerdily. Ray Rice is one of those guys, and when you add in his amazing ability, well, you have something special. Rice, like Chris Johnson, has not missed a game in the last three seasons, but unlike Chris Johnson, he was the best fantasy running back in the league last season.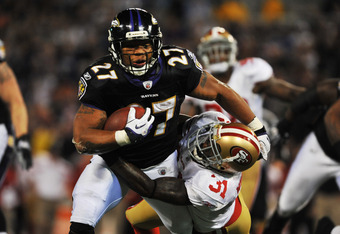 Larry French/Getty Images
Johnson does have a few more rushing attempts than Rice, with 1,187 to 959, and Rice actually had a calf injury his rookie season that kept him out a few games, but all in all these two dudes have been as lucky/healthy as running backs can be.
If I had to put money on one running back lasting all 16 games in 2012, it would be Ray Rice.
LeSean McCoy: Unlike his predecessor Brian Westbrook, LeSean McCoy stays on the field. He's so much like Westbrook in size and ability, but so unlike him in injury-proneness. McCoy will just be turning 24 years old this summer, is coming off an amazing season and has never missed a game due to injury.
He also has one of the smallest workloads out of all the top running backs in the league. It could easily be argued that his combination of age, health and ability make him the most reliable back in the league.
Marshawn Lynch: When you look at Marshawn Lynch you might think he is 56 years old, but in reality he is just 26. He's also been fairly healthy, with just a couple ankle injuries early in his career and one game last season where he was scratched after hurting his back in warmups (maybe he was trying to scratch his back? Invest in a back0scratcher, Beast-Mode!). In his last two seasons he has played in 31 games while putting on a touchdown show last season.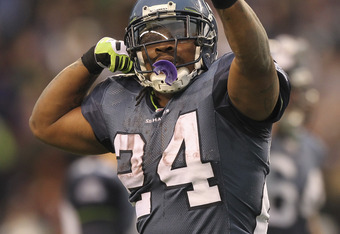 Otto Greule Jr/Getty Images
He runs extremely physically, and you can tell by his rounded-up four yards-per-carry average over the last two seasons that he's not making people miss too often. That coupled with the fact that last season was a contract year, I'm a little skeptical of both his health and overall ability.
Rashard Mendenhall: He tore his ACL in the last game of 2011. I put him up here to show that his consistent health couldn't combat the injury gods. When steadily healthy players like Mendenhall and Adrian Peterson have their ACLs ripped asunder, you just can't see that coming.
Mendenhall will most likely be put on the PUP list and won't be eligible to return until Week 7. Isaac Redman will get his chance.
Wide Receivers
Wide receivers are more stable than running backs on the whole. When thinking about your fantasy running back you are hoping he gets 20 touches and doesn't get injured. When thinking about your receiver, you are usually more worried that one of his few targets gets him into the end zone.
We often think of overall numbers for the season with receivers versus weekly numbers for running backs because receivers can more easily be taken out of a game, so if the end result is good, we don't cry much over a missed series, or even game here and there.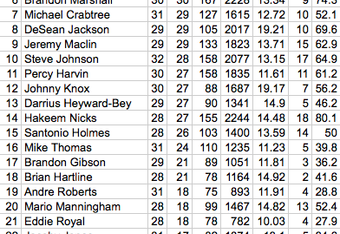 However, receivers do get hurt, of course, and can hurt your team (I'm looking at you, Andre Johnson!). I'm going to use the same "under 27 years old" criteria with 28 total games played over the last two seasons to see which receivers have been the most reliable. Oh, and they also had to catch 75 passes during that span to make this hallowed list. Take a lookie-lou at some of youngest, healthiest, bo-diddleiest receivers out there.
Percy Harvin: First off, can you believe Percy Harvin has only missed two games in the last two seasons? Yeah, me neither, but it's true and he's very good at football and very young (he just turned 24) and also very disgruntled right now. However, I'm sure he'll be playing some football come NFL Sundays. Don't put him in any corners.
Mike Williams: Mr. Williams went into a big time sophomore slump last season, but at the very least proved his durability. With Vincent Jackson and Doug Martin inserted into the fold we should see a more dynamic offense from the Tampa Bay Buccaneers, including from "Old Reliable" Mike Williams.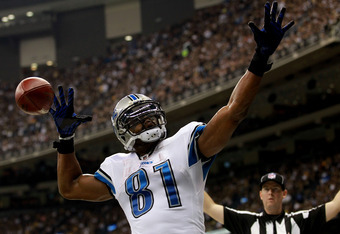 Ronald Martinez/Getty Images
Calvin Johnson: After some nagging injuries held Megatron back in 2009, he's been consistent, and consistent for Calvin Johnson is spectacular. If you are worried about the "Madden curse" then go into your basement with your lucky troll dolls and take a nap, then wake up in time for yet another great season from Johnson.
Dwayne Bowe: Bowe had a huge 2010 and then a not so huge 2011. Like Mike Williams he is set up for a bounce-back year, but unlike Williams he won't be getting new offensive help, he'll be getting old offensive help. His quarterback Matt Cassel, tight end Tony Moeaki and running back Jamaal Charles were all injured and missed significant time, which hurt Bowe's numbers. They'll be back.
Bowe has not missed a game in the last two seasons and is primed for a good year at the ripe old age of 27.
Quarterbacks and tight ends are more stable than running backs and even wide receivers. Age doesn't play nearly the same factor with both positions and injuries seem less chronic and more unlucky. Of course, there are always exceptions to my made-up rules. 
In my next piece I will look at some of the more "injury prone" players and we'll get to take some shots at Michael Vick and Antonio Gates. Until then, however, grab some young reliable players and throw some injury-risk upsiders onto the pile as well.
Mix and match, I always say!
All statistics mined from the Pro Football Reference stat caves.