10 Best "This Is SportsCenter" Commercials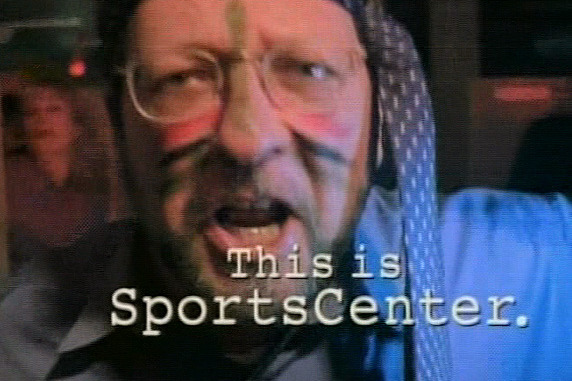 The "This Is SportsCenter" commercials first aired on ESPN in 1994, you know, back when SportsCenter was actually worth watching.
The idea was to capture the epicenter of the sports world--a place where players, journalists, and even mascots crossed paths.
Here's a list of my favorite "This Is SportsCenter" commercials. Enjoy.
Honorable Mentions:
Chad Ochocinco's TD celebrations
Dan Patrick's Perfect Broadcast
*Also, check out last week's 10 Best Sports Commercials of All-Time
**A special thanks to Ryan Balick for helping with the impossible task of sorting through so many great clips.
Begin Slideshow

»
Even if Jay Harris did use a gold, Phelps has five others. Didn't your mother teach you how to share?
What's funny is that they couldn't have shot this four years later. Phelps only won gold medals.
He's only got a few months before migration season, and here he is, stuck in the office all day. All the poor guy wants to do is spread his wings.
Daffy and Donald had it easy.
RIP Steve Irwin.
Personally, I would've liked to see him tackle Tim Tebow instead.
You think athletes are talented? Check out the versatility of Kenny Maynski and Boris Patrick? These guys are people you want to build your franchise around.
Oh, and they were All-ESPN that year.
They say everyone hits "that stage" in life at a different age. You could always give Rogaine a shot.
If only we had Jack Buck calling the event: "I don't believe what I just saw!"
I still can't decide which I would want to see more, Arnold Palmer hitting golf balls or Arnold Palmer making an Arnold Palmer.
Wally!! Looks can be deceiving.
Would Big Papi ever betray Red Sox nation like that? Who do you think he is, LeBron James?
Gotta look good to play good.
How much do you think businessmen would pay for a suit like that? Talk about comfort.
I did not use a thesaurus. Period.
And have faith, in five years the U.S. government will bring it to court (only to waste everyone's time and money).
When your life revolves around sports, you tend to be a little competitive.
Notice how Stuart Scott blocks a kid on his own team. Classic case of a guy trying to pad his stats.