NBA Rumors: Pau Gasol Makes Sense for Memphis Grizzlies
June 18, 2012
Harry How/Getty Images
The Los Angeles Lakers may not be interested in keeping Pau Gasol, but the 31-year-old Spaniard would be a good fit with the Memphis Grizzlies.
Mitch Lawrence of the New York Daily News wrote on Saturday: 
The Lakers are committed to moving Pau Gasol — the fall guy for their second-round ouster against the Thunder and previous playoff failures — even if they have to take back less talent. 
Michael Heisley, current owner of the Grizzlies, has expressed interest in pairing Gasol with his brother, Marc, in the low post before. Although he is reportedly looking to sell the team to Robert Pera of Ubiquiti Networks, that doesn't mean the Grizzlies won't consider bringing Gasol aboard.   
Memphis would be wise to add Gasol. Power forward Zach Randolph continues to play at a high level, but he played in only 28 games for the Grizzlies this season due to a partial MCL tear, averaging 26 minutes per game. He's also 30 years old.
Beyond Randolph, there's 2008 first-round pick Marreese Speights. Speights showed promise this season, but still isn't a formidable presence by any means.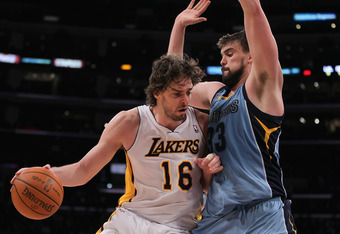 Jeff Gross/Getty Images
Gasol could start for the Grizzlies, allowing Randolph to come off the bench, or Gasol could play Sixth Man. Given the Grizzlies may let restricted free agent O.J. Mayo walk this offseason, they could use an uptick in scoring.
There are certainly questions about Gasol's defense, but he still averaged 17.4 points and 10.4 rebounds this season. He may not be a guy you want to rely on as your No. 2 option, as the Lakers found out, but he can certainly contribute in a positive way. Plus, there's a good chance the Grizzlies would get the four-time All-Star at a bargain. And unless there's a simmering rivalry between Pau and his brother Marc, I'm pretty sure there would be good team chemistry with Pau.
If the Grizzlies can get Gasol at a bargain, this is a great situation for the team, adding a low-post scoring option and rebounder as it looks to get back to the playoffs next season.
Follow me on Twitter. We can talk about the NBA together.