NBA Draft 2012: 5 Potential Draft-Day Steals to Shake Up the League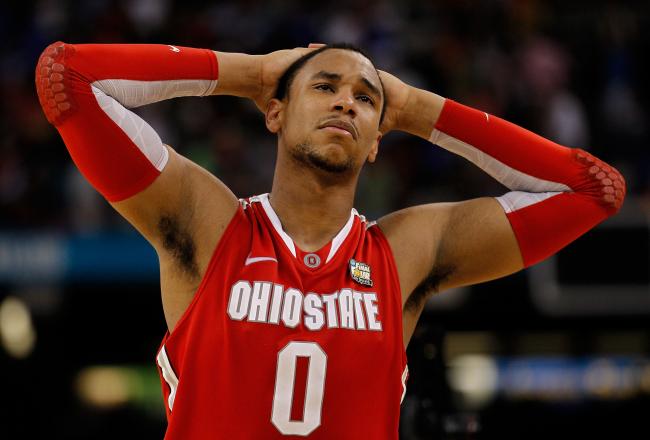 Chris Graythen/Getty Images
Few lottery teams will experience immediate turnarounds, but that doesn't hold for teams with picks in the middle of the first round.
The Dallas Mavericks could accelerate their return to form with the 17th pick in the draft, and the Philadelphia 76ers could build upon their postseason success with the 15th overall selection. The same goes for the young Minnesota Timberwolves (at number 18) and the not-so-young Orlando Magic (at 19).
But is there really any chance this kind of team could get their hands on someone who can make a significant difference from day one?
Absolutely, and here's how.
Jared Sullinger—PF, Ohio State
The draft combine did wonders for Sullinger's stock. He proved to be not nearly as undersized as had been previously feared, and he looked to be in excellent condition.
Nevertheless, it's still difficult to tell whether he projects as the next Carlos Boozer (a good thing) or the next Glen Davis (not such a good thing). In a lot of drafts, teams might take their chances, and Sullinger would be a lock to go in the top 10.
However, given the availability of big men like Anthony Davis, Thomas Robinson, Perry Jones III and Andre Drummond, Sullinger has some competition. That could be great news for teams who make their picks in the middle of the first round. This kid is smart, strong and more than happy to block out for a rebound.
Perry Jones III—PF, Baylor
Don't let Jones' uneven play at Baylor fool you. With such a unique set of physical tools, it's still not clear how his talent should be used.
However, that uncertainty could translate into incredible versatility.
Jones could wind up being the sixth or seventh pick in the draft, but he could also slide to a team like the Houston Rockets, who own the 14th and 16th picks. There's still some risk that Jones will struggle with the same delayed development that seems to have haunted guys like Anthony Randolph, but there's also the chance he'll become a legitimate superstar.
Terrence Ross—SG, Washington
Ross has arguably as much All-Star potential as any guard in this draft. He could still afford to improve a few elements of his offensive game, including his shot selection and finishing ability.
But Ross is a much better shooter than most of the prospects coming out of this draft, and he has the well-rounded defensive skills to boot. If he gets crowded out of the lottery, that could be especially good news for a team like the Philadelphia 76ers, Dallas Mavericks or Minnesota Timberwolves.
Each could land a potential difference-maker at a position of need.
Dion Waiters—SG, Syracuse
Waiters may turn some teams off—given his lack of an especially consistent perimeter game—but there's plenty to like about everything else he does.
The bigger question is whether teams will like those things as much as they like similarly situated scorers like Jeremy Lamb, Austin Rivers and Terrence Ross. If so, Waiters could go to a team like the Toronto Raptors or Phoenix Suns in the lottery.
If not, he could be a steal for a team like the Minnesota Timberwolves at the 18 spot. He's in much the same boat as Terrence Ross.
Tyler Zeller—C, North Carolina
Fear that Zeller will never become an All-Star could cause him to slip from the lottery. Of course, any team in its right mind should remember this: A lot of good players have come through this league without making an All-Star team.
Having one of those players at the center position isn't such a bad thing, especially given the alternatives out there. The market for seven-footers is so scarce that most teams are forced to incur great risk in order to bring in a guy with size, athleticism and perceived upside.
Put in that context, Zeller is an excellent find. He has better skills than most big men, and he's a safer bet when compared to options like Meyers Leonard, who very well could join Zeller on a few teams' shortlists of targets.
This article is
What is the duplicate article?
Why is this article offensive?
Where is this article plagiarized from?
Why is this article poorly edited?