MLB Trade Deadline: 3 Reasons the Colorado Rockies Should Be Sellers
June 18, 2012

Doug Pensinger/Getty Images
With the MLB trade deadline quickly approaching, the Rockies must decide what they need to do in order to get back on track. The Rockies are tied with the third worst record in baseball and are not getting any better. 
While they have a solid team, both offensively and defensively, with Tulowitzki, Helton and Gonzalez, the Rockies have one of the worst starting rotations in the game—5.35 team ERA, which ranks 30th in the league—and the National League West has suddenly become one of the best divisions in the baseball. 
In order to make room for a number of major moves this off-season, it's time to make some tough decisions in Denver and trade away some of the team's better role players. 
Right now, the LA Dodgers are the best team in baseball with a 41-25 record.
They just signed all-star Matt Kemp to a huge, long-term contract and look to be good for a long time as their all-stars are finally living up to the high expectations in LA. 
The NL West is also home to the San Francisco Giants, who at 37-29 are also one of the best teams in the league, and have an absurd level of young talent that will only improve with time and experience. 
Competing for a playoff spot against teams with the likes of Tim Lincecum, Matt Cain, Clayton Kershaw and Chris Capuano, the Rockies desperately need to improve their starting pitching if there is any chance of a playoff birth in the near future. 
The Rockies have a number of very promising pitching prospects in Drew Pomeranz, Alex White, Juan Nicasio, Fredrich Christian and Jhoulys Chacin, all who are quickly rising the ranks of the franchise and could be great players for the team one day. 
Nevertheless, they are still prospects. 
Who really knows if any of them will pan out and give the team a legitimate starting rotation, and when? 
The Rockies' already put up plenty of points, but in order for the team to contend on a regular basis, they need to pick up a proven starting pitcher.  Getting rid of some of the bigger contracts in the clubhouse should help towards that end.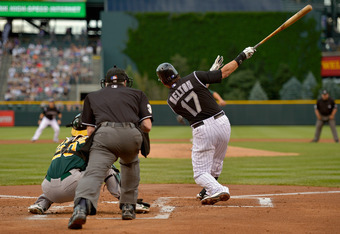 Doug Pensinger/Getty Images
Jorge De La Rosa will be a free agent come the winter clearing quite a bit of cap space, but not enough. 
Unfortunately, this means getting rid of some really quality players. 
Tulo and CarGo are basically the only untouchables as they are the foundation of our team. Other than them, the only other players with adequate trade value and large enough contracts to give us sufficient cash in the off-season would be Michael Cuddyer, Jeffrey Guthrie, Marco Scutaro or even sadly, Todd Helton.
If the team can clear a large amount of space, there are a number of quality pitchers who will be unrestricted free agents come winter. 
There are a number of big names like Zach Greinke, Cole Hamels, Daisuke Matsuzaka, Roy Oswalt and Jake Peavy, which will be tough for the Rockies to land as the big market teams will most likely get in on the bidding. However, there are also a number of very good pitchers who have reasonable contract expectations for the Rockies, and would drastically improve our starting pitching. 
It would be ideal if the Rockies could land the 29-year-old Cole Hamels. He has 3.39 career ERA, averaged 12.8 wins per season, has plenty of postseason experience and won a World Series in 2008 with the Phillies. 
Hamels' talent and experience would be invaluable to a young Rockies starting rotation.  However, he is currently getting paid $15 million a year and will want a similar figure in his next contract. Even if the Rockies are able to offer him a contract of that size, its still a question of whether he is willing to play for the lowly Rockies after seven years with the Phillies. 
Zach Greinke is another pitcher who could immediately change the fortunes of the Rockies. 
With a 3.77 career ERA and an average of 13.75 wins past four years, he is an ace on any team's staff and provides great consistency to a rotation.
Making $13.5 million a year, the Rockies would absolutely need to trade away some of the players mentioned above, but at only 28, Greinke this could be a great move for the team's future as it would give them a reliably dominate starter on the mound to go along with a potent offense for years to come.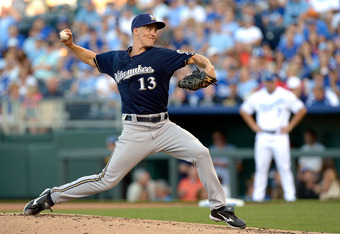 Jamie Squire/Getty Images
Another young guy who will be available this off-season is Ervin Santana.
In his seven-year career with the Los Angeles Angels he has a 4.28 ERA and has averaged 12.48 wins a season. 
Signing Santana would be a bit more of a risk, as his production has been a bit more inconsistent than both Hamels and Greinke.  As a consequence, he is a much more affordable player—his last contract was four years for $30 million—and could add a lot of talent to the starting rotation in Denver without having to clear a lot of cap space at the trade deadline this year.
Brandon McCarthy is another good starting pitcher with a relatively small contract. Making about $4 million a year, the Rockies could easily make a move on him without giving up too much. 
He has a good career ERA at 4.01, but has struggled to win, amassing a 48.6 percent career win percentage.  Not necessarily what the Rockies need in terms of an ace, but could certainly add a lot of depth if the team was able to land one of the bigger free agents.
Basically selling some of our role players for pitching may not necessarily be the right decision, however the Rockies must do something.  Aside from the improbable run in 2007, the Rockies have barley been relevant in baseball, its time the team start swinging for the fences, even if they strike out their first couple tries.