US Open Golf 2012: Rory McIlroy and Olympic Club's Most Embarrassing Losers
June 18, 2012

Andrew Redington/Getty Images
Webb Simpson, Beau Hossler and Michael Thompson soared on one of golf's most difficult courses while others failed miserably.
Rory McIlroy and Luke Donald didn't even make the cut, and Phil Mickelson struggled his way through a miserable week.
This is surprising. They are three of golf's best (McIlroy and Donald are Nos. 1 and 2 in the world), and those results are unacceptable.
Let's look at their Olympic Club experience. 
Rory McIlroy
McIlroy played two rounds of 10-over-par golf. He failed to make the cut and walked away with his head hung low. 
In two days, he had 13 bogeys and just three birdies. He never got in the groove, and he failed to turn himself around when things began to go south.
He has been underwhelming on a major stage before. His miserable performance on the 15th hole in the 2010 PGA Championship lost him the title and eventually handed it to Martin Kaymer. 
McIlroy is an exciting prospect without a doubt, but his performance this week is certainly one he'd like to forget.
Luke Donald
Donald didn't make the cut after playing awful golf for two rounds. He couldn't find the fairway off the tee, and this created a ton of problems. 
For anyone who's spent time watching Donald, this shouldn't be surprising. 
Donald managed three birdies in the first round and finished with a 72, but his second round was much worse. He bogeyed nine of the 18 holes and shot an atrocious 79 for the day.
A player of Donald's caliber shouldn't suffer from setbacks like this. Sure, it happens to everyone, but he didn't show many good qualities at all.
The Olympic Club course is extremely tough. In this case, it swallowed Donald.
Phil Mickelson
"Lefty" made the cut, but he didn't do much otherwise. Finishing 16 over par is not something Mickelson will be proud of.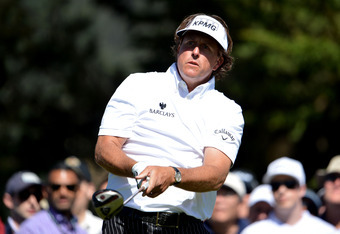 Stuart Franklin/Getty Images
He only managed to knock in five birdies as opposed to 20 bogeys. He wasn't striking the ball well out of the tee box, struggled with his mid-range game and didn't have much on the putting green either. 
We aren't used to seeing this from Mickelson. He is a world-class golfer, and he is extremely familiar with the big stage. 
This just wasn't his tournament, and it showed from the very beginning.