Melky Cabrera: Giants Outfielder Is Leading the NL MVP Race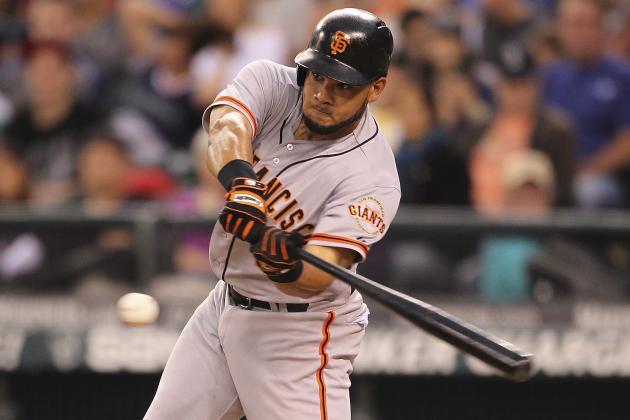 Otto Greule Jr/Getty Images
The Melkman delivers.
There are tangible, statistical reasons that Melky Cabrera is the National League's Most Valuable Player so far this season, and there are also less quantifiable justifications for giving him the award.
Cabrera, 27, was acquired this offseason in a trade with the Kansas City Royals for the enigmatic starting pitcher Jonathan Sanchez and prospect Ryan Verdugo. Cabrera had been a top prospect in the Yankee system, but in five seasons in the Bronx he never fulfilled their high expectations.
In 2010, at age 25, Cabrera nearly ate his way out of the league. The Atlanta Braves acquired Cabrera in an offseason trade for Javier Vazquez, and Cabrera had his worst season, hitting just .255 while earning his release after the Braves were eliminated by the Giants in the National League Division Series. Cabrera had gained weight, lost bat speed, and created significant questions about his work ethic.
The Royals scooped up Cabrera off the waiver wire on a cheap one-year deal, and he broke out in a big way. He set career highs in batting average, slugging percentage, OPS, doubles, hits, and homeruns. The Royals determined that Cabrera's break out was not sustainable, so they extended outfielders Jeff Francouer and Alex Gordon, and dealt away Cabrera for pitching help.
The Giants made a gamble that Cabrera's one good season was not a fluke, but rather a sign of things to come. Cabrera has rewarded that gamble by being the National League's best player so far this season. Here are nine reasons why Cabrera is the MVP right now.
Begin Slideshow

»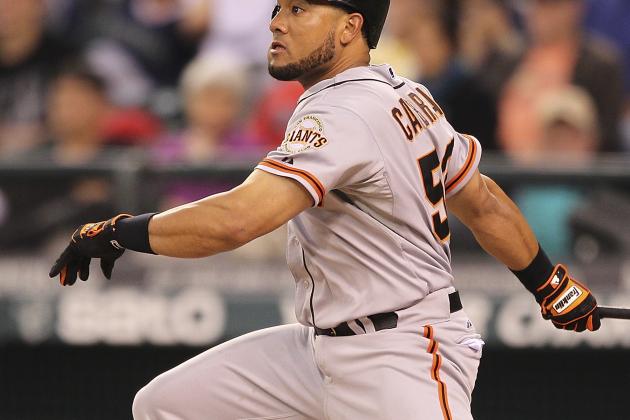 Otto Greule Jr/Getty Images

Cabrera leads all of baseball with 95 hits, and he is second in the National League with a .360 batting average entering play Monday night. His ability to put the bat on the ball consistently has led to comparisons with Tony Gwynn from his manager, Bruce Bochy.
Only eighteen National League hitters have put the bat on the ball as frequently as Cabrera. He has struck out in just thirteen percent of his plate appearances so far this season. His elite contact ability combined with his ability to drive the ball with authority have created a potential batting champion in the middle of the Giants lineup.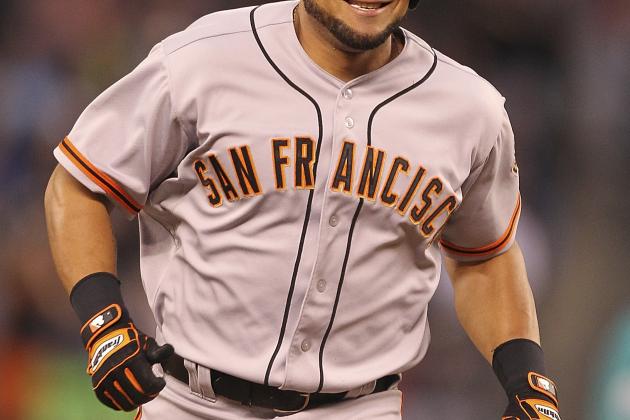 Otto Greule Jr/Getty Images

The advanced statistics also show that Cabrera is near the top of the NL MVP race. Cabrera is seventh in weighted on-base average, fifth in on-base percentage, eighth in OPS and tenth in wins above replacement in the national league.
Cabrera is not a flash in the pan fueled by a high batting average. He has 27 extra basehits, including a league-leading seven triples to go with 14 doubles and six homeruns, despite playing in a park that suppresses power.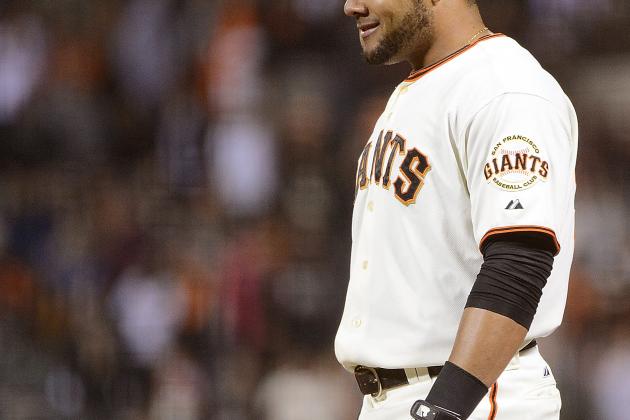 Thearon W. Henderson/Getty Images

While there are other players that have slightly better overall numbers than Cabrera right now, his baserunning adds additional value to his game. Cabrera is 10 for 14 on stolen base attempts so far this season. His 10 steals are 14th best in the National League.
According to FanGraphs, Cabrera has added almost a full run to his overall value with his excellent baserunning. His hitting ability, combined with his excellent baserunning instincts, make Cabrera the complete offensive package.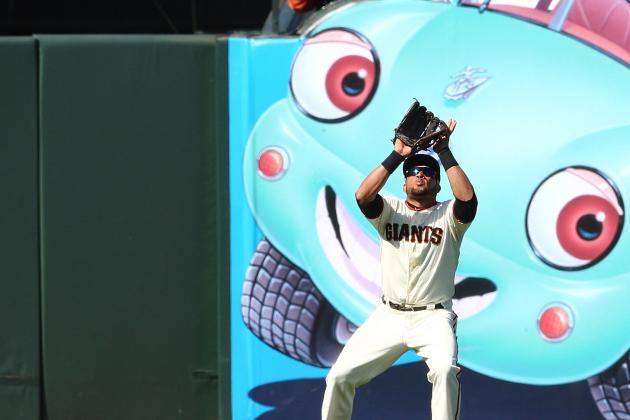 Tony Medina/Getty Images

Cabrera is not only an excellent offensive player with elite hitting ability, power and speed, but he also has the best throwing arm among left fielders. He's tied for second with four outfield assists, but that statistic does not do his arm justice. Teams have stopped running on his arm now that the word is out across the National League.
Cabrera has shown average range in left field so far this season. With his speed and athleticism, it would not be a shock if he were to improve as the season goes along to become a Gold Glove candidate.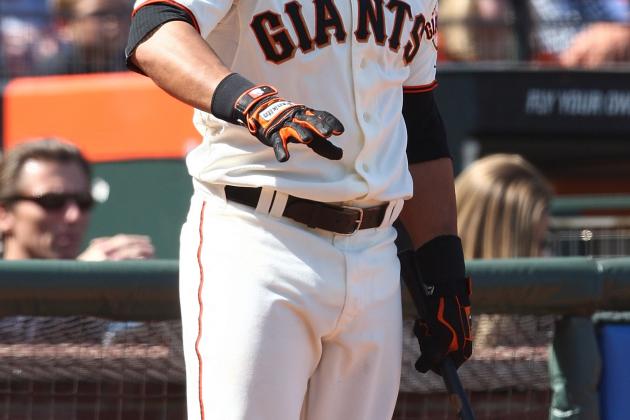 Tony Medina/Getty Images

Other MVP candidates are one-dimensional players that just don't offer the same versatility as Cabrera. There is nothing on the baseball field that he can't do. He is a true five-tool player that can hit for average and power, get on base, run the bases, and throw exceptionally well. He can also play all three outfield positions.
He's been durable—missing only three games with a strained hamstring last weekend. Cabrera offers the Giants the complete package.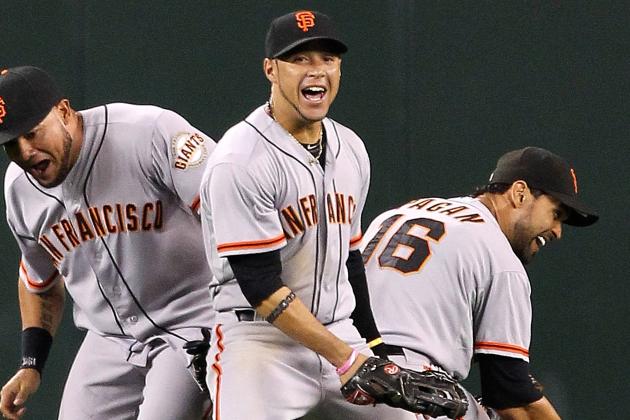 Otto Greule Jr/Getty Images

While other players may have an equally strong statistical argument for the MVP award, Cabrera is carrying a contending team that wouldn't be in contention without him.
The Giants ace, Tim Lincecum, has completely collapsed this season. Their presumed best offensive player, Pablo Sandoval, missed over a month with a broken hamate bone. Sandoval is now struggling to revert to form due to weight issues.
Through the turmoil of the first half, Cabrera has carried the Giants to the lead in the National League Wild Card standings. Without the trade for Cabrera, the Giants would not be in the playoff hunt right now.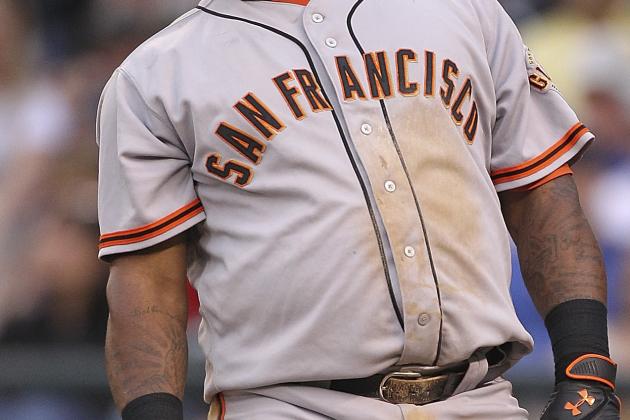 Otto Greule Jr/Getty Images

Two years ago, Cabrera was in a similar position to the one Pablo Sandoval is in now. Cabrera had let himself go, not working hard enough to maintain his physical fitness - which led to a horrible season, and the Braves decision to let him go.
Two years later, Cabrera is a physical marvel that resembles a football running back more than a baseball player. The guy is absolutely jacked—his muscles are bulging out of the uniform.
The Giants have to be very pleased with Cabrera's performance on the field, but they should be equally impressed with the example he is setting in the weight room. According to Gwen Knapp of the San Francisco Chronicle, Cabrera's example has opened the eyes of the young Giants players.
From that article, here is what Brett Pill said about Cabrera, "You should see the work he does in the weight room, throwing the medicine ball off the wall in here before games. He's something else."
The Giants have become a young team, particularly on offense with players 25-years-old and under in Sandoval, Buster Posey, Brandon Crawford and Brandon Belt playing key roles. Having a hard-working player like Cabrera, with championship experience in a large market playing for the Yankees, is a huge boost for a young team.
If Sandoval can learn from Cabrera, his career will take off. Sandoval has as much talent as any player in the game, but his inability to stay in shape is going to cut his career short if he does not change his body very soon. Cabrera's leadership could be a key factor in turning Sandoval's career around.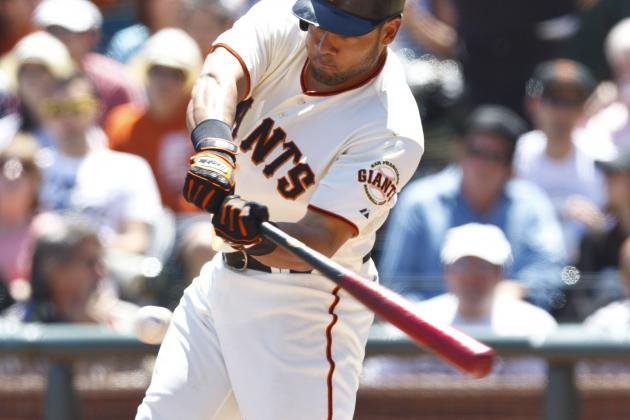 Jason O. Watson/Getty Images

According to FanGraphs, Cabrera has been worth $12 million so far this season. The Giants will pay Cabrera only $6 million this year, so even if he produces zero additional value, they will be receiving a huge return on their investment.
Most of the players competing with Cabrera for MVP are making twice as much money as him. Cabrera is not only one of the best all-around players in the game, he's also doing it for a very cheap price in baseball terms.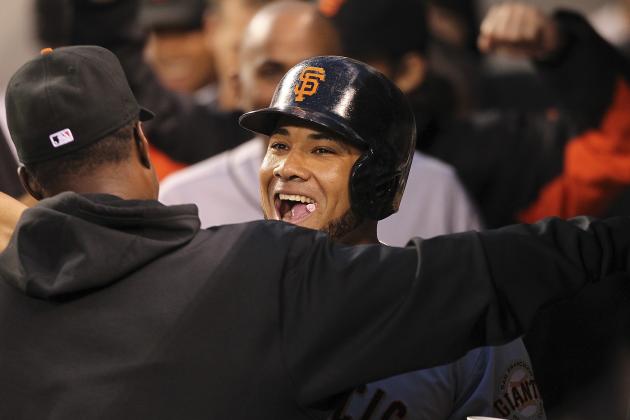 Otto Greule Jr/Getty Images

Cabrera is the National League's Most Valuable Player right now because he has been the complete package for the Giants. He leads the team in batting average, on-base percentage, slugging percentage, doubles, triples, hits, and OPS.
Without him, they would likely be a .500 team right now. Despite the excellence that Cabrera has provided the Giants, they only have to pay him $6 million this season. It could be time to work out a long-term contract extension.
Not only has Cabrera been a great find on the field, but off the field he is proving to be a steady leader by example. Even though he is only 27 years old and in the prime of his career, he is already in his seventh big league season. He has the tools of a young player, but the wisdom of a seasoned veteran.
When the Giants traded for him, it looked like they were getting a one-year wonder. Instead, they have gotten a five-tool player that is on his way to an All-Star game. The Melkman has delivered for the Giants—and Major League Baseball may be delivering Cabrera an MVP award this season.