R.A. Dickey and 10 MLB Players Having the Most Surprising Seasons in 2012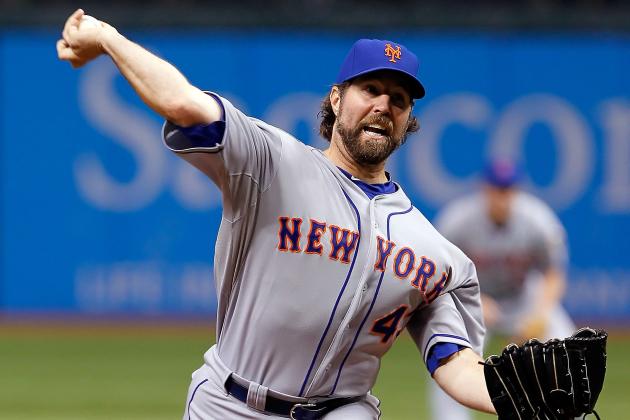 J. Meric/Getty Images

With the 2012 MLB season almost halfway through, there have been many surprise players that have emerged onto the scene like perennial All-Stars, carrying their respective teams to the success they have had so far.

R.A. Dickey is having as great a season as anyone, and no one would have thought he would be the clear-cut National League Cy Young Award favorite at this point in the season. However, the knuckleballer has not even been the biggest surprise among NL pitchers.

Here are the top 10 biggest surprises across all of baseball this season.
Begin Slideshow

»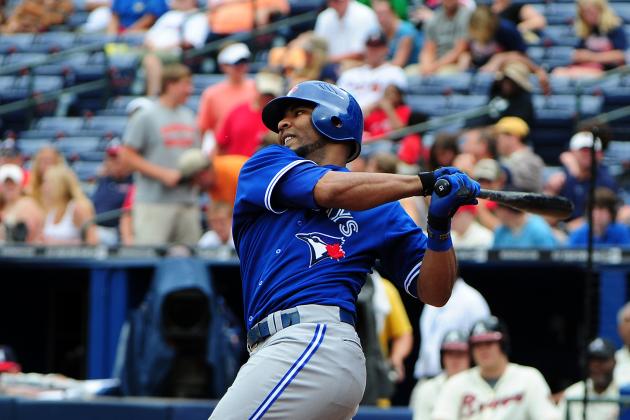 Scott Cunningham/Getty Images

2012 Statistics
Batting Average: .277
Home Runs: 17
RBI: 44
OBP: .347
Slugging Percentage: .546
Edwin Encarnacion has never been one of the elite infielders in his career. He was a decent third baseman during his time with the Reds and was the same for the Blue Jays.
With Brett Lawrie's arrival, Encarnacion's time as the Blue Jays third baseman came to an end, so he started off the season as the designated hitter. However, due to first baseman Adam Lind's struggles and eventual demotion, Encarnacion has become Toronto's first baseman.
Encarnacion got off to a very hot start with a .322 average, eight home runs and 21 RBI in April. And despite a .234 average in May, he still managed to hit nine home runs and drive in another 21 RBI that month.
However, he has cooled off significantly this month, with a .293 average, no home runs and just two RBI in June. Altogether, he has a .277 average, 17 home runs and 44 RBI so far. His 17 home runs rank sixth in the American League.
Time will tell whether Encarnacion will have his career season this year, or if he will stumble after the All-Star break. Nonetheless, the first half of the 2012 season has been quite successful for Encarnacion, who was not expected to be one of the Blue Jays' best hitters.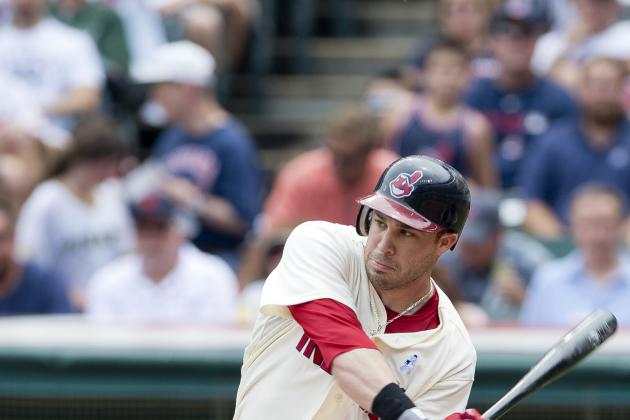 Jason Miller/Getty Images

2012 Statistics
Batting Average: .284
Home Runs: 11
RBI: 41
Stolen Bases: 17
OBP: .339
Slugging Percentage: .455
The Indians' Jason Kipnis has quickly become one of the most promising second basemen in the American League. And this is a league that includes Robinson Cano, Dustin Pedroia and Ian Kinsler, among others.
Kipnis first came up with the Indians last year and does not qualify as a 2012 rookie because he had 136 at-bats in 2011 (the cutoff mark is 130 at-bats). Nonetheless, he has been one of the brightest spots on an up-and-coming Indians team that is full of young talent.
With a .284 average, 11 home runs, 41 RBI and 17 stolen bases, Kipnis has proved he can be a 20-home run and 20-steal type of player each year. Not too many second basemen today will put up those kinds of numbers.
Few fans expected Kipnis to be having a better season than Pedroia and Kinsler so far, but he has. Indians fans should be very optimistic that their team may have the next great second baseman for years to come.
Rich Schultz/Getty Images

2012 Statistics
Batting Average: .354
Home Runs: 8
RBI: 35
OBP: .416
Slugging Percentage: .566
Ever since the Phillies won the 2008 World Series, catcher Carlos Ruiz quickly became known as one of the best defensive catchers in all of baseball. However, thanks to Yadier Molina's presence in St. Louis, Ruiz has yet to win a Gold Glove Award, even though he has deserved the honor as much as anyone.
Ruiz, though, had never been known for his hitting, even though his career batting average is now a respectable .273. His 2012 season is a large reason as to why it has recently increased.
Ruiz is currently fourth in the National League with a very surprising .354 average. He also has eight home runs, which is one away from the career-high he set in 2009, plus 35 RBI, a .416 OBP and a .566 slugging percentage.
No one expected Ruiz to put up those kinds of numbers. What's fascinating about him is that this season happens to be his contract year, and he will be a free agent in the coming offseason. If Ruiz continues to hit as well as he has this year, it will be interesting to see if the Phillies re-sign him and at what price.
Despite being 33 years old right now, Ruiz will most likely look for a two- or three-year contract. But the question is, will the Phillies commit themselves to another few seasons with an aging backstop?
Ruiz has always called great games defensively, and Phillies pitchers love working with him because of that. Again, how long Ruiz's relative success will last is the big question. Regardless, with the season he has been having, Ruiz will be earning quite a raise in salary this offseason now that he has shown he can be an offensive force.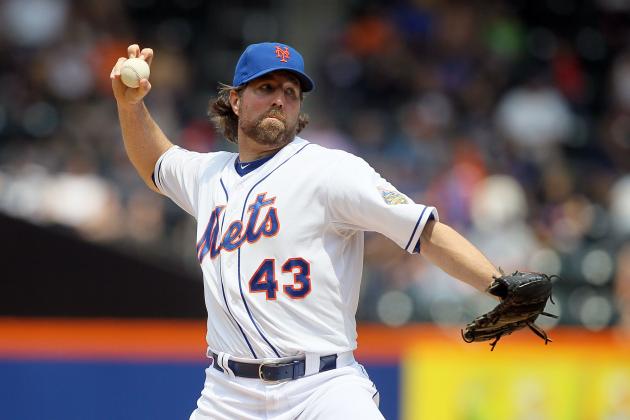 Jim McIsaac/Getty Images

2012 Statistics
Record: 10-1
ERA: 2.20
Innings Pitched: 90.0
Complete Games: 2
Shutouts: 1
Strikeouts: 90
Walks: 19
WHIP: 0.944
The outspoken R.A. Dickey has certainly been one of the most surprising pitchers, even though he already has two consecutive successful seasons under his belt.
In other words, 2012 is not the first season in which Dickey has shown to be one of the best pitchers in the league. He is simply growing even more as a pitcher since the Mets signed him in 2010.
Nonetheless, Dickey is putting up numbers that more people would expect out of teammate Johan Santana. No Mets fans out there, let alone baseball fans, would have predicted that Dickey would be the National League Cy Young Award favorite so far.
If anyone disagrees with Dickey being the best National League pitcher so far this year, the numbers speak for themselves.
He currently is tied for the major league lead with 10 wins, has baseball's best winning percentage at .909, is fourth in the National League with a 2.20 ERA, sixth in innings pitched with 90, sixth in strikeouts (90), sixth in opponents' batting average (.208) and second in WHIP (0.944).
Furthermore, keep in mind that unlike his competitors, Dickey is a knuckleballer. The fact that he is having this much success as a knuckleballer is amazing.
But Dickey's success has been so much more than just the numbers. He has become a clubhouse leader for an emerging Mets team and has come so far in his career to get to where he's at right now. If he is chosen to start the All-Star Game for the National League, it would make Dickey's remarkable story that much more special. Hopefully Tony La Russa will make the right call and give Dickey the opportunity he really deserves.
Kevin C. Cox/Getty Images

2012 Statistics
Record: 5-5
ERA: 2.00
Innings Pitched: 81.0
Complete Games: 1
Shutouts: 1
Strikeouts: 68
Walks: 29
WHIP: 0.963
Another big surprise among National League pitchers is the Braves' Brandon Beachy.
Expected to be a dependable pitcher within the middle of the Braves rotation, Beachy has all of a sudden become the ace and has surprised everyone by leading the major leagues with a 2.00 ERA. He also leads all of baseball with an average of 5.4 hits per nine innings and is third among National League pitchers with a 0.963 WHIP.
While Beachy may lead everyone in ERA and rank third in the National League in WHIP, his other numbers have hindered him from being considered a legitimate Cy Young Award contender. His 5-5 record is likely due to the lack of run support he has gotten from the underachieving Braves offense, but this still doesn't help his case.
Beachy's 68 strikeouts and 29 walks definitely do not help him either, but he has never been a pure power pitcher and is more of a control pitcher. Nonetheless, he will need to limit his walks more as the season goes on in order to contend for the NL Cy Young Award.
Due to most of Beachy's rather decent statistics, it's hard to imagine him holding onto the ERA lead for much longer. However, if the Braves offense can give him some more run support every time he pitches, Beachy could possibly get to 12 wins and maybe even lead the Braves to a playoff berth.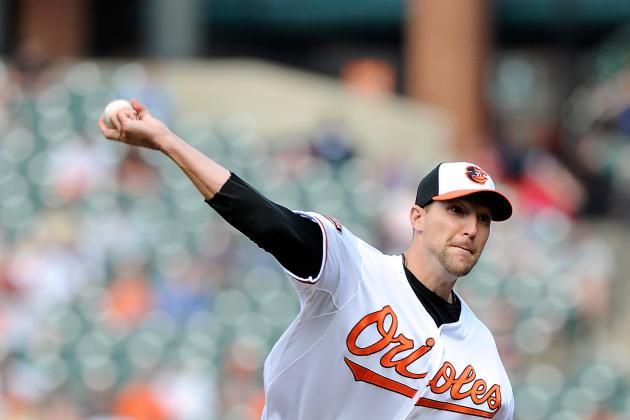 Greg Fiume/Getty Images

2012 Statistics
Record: 1-0
ERA: 1.21
Saves: 20
Blown Saves: 1
Strikeouts: 19
Walks: 5
WHIP: 0.674
Going into the 2012 season, Craig Kimbrel, John Axford, Joel Hanrahan, Jose Valverde and Jonathan Papelbon were widely considered the top five closers in all of baseball. No one would have even thought of throwing Jim Johnson's name into the mix, but he has emerged out of nowhere as the best closer in all of baseball this season.
Johnson was formerly the Orioles' setup man, but in the offseason, the Orioles shook up their bullpen by promoting Johnson to be the new closer and moving Kevin Gregg into a setup role, which he shares with another former closer in Matt Lindstrom.
This has turned out to be a brilliant decision for the Orioles, who are still one of the top American League teams. Their offense has been one of the better groups in the league for a few years, but their bullpen is now a force to be reckoned with thanks to Johnson's dominant success.
Johnson hasn't just been a good closer—his numbers have been staggering. He has 20 saves, which is second in all of baseball to Chris Perez of the Indians. He only has one blown save as well, plus he has a 1.21 ERA, 19 strikeouts in comparison to just five walks and an amazing WHIP at just 0.674.
And if those numbers aren't spectacular, consider that Johnson has only allowed 15 hits and four earned runs in 29 appearances.
Jim Johnson always had the potential to be a great relief pitcher. However, no one expected him to put up such dominant numbers at this point in his career. He is certainly performing way above all expectations as the Orioles are proving to be a legitimate threat in the AL East division.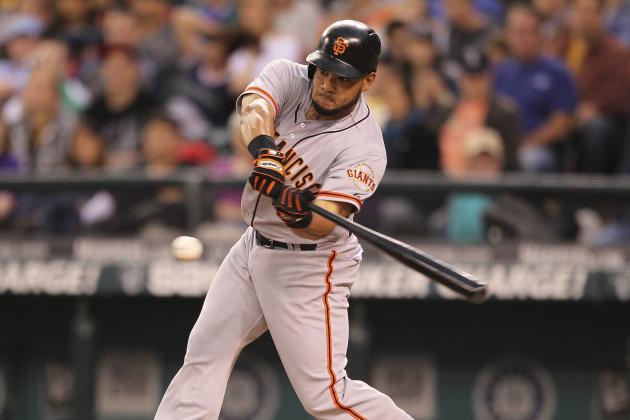 Otto Greule Jr/Getty Images

2012 Statistics
Batting Average: .360
Home Runs: 6
RBI: 34
Hits: 95
Stolen Bases: 10
OBP: .398
Slugging Percentage: .534
For years, Melky Cabrera was mostly known for his Gold Glove-caliber defense and his solid throwing arm. However, as a member of the Royals last year, Cabrera hit .305 with 18 home runs, 87 RBI and 20 stolen bases.
This was just the opening act to what has become Cabrera's breakout season in 2012.
Cabrera is currently second in the National League with a .360 average, which was far above anyone's expectations at this point in the season. His torrid month of May has played a huge role in both his and the Giants' success this year; he set a new Giants record with 51 hits that month. In addition, he leads the majors in both hits (95) and triples (seven).
If not for the seasons that Joey Votto and David Wright have been having, Cabrera currently would be at the top of the National League MVP contenders. Nonetheless, he has been having a remarkable season beyond all expectations, and he is a huge reason why the Giants are one of the best teams in all of baseball right now.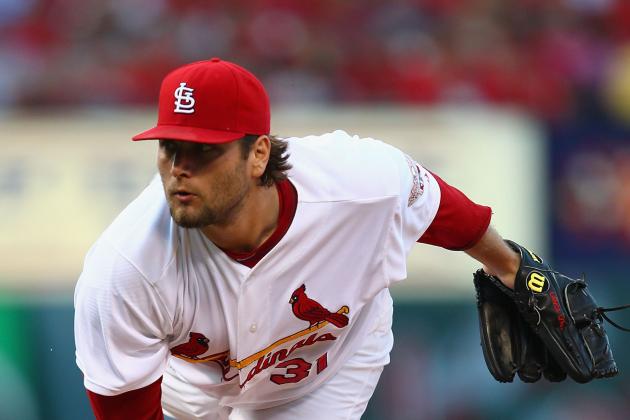 Dilip Vishwanat/Getty Images

2012 Statistics
Record: 10-2
ERA: 2.42
Innings Pitched: 81.2
Strikeouts: 86
Walks: 27
WHIP: 1.090
In 2011, Lance Lynn emerged down the stretch as a dependable reliever and even got a win in Game 2 of the World Series that year. Once it became known that Chris Carpenter was going to be out for at least a few months into the regular season, the Cardinals decided to put Lynn into the rotation to fill the void.
While Carpenter has been the Cardinals' ace for the past eight years, Lynn has been pitching well enough for St. Louis fans to not miss Carpenter's presence so much.
Lynn already has a 10-2 record with a very solid 2.42 ERA and a 1.090 WHIP. A few other pitchers have had better seasons than Lynn thus far, but he has still been a huge surprise this year. He is a definite All-Star, and it will be interesting to see how the second half of his season goes.
If it goes well, the Cardinals will be grateful to now have a fourth star in the rotation behind Carpenter, Adam Wainwright and Jaime Garcia.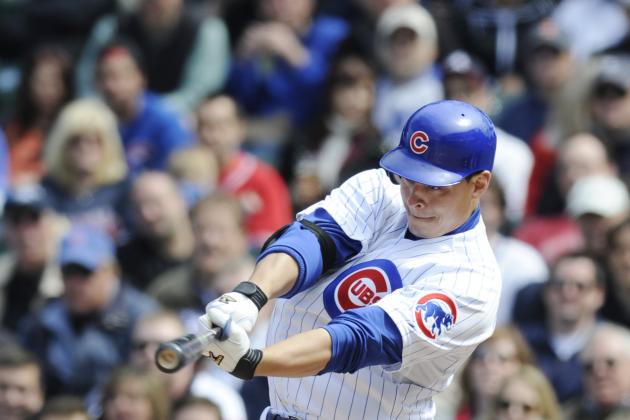 David Banks/Getty Images

2012 Statistics
Batting Average: .297
Home Runs: 12
RBI: 26
OBP: .380
Slugging Percentage: .560
By far, the biggest offensive surprise in the 2012 season so far has to be first baseman Bryan LaHair of the Cubs.
With top prospect Anthony Rizzo developing in the minor leagues, the Cubs and their fans weren't expecting much out of LaHair, but he has completely exceeded expectations.
Aside from Joey Votto, LaHair is having a better year than all other National League first basemen. No one would have thought he'd be playing better than Carlos Lee, Ike Davis, Freddie Freeman and Gaby Sanchez, just to name a few.
LaHair got off to a very fast start in April with a .390 batting average, five home runs and 14 RBI. His OPS for the month was a remarkable 1.251.
Despite his average in May going down to .253, LaHair still hit another five home runs and drove in eight RBI for the month. He has cooled down even more in June, but that fast start of his will definitely be enough to get him an All-Star nomination as a reserve first baseman.
Due to his recent success and the presence of Rizzo in the organization, the Cubs can now potentially use LaHair as a trade chip to improve other areas of their franchise. However, LaHair can also play the outfield, so there is also the chance that he moves to left or right field permanently once Rizzo gets called up.
If the Cubs are unable to find a taker for Alfonso Soriano, look for them to shop LaHair before the trade deadline.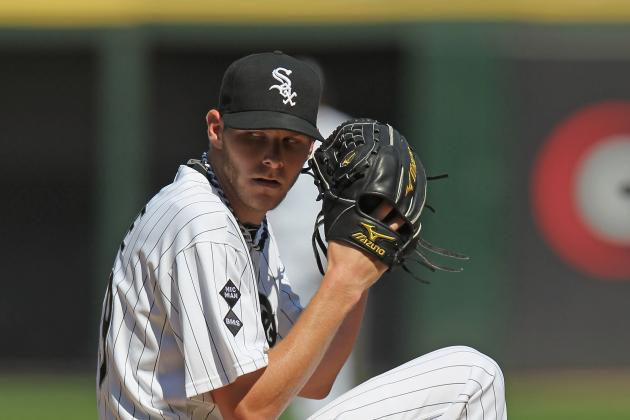 Jonathan Daniel/Getty Images

2012 Statistics
Record: 8-2
ERA: 2.46
Innings Pitched: 80.1
Strikeouts: 82
Walks: 22
WHIP: 0.996
All these players have been surprising in one way or another, but no one's success so far has been more stunning than that of White Sox pitcher Chris Sale, who has quickly become the American League Cy Young Award favorite.
Sale was drafted by the White Sox in 2010 and was promoted to the major leagues by early August of the same year. He went 2-1 with a 1.93 ERA and four saves in 21 appearances that year. In 2011, he became the White Sox setup man and finished with a 2-2 record, a 2.79 ERA and eight saves.
In spring training this year, Sale was placed into the starting rotation to fill the void of long-time White Sox ace Mark Buerhle, who signed with the Marlins. In a rotation led by John Danks, Jake Peavy and Gavin Floyd, Sale was not expected to be Chicago's best pitcher.
Nonetheless, he has become not just the White Sox's best pitcher but the best in the American League so far.
On May 28, Sale struck out 15 batters, which tied for second in White Sox history, alongside three former White Sox pitchers. That game really helped propel Sale toward winning the American League Pitcher of the Month in May with a 4-1 record, a 1.71 ERA, 35 strikeouts, a .181 opponents' batting average and a 0.947 WHIP.
When Buerhle left the White Sox, many fans probably thought this season was not going to be particularly successful. Instead, Sale has blossomed into a Cy Young threat, and Paul Konerko and Adam Dunn have carried the Chicago offense.
The White Sox currently lead the AL Central division, and if players like Sale keep playing as well as they have, there's every reason to believe that the White Sox will contend for the division title.