US Open Golf 2012: Joke of Performance Proves Phil Mickelson Is Washed Up
June 18, 2012

Stuart Franklin/Getty Images
Phil Mickelson is done.
Lefty never liked the U.S. Open, but his bitterness towards the tournament will only grow after his poor 2012 performance. Not only was his play an embarrassment, but it proved that, in terms of who's declining faster, Mickelson should be the golfer that fans are worried about as opposed to Tiger Woods.
Mickelson shot himself in the foot so badly in Round 1 that he was forced to shift his focus from the Olympic Club prize to just staying alive. He finished the first day at six-over par.
While Mickelson managed to make the cut and keep himself relevant by going one-over par on Friday and Saturday, all positives were erased on Sunday. Lefty hit a whopping eight bogeys in the round which sent him plummeting down the leaderboard. He finished the tournament at 16-over par and tied for 65th place. Only six golfers who made the cut finished with a worse score.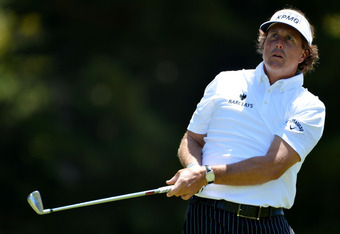 Stuart Franklin/Getty Images
Mike McAllister of Yahoo! Sports reported that Mickelson said after his poor Day 4 outing: "It was a challenging test. If you played anything less than perfect golf it was extremely penalizing and I played far from perfect."
You can say that again.
Mickelson is 42 years old. It's difficult to compete at that age for any athlete—even a golfer. Being labeled "washed up" when you're that old is nothing to be ashamed about.
Lefty hasn't won a major since the 2010 Masters. Before that victory, he hadn't won one since the 2006 Masters. Of course, Mickelson was never a major-winning machine, so here's an even more glaring slump: he has just two wins in the last two years.
Mickelson is one of the greatest golfers of all time. But despite his phenomenal success, retirement is beeping rapidly on his radar. 
David Daniels is a featured columnist at Bleacher Report and a syndicated writer.