Oklahoma City Thunder: With No Guarantee of Future Titles, Thunder Must Win Now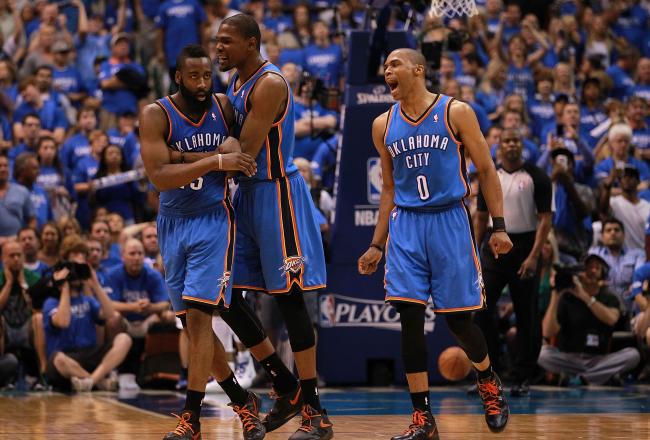 Ronald Martinez/Getty Images
The Oklahoma City Thunder are a popular pick for the next great NBA dynasty. Arguably no team in the NBA checks more boxes for continued success than the Thunder.
They have star players in Kevin Durant, Russell Westbrook and James Harden. Most of their key players are young and have several years of peak basketball ahead of them. Since becoming general manager, Sam Presti has done a better job of team building than virtually every other general manager in the NBA: Drafting well, making wise trades and executing smart free agent signings.
The Thunder's appearance in the 2012 NBA Finals is expected to be the first of many over the next decade or so. But there are a host of potential obstacles that could result in this season being the peak for the Thunder and a dynasty never coming to fruition.
The most pressing issue the Thunder face is the salary cap: Once they extend Harden, the Thunder will be using a significant chunk of their cap on Harden, Durant and Westbrook. At that point keeping players like Serge Ibaka, Thabo Sefolosha, and Kendrick Perkins would likely require them to pay luxury tax.
As a small market team, it is unlikely that the Thunder will want to pay a penalty to maintain their roster. The most likely outcome is to trade or let a player like Ibaka walk in order to avoid the luxury tax and maintain cap flexibility.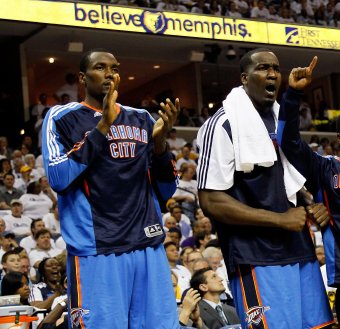 Salary cap restrictions could mean new teams for Ibaka and Perkins
Kevin C. Cox/Getty Images
The Thunder have a lot of confidence in Presti and his abilities as a general manager. But Oklahoma City is not a top free agent destination. The Thunder may be able to convince veterans looking for a ring to sign. But with most NBA players wanting to play in big markets, or cities with nice weather and beaches, it is unlikely that the Thunder will find players as good as what they have on their roster now.
With salary cap limitations and the misfortune of being in a small market, the Thunder will likely experience some drop-off in the quality of their roster outside of their big three of Durant, Westbrook and Harden.
Of course, a case could be made that the only barriers to a team consisting of Durant, Westbrook, Harden and nine scrubs winning the title would be the Miami Heat and maybe a healthy Chicago Bulls team.
But the NBA does not exist in a vacuum. Teams create new identities via the draft and free agency. New stars enter the league and existing stars have shown a propensity to team together.
The Thunder may look like the best team now, but what happens if one of their key guys gets hurt like Derrick Rose did this year? What if another pair of NBA stars decides to play together?
If Dwight Howard were to team with Deron Williams in Brooklyn next year that team would instantly become a title favorite. The same would be true if Howard and Chris Paul decided to team up in two years. Howard could end up on the Lakers, making them the favorites to win the title next year. Williams may decide to return home and play for Dallas. Thus, adding an all-star to a team that very well could have won two games in Oklahoma City in this year's playoffs.
All of this is speculation. But it doesn't change the fact that in a few years, or even next year, the league may look very different from how it does now. New contenders will emerge and challenge the status quo.
It is always dangerous to presume championships in the NBA. The Cleveland Cavaliers were supposed to be a dynasty under LeBron James. The Boston Celtics may have won multiple titles if not for injuries to Kevin Garnett. The Miami Heat were supposed to win last year. The Chicago Bulls had a legitimate chance before Derrick Rose got hurt.
Those are just four teams from recent years. NBA history is littered with teams that should have won titles.
The Thunder are an exciting young team that has an impossibly bright future. Yet, even with all the ingredients for continued success, nothing is promised to the Thunder in the coming years. There are no guarantees of titles or even finals appearances.
Any number of things may end up keeping them from reaching this point again. The Thunder may find that their team has regressed from losing key players or other teams have gotten better to the point that the Thunder are not the best team in the NBA.
With no guarantee for the future, the Thunder's best chance for a title is right now.
This article is
What is the duplicate article?
Why is this article offensive?
Where is this article plagiarized from?
Why is this article poorly edited?

Oklahoma City Thunder: Like this team?