Would You Rather...Miles Austin or Pierre Garcon?
June 18, 2012

We still don't know who the No. 1 receivers will be on the Cowboys or Redskins, but the Vegas odds probably favor Miles Austin in a photo finish with Dez Bryant in Dallas, and Pierre Garcon likely enters training camp with a slight lead over a handful of capable receivers in Washington.
That got me thinking, NFC East fans. Who between those two would you rather have on your team?
Let's break it down.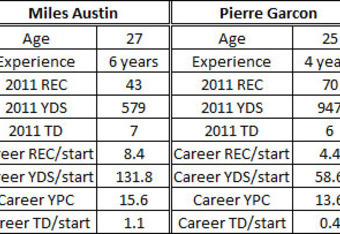 Garcon has the what-have-you-done-for-me-lately edge, which is pretty amazing when you consider that he was catching passes from Curtis Painter, Dan Orlovsky and Kerry Collins last season in Indianapolis. 
That said, Austin's numbers still crushed Garcon's in the two previous seasons, and injuries played a large part in his numbers dropping off in 2011. Garcon played a full 16-game season, while Austin missed six games and was less than 100 percent in a few others. 
Even if we only give him those six games back and prorate, here's how the two would have matched up statistically last season.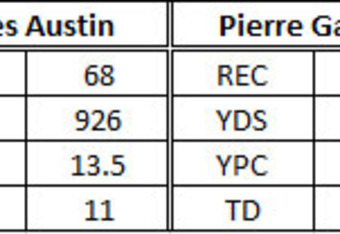 On one hand, that again indicates that Austin is probably more effective on a per-game basis when healthy, but when you take those injuries and the fact that, at least recently, he's had a better quarterback, running game and complementary group of receivers into account, the decision isn't as obvious as you'd think.
Plus, for what it's worth, Garcon is two years younger and fresher than Austin. That, too, has to count for something—but what?
Let's dig deeper with some advanced stats courtesy of our friends at Pro Football Focus: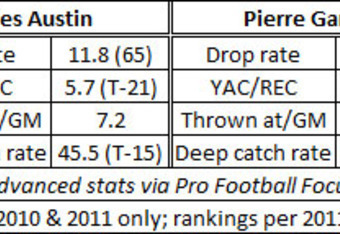 In terms of sheer quantity of balls thrown his way, Garcon benefited from playing for a weak team that threw a lot while trailing, while Austin has earned fewer targets in a more loaded offense. But when it comes to quality of balls thrown their way, it's a different story. Tony Romo is one of the most accurate passers in the league, while the aforementioned Peyton Manning replacement crew was never very good last year.
That said, Garcon's percentage of passes per deep pass (20-plus yards) was just as low in 2010 with Manning as it was in 2011 with the scrubs. Austin has only had 22 deep balls thrown his way the last two years, but he's caught 10 of them. Garcon has only caught 11 of 51. 
When you consider that Austin is actually better after the catch and only slightly better in terms of catches per target, you could argue that Austin is actually a more efficient deep threat. He's also probably a better blocker and is more versatile (he takes more than a third of his snaps out of the slot, per PFF). 
Combine that with a better nose for the end zone and consider that he should be better prepared for 2012 after admitting that his conditioning wasn't up to par last year, and it's tough to buy the notion that Austin could be a lesser player than Garcon.
But because of Austin's age and injury history, it's at least a legitimate debate. Both produced exactly 1.66 yards per pass route last season, according to PFF, but Garcon came up from 1.32 in 2010, while Austin was stepping back from 1.77. That indicates that the two players could be headed in opposite directions in terms of impact.
So, who would you rather?