Anthony Davis: Biggest Flaws in Kentucky Star's Game
June 18, 2012

Ronald Martinez/Getty Images
When you examine Anthony Davis' game, it's difficult to really be all that critical towards the future No. 1 draft pick. But this is the NBA, and Davis is going to be playing against the best athletes in the world next season, so there are some things that could potentially hold the 19-year-old phenom back.
After winning just about every award a freshman could handle with the Kentucky Wildcats, Davis is now being regarded as the top draft prospect in years, and is the clear-cut prize of this year's draft class.
So what's wrong with his game?
Size
When you look at Davis, a 6'11" athletic freak, it becomes apparent that he'll need more bulk on his frame if he wants to compete with the best in the world around the rim.
At 220 lbs., Davis is an extremely lanky power forward/center, and he looks as if he could get bullied at the next level by the likes of Dwight Howard or Andrew Bynum.
Obviously, his endless supply of athleticism makes up for his weak frame, but he will be exposed in the NBA if he is unable to put on some mass.
Davis should not look to sacrifice his athletic ability in the name of becoming bigger, but he does need to add some muscle if he wants to realize his true potential in the NBA.
Offensive Game
Davis became one of the best offensive threats in the country in his freshman year at Kentucky, but it was largely due to his rebounding and athletic ability.
He relied heavily on put-backs and alley-oops, but he will need to create a more polished offensive post game in the NBA if he wants to be deemed "elite".
There's no question that Davis showed flashes of a potentially brilliant post game, but until he hones his craft offensively and becomes a true scoring threat on his own, he will have some work to do.
Post Defending
Bringing Davis's defensive play into question may come as a shock to some, but he has some improvements to make in his post defense.
Davis has some of the best shot-blocking instincts and timing we've ever seen at the collegiate level, and that ability will inevitably translate to the NBA with Davis' 7'5" wingspan and leaping ability.
Yet the young center must become more physical and have the ability to hold his own against bigger and stronger centers.
There's no questioning Davis's ability to improve upon this aspect and become one of the best, if not the best, defensive players in the league.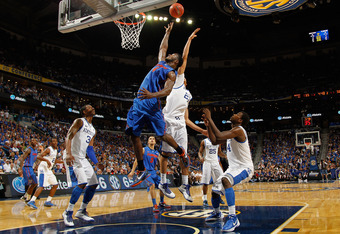 Chris Graythen/Getty Images
Shooting Ability
It's a commonly held belief among basketball fans that, if Anthony Davis can develop a jump shot, he could be one of the best in the game.
Davis never really found the need to step out and shoot with so many other viable scoring options on his Kentucky team, but he'd be doing himself a favor if he created a mid-range jump shot for himself.
It would bring another dimension to a player who is already being heralded as the best player coming into the league, and would make Davis that much more lethal.
Critiques of Anthony Davis's game are few and far between, but, if the star rookie is able to improve upon all of these facets, he has virtually no ceiling.