Thunder vs. Heat: Willingness to Win Ugly Will Lead Miami to NBA Title
June 19, 2012

Ronald Martinez/Getty Images
There's been one glaring difference between this Miami Heat team and the one that we saw a year ago and it could be what leads them to the NBA championship.
This Heat team is willing to win ugly in order to win as a team.
I don't know if that was the case a season ago, but it's something Miami is definitely willing to do right now in order to win a title.
Gone is a team based on flash and style as the Heat no longer care about an image. That team was replaced with one based on energy and hustle and the willingness to sacrifice at the defensive end of the floor.
To put it in baseball terms, the Heat are no longer the team that relies on the home run to win, but instead they manufacture victories.
Sure they have received big performances from LeBron James throughout the playoffs, but this team has overcome some bad play to win games.
This Heat team can win a game when they shoot 33 percent from the floor in the second half. They've shown that they can win when they turn the ball over nine times in the fourth quarter. They also shown that they can win when Dwyane Wade shoots 18 percent on shots outside of 10 feet.
All of that happened in Game 3.
They've replaced the countless lobs with the aggressive approach of taking the ball to the rim more, resulting in increased trips to the free-throw line.
Miami has committed to playing defense and rebounding and it's made a ton of difference.
This is as good as the Heat have clicked since the Big Three stepped on the scene and they are getting it done with less style and more hard work.
But this team is doing all of the little things needed to win and when they need a big play at the offensive end late in games, James is now making things happen.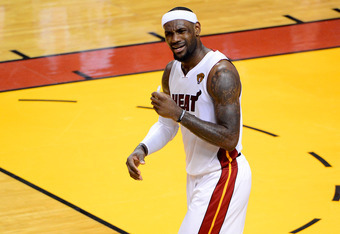 Ronald Martinez/Getty Images
He's averaging 30.7 points, 9.7 rebounds, 5.0 assists and 1.9 steals per game while shooting 50.1 percent from the floor. A year ago James averaged only 23.7 points, 8.4 rebounds, 5.9 assists, 1.7 steals and only shot 46.6 percent from the floor.
The increased numbers are great, but the Heat wouldn't be in the position that they are right now, up 2-1 in the series, if they weren't committed to doing everything else it takes to win.
That wasn't the case a year ago.
This year they've learned that getting a stop on the defensive end is as big if not bigger than a flashy dunk at the offensive end. They've realized that getting loose balls and offensive rebounds is a bigger recipe to winning than any highlight reel play they made throughout the regular season.
Sitting a mere two wins away from a title, if the Heat remain committed to winning ugly, they have a greater chance of winning a championship.
At the end of the day, they don't ask you how you won, only if you won.
That's what this Miami team has realized and if they continue to play that way, it will only be a matter of days before they are crowned 2012 NBA champions.